COLUMBUS, Ga. -(Ammoland.com)- Introducing the Realtree Strider 12 Custom Balance Bike form Strider No Pedal Bikes for kids ages 18 months to 5 years old.
If your toddler can walk, Realtree Strider Bikes will get your toddler cruising over dirt, grass, twigs and trees.
The bike is customized with the official Realtree graphics on a black Strider 12 Classic model.
An optional extra-long seat post will extend the life of the Realtree Strider to kids 5 years old (or 44 inches in height).
The Realtree Strider Bike weighs just 6.5 pounds, has the lowest seat height and an integrated footrest for easy striding, is easy to control and features an adjustable seat and handlebars to accommodate a growing child.
Most importantly, the Realtree Strider Bike teaches a child balance and coordination and develops a glittering confidence not seen with tricycles or training-wheel bikes.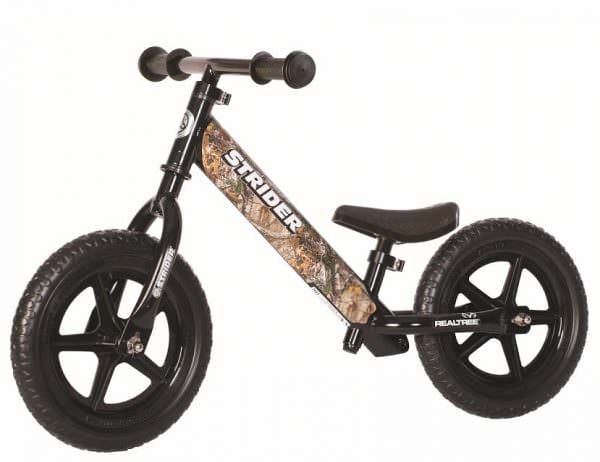 Realtree Strider Balance Bikes are industry-leading training bikes that help children of all abilities as young as 18 months learn to ride on two wheels.
The simple, no-pedal design builds confidence and eliminates fear by allowing kids to have their feet on the ground and progress at their own pace.
With over 1 million sold to date, parents agree this is the top of the line for a kid's first bike.
About Realtree:
Realtree is the world's leading camouflage designer, marketer and licensor with over 2,000 licensees utilizing the Realtree camouflage brand. Thousands of outdoor and lifestyle products are available in Realtree camouflage patterns. In addition, Realtree is committed to supporting individuals and groups that work to ensure our outdoor heritage, the conservation of natural places, and the wildlife that resides there.
For more information, visit: www.Realtree.com.