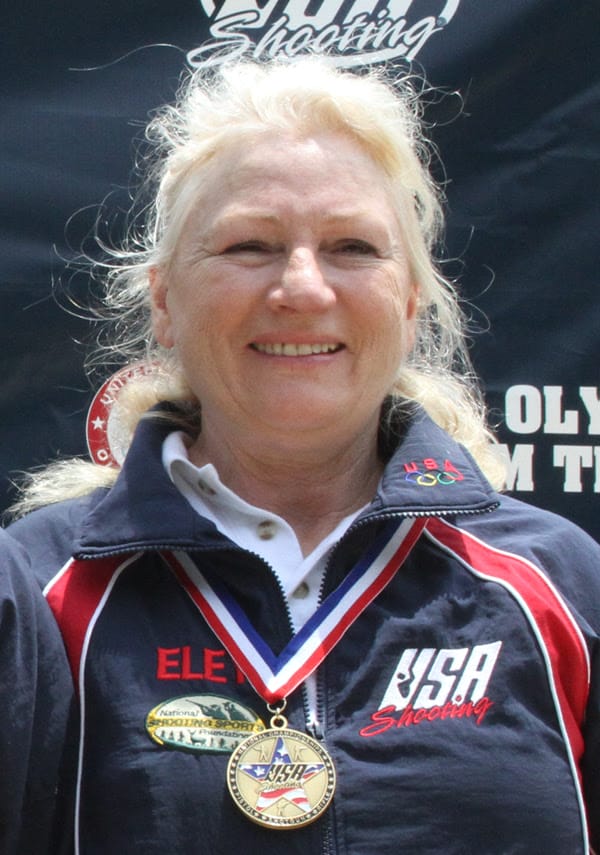 COLORADO SPRINGS, Colo. -(Ammoland.com)- USA Shooting announced today that Elizabeth "Libby" Callahan (Pawleys Island, South Carolina) has been named National Pistol Coach.
Callahan, a four-time Olympian and three-time World Cup medalist, becomes the first woman named to a National Coach position for USA Shooting after assuming coaching duties from previous National Pistol Coach Sergey Luzov, who has been named USA Shooting's High Performance Director for Sport.
Read Friday's release about USA Shooting staff changes here.
"I have been training people in many capacities over the years," Callahan said. "I was a trainer with the Metropolitan Police Department in Washington D.C. for over 15 years. In the U.S. Army Reserves, I trained soldiers in firearms and Military Police subjects for about 10 years. I have assisted in coaching at the Citadel since 2014 and I have trained various people over the years on how to shoot guns."
Callahan retired as a Captain with the Metropolitan Police Department in 2003. After learning to shoot with the department in 1975, she went on to become a five-time women's police revolver champion and a four-time women's police service revolver champion. Callahan made her first National Team in 1998 and has won 13 Natonal Championship medals.
She competed in the 1992, 1996, 2004 and 2008 Olympic Games in Women's Air and Sport Pistol, finishing as high as 19th in Sport Pistol in Athens. Callahan made a run at a fifth Olympic appearance in 2012, but finished in third place in Women's Sport Pistol at the U.S. Olympic Team Trials.
She continued to compete through 2013, but has since turned her focus to coaching.
"Training people is a two-way street – I have learned so much from the people I have taught that it has made me a better teacher," Callahan said. "I have always loved teaching people, and I get great satisfaction from seeing people succeed at what is being taught to them. I would love to see if I can make an impact on the Pistol shooters of the U.S., to impart to them what I have learned from over 30 years of shooting and many years of teaching, and to see what I can learn from them."
"Libby has an extensive background in Pistol training and coaching starting back in her career as a police instructor, the military and over the last few years as part of the USAS Coach Academy build up and execution," said Dave Johnson, Interim CEO of USA Shooting. "I think she joins USAS at a critical time as the IOC is equalizing the female quota slots in the next Olympic games and we will see unprecedented new growth opportunities for the sport. Her Olympic experience and training philosophy and discipline will help develop our next podium hopefuls. Our team is young. We have tremendous potential in both the Junior men and women. I look forward to her leadership with new ideas for our Pistol team."
Callahan will continue to reside in Columbia as National Team Coach and will work alongside Assistant National Team Coaches for Pistol including Steve Faught, Eric Pueppke, In Kim and Chuck Platt. A resident pistol coach will be announced in January.
About ELEY:
ELEY is a Proud Sponsor of the USA Shooting Rifle and Pistol Teams: ELEY Limited, manufacturer of the world's most consistently accurate rimfire ammunition, has been the Official Sponsor and Official Supplier of .22 rimfire ammunition of the USA Shooting rifle and pistol teams since 2000.
For more information on ELEY and their products, please visit their website.
About Winchester Ammunition:
is a Proud Sponsor of the USA Shooting Shotgun Team: WinchesterÆ Ammunition has been the exclusive ammunition sponsor and supplier of the USA Shooting Shotgun Team since 1999. Members of the past two shotgun teams brought home a combined six medals from London and Beijing using Winchester AA International Target loads. Winchester is an industry leader in advancing and supporting conservation, hunter education and our country's proud shooting sports heritage.
For more information about Winchester and its complete line of products, visit their website.
About USA Shooting:
USA Shooting, a 501c3 non-profit corporation, was chartered by the United States Olympic Committee as the National Governing Body for the sport of shooting in April 1995. USA Shooting's mission is to prepare American athletes to win Olympic medals, promote the shooting sports throughout the U.S. and govern the conduct of international shooting in the country.