Mike loses his hearing protection to demo the SIG SRD338Ti QD Suppressor. h/t Silencershop.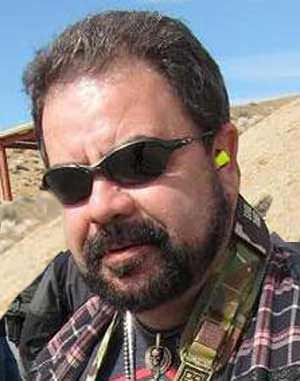 USA –  -(Ammoland.com)- Earlier this year, our friends at Silencer Shop got a SIG SRD338Ti QD suppressor into our hands for review.
We told the guys at the shop that we were looking for a high performing 338 Lapua silencer, but wanted to keep the price on the lower end of the scale.
Our reason being that suppressing a 338 Lapua round seemed optimistic and that it would spend more time on a 308 or other rifle. Silencershop.com recommended the SIG SRD338Ti QD, saying they thought we would be pleasantly surprised.
338 Lapua Magnum is one of our favorite rifle calibers and was the first rifle round designed specifically for long range sniping.
The SRD338Ti QD is a Titanium silencer that is tubeless to save on weight. The silencer is robo-welded in its construction and will handle 338 Lapua Magnum and everything smaller such as 204 Ruger, 5.56 NATO, 300 Winchester Magnum, 300 Blackout, etc.
It ships with one M18x1.5mm Taper-Lok muzzle brake. This is great if you are shooting an Accuracy International or Sako TRG rifle, but in our case it was a Savage Arms 110-BA Long Range Bolt Action Rifle. Those rifles use a 5/8 X 24″ thread and Silencershop.com, did not have any mounts for us. So we had to wait a while to get some directly from SIG.
This is an important part of the story because the SIG Sauer Silencer Compatiable Muzzel Brakes are notable in and of themselves.
The Taper-Lok muzzle devices have a dual taper at the shoulder of the barrel where the suppressor mounts on the outside in order to create a repeatable mounting system for all of SIG's SRD-QD model silencers. The rear of the mount has 7/8″ wrench flats to torque the base to the barrel.
This dual system from SIG allows the shooter to torque the mount on the barrel and the business end is timed with included spacers if you go with the muzzle brake option. The flash hider variant does not require timing.
SIG SRD338Ti QD Suppressor – The Good
Our first impression of this tubeless suppressor was that it was a good looking silencer and we tried one of the prototypes on a 300 Blackout MCX over a year ago. So we were familiar with it before Silencershop.com got one out to us.
Weighing in at 20 oz. the suppressor is lighter than most due to its titanium construction. On a long range rifle like a 338 Lapua, you do not want a whole lot of weight hanging off the end of the barrel or accuracy will suffer. On a 16 pound rifle, this is not an extraordinary amount of weight.
We ran the silencer on a number of smaller rifles chambered in 308 and 300 Blackout (116-121 Db). On the Savage it delivers a decibel rating of 138Db. We were really impressed as we were expecting it to be much louder, the sound was reminiscent more of a laser blaster from Star Wars being fired.
The latch prevents the silencer from backing off under fire, which is common with direct-thread suppressors.
SIG SRD338Ti QD Suppressor – The Bad
While the silencer performed well, we were not very impressed with the performance of the brake, alone. It did little to reduce felt recoil and without the can we were missing the recoil reduction of the factory Savage brake.
If you are looking to save a few dollars and can leave the silencer mounted all the time, we suggest the direct thread variant.
SIG SRD338Ti QD Suppressor – The Reality
For the weight, design and construction, SIG delivers a lot of value for the money. Granted, you are still looking at a $1200 MSRP, but it represents the lowest tier in terms of value for a 338 suppressor.
The added bonus is that the Taper-Lok muzzle devices are relatively inexpensive ($50- $70) and will allow you to run the can on a variety of rifles if you are trying to maximize your NFA purchases. Frankly, we recommend full size rifle silencers for use on 300 Blackout as opposed to the smaller and lighter 9mm cans as they can handle the supersonic loads as well.
SIG's Cadillac of silencers sets a high standard and we found only one other 338 silencer that exceeded its performance to date. You will read about that one soon.
SIG SRD338Ti QD Suppressor Specifications:
SIG SRD338Ti QD
Length 9.5×1.75″
Weight 19.4 oz.
Threads: M18x1.5mm, 5/8 X 24"
MSRP: $1,213.00
Db rating: 138 Db (338 Lapua), 121 Db (300 Blackout)
About Mike Searson
Mike Searson's career as a shooter began as a Marine Rifleman at age 17. He has worked in the firearms industry his entire adult life as a Gunsmith, Ballistician, Consultant, Salesman, Author and was first certified to teach firearms safety in 1989.
Mike has written over 2000 articles for a number of magazines, websites and newsletters including Blade, RECOIL, OFF-GRID, Tactical Officer, SWAT, Tactical World, Gun Digest, Examiner.com and the US Concealed Carry Association as well as AmmoLand Shooting Sports News.
Home page: www.mikesearson.com
FB: www.facebook.com/mike.searson
TWITTER: www.twitter.com/mikesearson