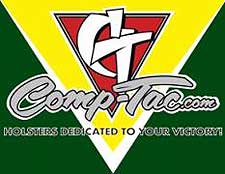 HOUSTON, Texas –-(Ammoland.com)- Comp-Tac Victory Gear, a leading provider of concealed carry holsters, is celebrating the 10th anniversary of the Comp-Tac MTAC Holster by giving away two MTACs in the month of February.
The MTAC is one of Comp-Tac's premier concealed carry holsters.
This inside the waistband holster is a hybrid holster formed of a high quality cow hide leather backing that sits against the body and a molded Kydex shell that makes the draw and re-holster smooth and safe.
The MTAC offers the most features of any Comp-Tac holster including:
Ability to change out the Kydex shell to fit more than one gun
High quality two layer leather to keep all hardware covered from skin contact
Versatility of ride height adjustment
Dexterity of Cant adjustment
Retention adjustment with the use of two screws
Comp-Tac is celebrating the MTAC's features, design and history all month long with photos, videos, articles and other information.
"The MTAC was the product of an idea that started 14 years ago. To see how far the product has come and how much people enjoy using it has been completely humbling for me. I hope to help more and more individuals learn that while carrying may not be comfortable it is comforting, and products like the MTAC can help individuals be prepared for whatever situations might arise," explained Gregg Garrett owner and president of Comp-Tac.
In true celebratory style Comp-Tac will be giving away two MTAC over the course of the month. To find out more about the MTAC giveaway please visit www.Comp-Tac.com, follow Comp-Tac on Facebook at www.facebook.com/CompTac, Twitter at @CompTac.
About Comp-Tac Victory Gear, LLC
Comp-Tac Victory Gear, LLC combines experience in personal protection and tactical applications combined with the love of pistol shooting competitions into every product they develop. Comp-Tac strives to deliver high value, quality solutions and improvements at the best price. With satisfaction a top priority, we ensure speed, quality and superior customer service to support your desire to take responsibility for personal safety, security and recreational firearm use.