By Major Van Harl
A Lever Action 410 Shotgun Named Denny.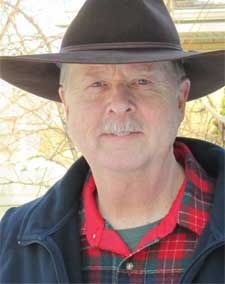 Wisconsin –-(Ammoland.com)-  It was 1977 and I was in undergraduate school. I was a criminal justice major in a rural southern leaning University in Missouri, and many of my classmates thought I was a long haired hippy from Chicago. One old Missouri boy name Dennis Cupp, a fellow law enforcement major, took a liking to me and we would go shooting. The "hippy" from Chicago had lots of ammo.
I was eventually invited to Denny's home town of Moberly, Missouri, a town that Denny would become a rookie police officer in after we graduated. A town that Denny would eventually become the Chief of Police.
My first trip to Moberly brought me in contact with a long gun I had never seen before. It was a Brand X lever action 410 shotgun. It was Denny's father's and had been in the family since the 1930s. I had never heard of such a shotgun but Denny and I had fun shooting it.
Years later while on active duty there was a good chance I was headed to Turkey for a two year assignment. American GIs stationed in Turkey in those days could not bring in rifles or handguns but you could have shotguns. I thought I would standout quite noticeably if I had a shotgun that looked like I was just arriving in Turkey from the American west. I never got the Turkey assignment and Denny was never going let me have his dad's shotgun.
For thirty five plus years whenever I was in the mid-west I make an effort to stop in Moberly and see Denny. I even got to run my hands over that lever action 410 shotgun once in a while.
Sadly Denny never finished his first year of retirement from the Moberly Police Department. I rushed back from Colorado to see him just before he died.
Henry Lever Action 410 Shotgun
Henry Repeating Arms has come out with a new lever gun. It is a 410 shotgun that is built on the same action they manufacture their 30-30 and 45/70 rifles. The moment I saw the first picture of this Henry Arms Wisconsin made lever action 410 shotgun I thought of my old pal, Denny and the fun we had forty years ago shooting his 410 lever action shotgun.
When the e-mail from the gun shop came that a Henry 410 shotgun had arrived, I called and told them I would be there in the next day or so to pick it up. Then I promptly grabbed my hat and keys and was entering the gun shop inside of a half hour.
I see this new Henry lever gun as nothing but fun, with a side of "prepper" thrown in for safety and survival's sake. It is a seven pound long gun, so when a 410 shotgun shell goes off inside the action there is no need to be concerned with possible discomfort.
The HO18 Henry lever action 410 shotgun comes in two configurations. The H018-410 has a 24″ barrel, with a full choke and a front bead sight. The H018-410R has a 20″ barrel with no choke and a set of adjustable rifle sights. I went for the no choke and rifle sights. With this setup, you do not know that it is a shotgun when first handed to you, with the sights you simple assume it is a rifle.
You are not going to hunt pheasants with a 410 shotgun that has no choke. What you can do is shoot a rabbit or squirrel if you are up close.
Also what you can do with the lever shotgun is hunt white tail deer where allowed in normal, non-crisis hunting time, and hunt anything you have to, to survive in a world gone a bit off its axis.
I did an informal count and discovered that over 50% of the states either do not specifically restrict or in fact actually allow you to hunt white tail deer with a 410 shotgun. Of course you need to make sure you understand the hunting rules of your state before you venture off into the woods with a Henry 410 lever action shotgun this coming deer season.
I am not going to try to convince you one way or the other about deer hunting with a 410 shotgun, but I am going to tell you it routinely and legally happens. I found a story about an older gentleman who had suffered a stroke and could no longer hunt with a 12 ga or even a 20 ga shotgun. A 410 shotgun was all he could handle in his diminished physical capacity, but by sticking to his personal rule of never shooting a white tail deer beyond thirty yards, he was able to harvest twenty deer in a ten year period.
A 410 shotgun slug falls somewhere between the energy of a 357 mag and a 41 mag handgun cartridge. A lot of deer have been shot over the years with a 357 mag handgun. I am going to strongly surmise that shooting a white tail deer or a "walker" with the Henry 410 lever gun, you will successively dispatch either of these two. A clean shot, at close range and both will drop.
A Lever Action Defense Gun?
As a defense gun, something to create your own "Henry Delay", to delay and slow down evil, the lever action 410 has numerous types of 410 ammo to call upon, to assist in this endeavor. If you are shooting slugs then you do not have to let the "walker" get as close before rendering it harmless. If you are shooting buck shot then you will have to let them get a bit closer before engaging.
With all the 45 Long Colt / 410 handguns out there in the market, a cottage industry has developed to provide multi-missile delivering 410 shotgun, personal defense ammunition. What you will discover is most of the special handgun 410 ammo is designed to work correctly if fired out of a rifled barrel. They need a twist to properly rotate the numerous missiles coming out of the barrel at the same time.
What this means is, is if you shoot this type of ammo out of a smooth bore 410 shotgun it tends to pattern rather widely. So, yes I have no plans to try and hunt game with this "special" ammunition.
Now, let us fast forward, it is 3:00 am and someone has kicked in your living room door. You grab your Henry lever 410 loaded with multi-missile filled shot shells and you engage that misguided "walker" in the hallway of your domicile. Yes that pattern is going to open up rather quickly but at seven yards or less it will deliver the positive results you are desperately hoping for. You will more accurately deliver those life-saving rounds, dispatching "walkers" from a long gun much more effectively than from a handgun–this is well known.
You can hunt, you can plink, you can have lots of fun and you can stop evil, doing all these things with your Henry lever action 410 shotgun. The Henry 410 is somewhat of a novelty long gun but it has already found a practical home with my family.
On occasion I have wondered whatever became of Chief Dennis Cupp's old Brand X, 410 lever action shotgun. I truly hope one of his sons has that delightful old shotgun.
I am not a sentimental person when it comes to inanimate objects such as firearms and I have never named a gun I have owned. I am however going to deviate for once with this new Henry lever action 410 shotgun.
I know every time I pull this Henry long gun out I will think of Police Chief Dennis Cupp back in Moberly, so the best thing I can do is name this Wisconsin made Henry after a good old Missouri boy named Denny.
Denny it is.
21 March 2017 / Major Van Harl USAF Ret / [email protected]
About Major Van Harl USAF Ret.:Major Van E. Harl USAF Ret., a career Police Officer in the U.S. Air Force was born in Burlington, Iowa, USA, in 1955. He was the Deputy Chief of police at two Air Force Bases and the Commander of Law Enforcement Operations at another. He is a graduate of the U.S. Army Infantry School.  A retired Colorado Ranger and currently is an Auxiliary Police Officer with the Cudahy PD in Milwaukee County, WI.  His efforts now are directed at church campus safely and security training.  He believes "evil hates organization."  [email protected]