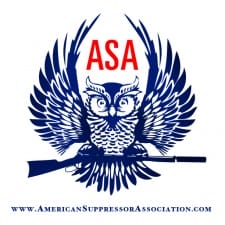 U.S.A. –-(Ammoland.com)- Since our last newsletter, staff from the American Suppressor Association has met with dozens of Congressional offices in Washington, D.C. about the Hearing Protection Act (HPA). Along with our partners, we continue to push the needle forward one step at a time.
If you're interested in a behind-the-scenes look at the work that is being done to get the Hearing Protection Act passed and signed into law, you'll want to see this video produced by SilencerCo, which features the ASA. It also highlights the main organizations that are in this fight with us – the NRA, Congressional Sportsmen's Foundation (CSF), and the National Shooting Sports Foundation (NSSF).
The Hearing Protection Act of 2017 (H.R. 367, S. 59) remains in the Top 10 most viewed bills at Congress.gov. Now with 133 cosponsors in the House, and 12 in the Senate, it continues to receive national media coverage. Your continued emails through www.HearingProtectionAct.com, as well as calls and letters, are one of the main reasons that this bill continues to build support in the House and Senate and is adding new cosponsors on a weekly basis. Keep those emails coming! It takes less than a minute to make your voice heard!
The ASA, with the generous support of our sponsors, will be holding five auctions to coincide with the NRA Annual Meetings (NRAAM). Five different ASA sponsors will be displaying these custom suppressed pistol packages in their booths at NRAAM. The auctions will start the weekend before the convention and will conclude on Sunday, April 30th. The sponsor manufacturer that has the highest auction price for the suppressed pistol package feature their suppressor will be crowned the winner of this friendly competition.
Keep an eye out, because we will be sending an email on April 20th with links to each of the auctions so that you can place your bid on your favorite package. All proceeds from the auctions will go to benefit the ASA's efforts to pass the Hearing Protection Act and pro-suppressor reform across the country!
About the American Suppressor Association (ASA)
The American Suppressor Association (ASA) is the unified voice of the suppressor industry. Our mission is to unite and advocate for the common interests of suppressor manufacturers, distribu­tors, dealers, and consumers. To accomplish our mission, our principal initiatives focus on state lobbying, federal lobbying, public education, and industry outreach.
For more information on how you can join the ASA, and help protect and expand your right to own and use suppressors, please visit www.AmericanSuppressorAssociation.com.