By Jeff Knox : Opinion
Buckeye, AZ –-(Ammoland.com)-  The jury verdict clearing Officer Jeronimo Yanez of all charges in the shooting death of Philando Castille is a travesty.
Yanez demonstrated extremely poor judgment, failed to control a controllable situation, and let that situation take him out of control of himself. It's always easy to play Monday morning quarterback and point out all of the things someone did wrong, and all of the things they should have done differently, but this is basic training stuff, and Yanez missed it.
Going over the transcript of the dash-cam video, the one word that might have changed everything, and was conspicuously absent, was the simple word "Stop."
When Castile politely told Officer Yanez he was carrying a firearm, Yanez said, "Okay, don't reach for it then," to which Castile began to reply something illegible, and Yanez sternly said "Don't pull it out," to which Castile replied, "I'm not pulling it out," and his girlfriend chimed in from the passenger seat, saying, "He's not pulling it out." At this point, Yanez yelled "Don't pull it out," as he drew his own gun and fired seven times into the car.
The whole thing, from the moment Castile told Yanez that he was carrying a gun, to the moment Yanez began shooting, took less than 5 seconds – barely enough time to get the words out.
The key discrepancy between Officer Yanez's version of the events, and the testimony of Castile's girlfriend, is whether Castile actually touched the gun in his pocket. Yanez says he did, and that Castile was pulling the gun from his pocket, even as he was saying that he was not. The girlfriend contended that Castile never touched the firearm, but was attempting to obey Officer Yanez's instruction to produce his drivers license, by reaching for his wallet. She also claims that when Yanez yelled "Don't pull it out," Castile stopped what he was doing and began moving his empty hands back toward the steering wheel, but Yanez began firing anyway.
Prosecutors pointed out that Yanez could have, and should have said something like "Freeze," or "Put up your hands," and critics have pointed out that Castile should have known to keep his hands on the wheel until he received specific instructions from Yanez. Both are right, and either of those actions by either of the men would probably have averted the tragedy. But Castile was apparently attempting to obey Yanez's instructions, and it's Yanez's job to be in control of the situation. Seven shots fired at Castile, with a little girl sitting in the back seat, is not control. And though Yanez was only inches away from Castile, two of the seven shots missed him completely.
The defense attorney argued that Yanez was acting within his training and accepted police protocol to protect himself. He said that Yanez had to shoot, because of the limited time police have to react to a deadly threat.
This points up a problem with police training focused on worst-case scenarios, and an irrational fear of anyone else being armed.
The former Chicago police commissioner, actually said that having concealed carry legal in the city would result in permit holders being shot by his officers, because he was training them that, when a gun is present, they should basically shoot first and ask questions later.
Something else that was claimed by the defense attorney, was that Yanez couldn't retreat, and that his only option was to shoot. Experienced officers will tell you that this is just not true. Taking a step toward the rear of the car would have not only taken Officer Yanez out of Castile's direct line of sight, requiring him to awkwardly try to shoot over his left shoulder – if that was his intention – it would also have positioned him so that firing at Castile would not jeopardize the little girl in the back seat, or the woman in the passenger seat, and it would have created the extra moment needed to determine Castile's intentions.
From the outset of this tragedy, many people have asked why the National Rifle Association didn't get actively involved in the case. Since Castile had a license to carry a firearm, they suggest that NRA should have leapt to his defense, and called for the prosecution of the officer. Many have gone so far as to claim that if Castile had been white, the NRA would have brought all of their power to bear.
That is an unfair accusation, and is simply not true.
The NRA has a long record of staying away from violent criminal cases, and especially police shootings. The case of Erik Scott, who was shot down by police as he and his girlfriend exited a Costco in Las Vegas, is a prime example. Scott was white, a West Point graduate and decorated veteran, and licensed to carry concealed, but the NRA didn't touch that case. Neither did they decry the killing of Jose Guerena, who was shot some 60 times in his own home during an unfounded, and terribly executed police raid in Tucson.
While many of us wish the NRA would get more involved in these cases, they feel they can do more good by helping to train officers better in dealing with armed citizens, and that taking a public stand in controversial police shooting cases, would only harm those efforts.
In the end, the shooting on Philando Castile was a terrible, and preventable tragedy. I personally think it was a "bad shoot," and that there should have been a criminal penalty applied. Yanez seems like a relatively good guy, and I don't think his actions were based in malice, but he was wrong, and he shouldn't get a free pass. I don't think it was racially motivated, and it's frustrating to see the debate tracking in that direction. That will only serve to increase tensions, and distracts from the real problems. Those problems are poor police training and the double-standard the laws and courts apply to police, as opposed to regular citizens.
If a citizen pulled the trigger with no more cause than Yanez articulated, prison time would be virtually guaranteed.
My position in this article will illicit a barrage of criticism from friends and strangers in law enforcement and their supporters, which highlights another serious problem – the blind defense of the "thin blue line." If law enforcement and their supporters can't rationally step back and call out their own when they cross the line, how will they ever be able to hold the public's trust?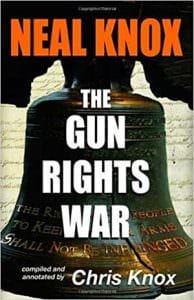 About Jeff Knox:
Jeff Knox is a second-generation political activist and director of The Firearms Coalition. His father Neal Knox led many of the early gun rights battles for your right to keep and bear arms. Read Neal Knox – The Gun Rights War.
The Firearms Coalition is a loose-knit coalition of individual Second Amendment activists, clubs and civil rights organizations. Founded by Neal Knox in 1984, the organization provides support to grassroots activists in the form of education, analysis of current issues, and with a historical perspective of the gun rights movement. The Firearms Coalition has offices in Buckeye, Arizona and Manassas, VA. Visit: www.FirearmsCoalition.org.