By L.P. Brezny (SGT SFPD Ret.)
Long-range shooter, L.P. Brezny reviews the Leupold VX-R Patrol 3-9X40 Riflescope with the FireDot Reticle in this range test and review.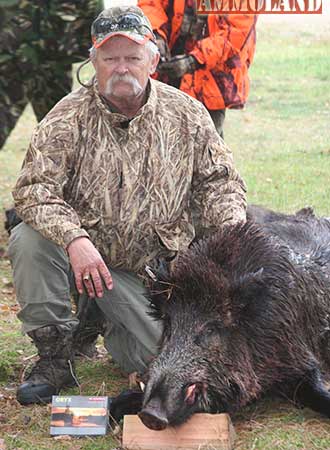 USA –  -(Ammoland.com)-  Opening the packing box that held a Leupold VX-R Patrol 3-9X40 Riflescope that I was about to review made my day.
Here I had a tactical optics system that took me back through three different law enforcement agency, and time spent with several fellow officers being snipers, as well as street officers alike. I had worked a total of 23 years in the shop, and over time had come to become well versed in terms of all manor of police operational gear, guns, and loads.
I was right at home with this rifle glass sight unit, and at once mounted it by way of my Warne one pieces 30 mm mount, and locked it down on my own personal Savage Model 10 police sniper rifle that was chambered in 308 Winchester.
Range day was nice clear weather for testing the new scope, but the winds were no ones friend, with gusts to 25 mph at a full crossing value at the down range steel targets. At least the 3X9 Leupold Patrol retained external windage and elevation adjustments by way of TMR graduations. This would allow me to factor my elevation and bullet drift while keeping me in the game of testing as such.
When tactical situations arise the officer, or any shooter for that matter does not get to select his or her weather conditions. Here in western South Dakota our state police officers that are sharpshooters train in nasty winds quite often, therefor that would be the game of this day for me as such.
The Leupold VX-R Patrol's TMR hash mark system applied to the Leupolds reticle is a design of the scope builders own creation, I have to say that I am not a fan of custom sight and ranging systems, and have tried to match all my personnel rifle glass to milrads, or m.o.a, configurations. The Leupold TMR ( Tactical Milling Reticle) is designed more as a range finding system versus a hold over elevation, a windage establishing design. When reviewing the direction for use in the Leupolds manual I found it somewhat tedious. In fact it was so complicated that I would never have room to cover even a small part of it here so I have included the document in the resource section below for further reading. Being this scope is also offered in m.o.a graduations, if I were to select this glass sight for any of my rifles it would be without question set up as an m.o.a. reticle.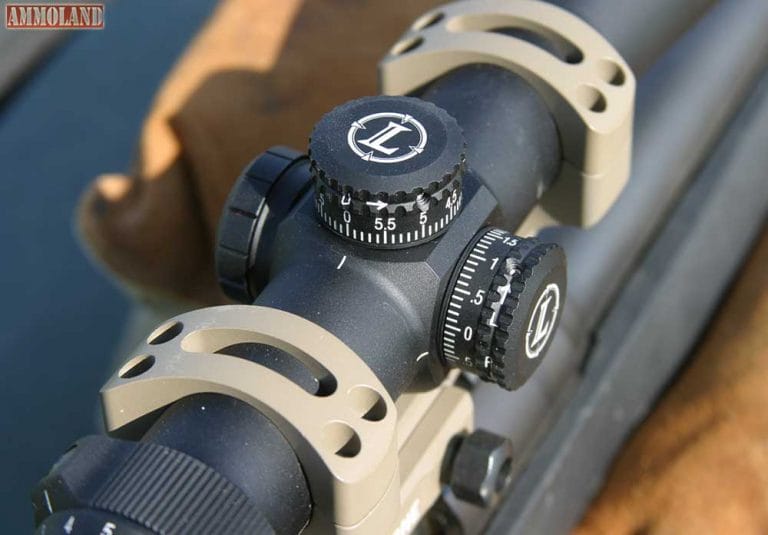 Because the Leupold VX-R Patrol 3-9X40 Scope is set up with open adjustment turrets and marked accordingly on both elevation and windage turrets knobs I selected a course of fire much like what we would have experienced as a police training unit. Many buyers of this system will in effect be looking at target courses of fire, and even possible use among law enforcement agencies.
After zeroing the scope which took exactly two rounds at a 25 yard target, I selected my down range 100 yard Birchwood Casey hostage flipper head steel. Flip targets use a hinged bad guy head behind the full torso good guy being held at bay. Shoot the torso and you just killed the good guy. Shooting a combination of Black Hills 168 grain Sierra TMK sniper grade military ammo, and Lake City military 168 grain Sierra MATCH, I took a "WAG", ( "wild ass guess" in sniper talk,) and push two hash marks into the wind ( 2/10 of a mil, ) then sent a bullet that center punched the flipper head sending it back around toward the opposite side of the torso target. Accuracy is critical with precision scopes, and the Leupold Patrol did deliver. Five rounds at mr bad guys head and five center hits told the whole story regarding this well balanced gun load combination. Over a time line of ten days I shot the new Leupold optic and above indicated loads from 25 to 600 yards on steel. The results were positive. Even under those nasty wind conditions on day one I found my DOPE ( data on previous engagement, ) and maintained hits to 300 yards by way of elevation adjustments of 5/10th mil, and a 4/10 mil windage shift. This was according to the hash mark sub tension system employed in this reticle. Pushing to 600 yard via my AT ( Action Target) E-50 full aggressor target sent steel dying, and paint chips flying.
The Leupold VX-R Patrol 3-9X40 Riflescope is equipped with an illuminated Fire Dot reticle system that retains eight different intensity ranges. This system can be activated by motion and will shut down to save battery power after 5 minutes.
This allows low light capability, and this type of optic could well find a good deal of work in that environment. With a 30mm main tube this optic is also capable of pulling more light and also functioning well, offering the shooter a higher level of elevation graduations with a larger turret. From zero set at the base rotation on the turret the Patrol will advance elevation to 60 mils.
As an example in 308 Win, 168 grain bullets will allow an effective range limit of 1000 yards if the bullet / load are compatible.
A shooter can also half the elevation by using the turret adjustment and then move to the engraved elevation hash marks cut into the reticle glass. Between the two systems you could send a bullet 1400 yards if it had enough BC and steam on it. I am thinking here of the 300 Win Mag.
In conclusion my thinking is that the Leupold VX-R Patrol Scope is a precision type rifle scope designed to do more then shoot meat for the pot. Priced at about half the going rate for a tactical optic of this type the buyer is getting a whole lot of scope for the money. In the final day of testing I shot the scope via Federals new copper all metal bullets on the 600 yard Action Target torso steel. With a full value cross wind of 18 mph that was consistent. and a four moa turret adjustment in elevation, three rounds produced a centered group of under 2 7/8 inches.
That my friends is sub ½ moa and that says this new Leupold tactical option can deliver the mail!
Leupold VX-R Patrol 3-9X40 Riflescope Specs:
Tube Diameter: 30mm
Adjustment Click Value: 1/10 Mil
Adjustment Type: Click
Exposed Turrets: Yes
Finger Adjustable Turrets: Yes
Turrets Resettable to Zero: Yes
Zero Stop: No
Turret Height: Medium
Fast Focus Eyepiece: Yes
Lens Coating: Fully multi-coated
Warranty: Lifetime factory warranty
Power Variability: Variable
Reticle Construction: Glass-etched
Reticle: FireDot TMR
Illuminated Reticle: Yes
Battery Type: CR2032
Holdover reticle: Yes
Reticle Focal Plane Location: 2nd
Parallax Adjustment: None
Price $750 MSRP ( Base pricing about $550.00 or less online. )
---
Leupold VX-R Patrol 3-9X40 Riflescope Resources : 
Leupold Tactical Milling Reticle Manual
About the Author L.P. Brezny:
With more than 50 years experience in the field and the testing lab, author L.P. Brezny is one of today's most recognized shotgun experts and authors. He is a contributor to dozens of firearms publications, such as Wildfowl, Shotgun Sports, and Varmint Hunters, and he is a regular columnist in the Gun Digest annual. Be sure and check out his newest book: Long Range Shooting, Second Edition