Josh reviews the Keystone Sporting Arms Crickett Precision Rifle with its Navy MK-13 rifle inspired look. (Crickett rifles are single shot)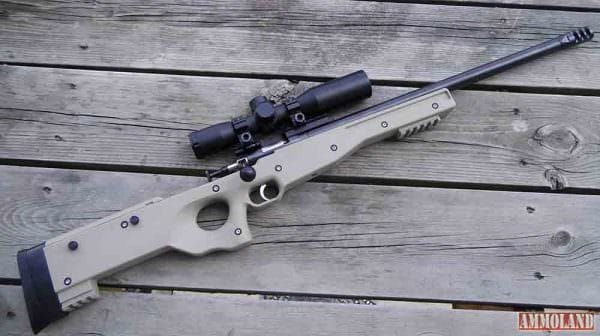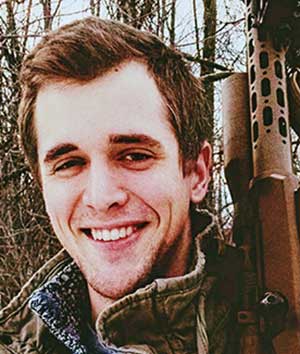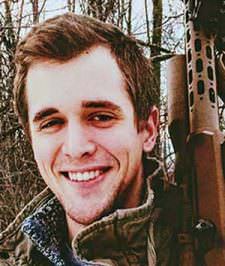 U.S.A. –-(Ammoland.com)- I remember when I first saw a picture of the new Keystone Sporting Arms Crickett Precision Rifle.
I have always loved the look of the AICS stock and just how damn awesome the Navy MK-13 rifle is in all capacities. I had to do a doubletake when I saw the photo, because the rifle in it was just so… small.
I took a closer look and saw that the subject was in fact a new .22Lr rifle based on Crickett's single-shot action. Despite the fact that the only similarities the CPR has to a MK-13 are the fact that they are both bolt actions and bullets come out of one end, I decided to get my hands on one and do my best to wring out what accuracy lies in the little gun.
When it finally arrived, I was shocked at just how small this thing is. It somehow looks bigger in the pictures, which is hard to explain, but it is true. The CPR I got came with a 4x scope, rings, a base already installed, an adjustable cheek rest, and a very functional bipod. The barrel even featured a pretty nice, if extraneous, muzzle brake. Looking at it now, it is totally appropriate because a bare muzzle wouldn't be nearly as cool.
Keystone Sporting Arms Crickett Precision Rifle
I played with the little gun and bit and got used to the features. The CPR is a bolt action, but it has an extra step involved that makes it a bit different than other similar weapons. To load the CPR, you must open the bolt and draw it to the rear. After this, you have to manually insert a single .22LR cartridge into the chamber. There is a bullet guide, so this is a pretty easy task. When the cartridge is inserted, close the bolt. Unlike other bolt actions, you have to manually cock the CPR by pulling the cocking piece to the rear until it sets. After this, just line up and fire. The fired case ejects with a flick of the bolt and you're ready to start again.
Crickett really managed to surprise me with the general quality of this little gun. I found that, despite the fact that it is product designed with very young shooters in mind, the CPR has quite a bit of utility for us grown-ups. In the course of my testing with this gun, I managed to wrangle a few kids in to give it a go. They all enjoyed shooting the rifle. Their parents were also happy to find a rifle to teach their kids shooting safely at a minimal cost of ammunition.
All in all, I had ten people, ranging from 5 to 65 years-old put trigger time on the CPR and all wore a grin. Some kids never grow up.
I mentioned earlier that the little Keystone Sporting Arms Crickett Precision Rifle has some good utility for general use. It has several aspects that make it a great hiking and backpacking gun, a wonderful means of backyard pest control, and as a nice small game hunting rifle.
I got used to the CPR when I took it on several trail hikes. It fit very nicely on my Hill People Gear Umlindi pack with the butt in the exterior pocket and the barrel lashed in with a tie-down strap. It wasn't a hindrance at all and was readily available to me should a shot have arisen while on the trail.
For the accuracy testing portion of this review, I managed to burn quite a few boxes of ammo at distances out to 200 yards. I ended up firing almost twenty varieties of 22LR from Federal, CCI, Winchester, Remington, Aguila, Eley, Wolf, RWS, Fiocchi, and American Eagle. The CPR had no issues with any of the ammo tested and shot all of them pretty darn well. In fact, nearly all loads tested performed identically at every distance. I would love to tell you that the thing just straight up sucked with a given load, but it just wasn't the case.
Sure, some did better than others if you count an inch wider spread than the next brand to be significant at 200 yards with a rimfire, but I was counting fun and hits above group size here.
I've heard a fair amount of crying from other reviewers about the trigger pull on this little gun. I will say that it isn't the crispest trigger ever made, but certainly not the worst by a long shot. Once you get used to the pull and take up, it's just like shooting any other gun. The issue I found to be a bigger deal than the trigger pull was the low weight of the rifle. The feathery gun moves a fair bit when you are behind it and, combined with sloppy trigger control, can result in poor accuracy. Take your time and you'll be fine. As an added measure, it can help kids learn good trigger pulling skills.
I believe that many adults that have a problem with this trigger could go back and learn a thing or two about their own habits. As the old adage goes, it's not the arrow it's the Indian.
I shot the Keystone Sporting Arms Crickett Precision Rifle for group using whatever I had on hand on any given day and came away with a pretty realistic idea of what the gun was capable of. Most of my shooting was done on a 10" steel plate at 100 yards and making hits was, well, a bit boring. Once I got the scope zeroed, I just left it and kept on ringing steel. One of the minor complaints I had on the CPR was that the supplied 4x scope was a bit wanting in the magnification department, so I slapped a couple other fun scopes onto the little devil.
The first was SIG's ECHO-1 thermal sight. I previously tested this great optic on a Next Level Armament .308 and had stellar results. I figured I'd give it a go and warmed my steel plate up with my torch and started having more fun than a person should. After that I decided to attach another great optic from an upcoming review of a different precision bolt action rifle.
The Vortex Viper 6-24X50 in Warne Mountain Tech Rings may be a bit much, but it really looks good sitting on the CPR. It makes it somewhat top-heavy, but that's that the bipod is for. The Vortex improved accuracy and I was able to make consistent hits on the steel at 200 yards with no effort whatsoever. All in all, my average group size at 25 yards was about 1", 3" at 50 yards, and about 5" at 100. I did not shoot for groups at 200, but did manage to reliably hit steel all day, which is about all that I could ask for in 22lr.  The CPR has great accuracy at ranges of 25 to 50 yards with all ammo and most kids would have a riot hitting pop cans at those distances. Hell, I would, too.
I really like the Crickett Precision Rifle from Keystone Sporting Arms CPR. I think that the little gun has awesome military lines and looks great on the range. If you're in the market for a neat and cost-effective guns, Keystone Sporting Arms Crickett Precision Rifles have lots of possible uses, give this one a look.
Special thanks to:
Keystone Sporting Arms
SIG Sauer
Vortex
About Josh Wayner:
Josh Wayner has been writing in the gun industry for five years. He is an active competition shooter with 14 medals from Camp Perry. In addition to firearms-related work, Josh enjoys working with animals and researching conservation projects in his home state of Michigan.