Tom reviews the Diamond Blades Traditional Hunter Knife and finds it a great hunting and skinning blade.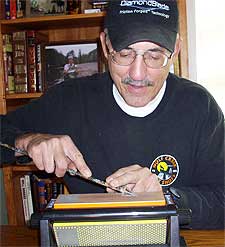 USA – -(Ammoland.com)- In 2005 I became acquainted with Charles Allen the owner of Knives of Alaska and the President of Diamond Blade knives (He now owns Diamond Blade as well).
One thing led to another and I was soon testing his Diamond Blades Traditional Hunter knife model. At the time Ed Sweet with Kid Outdoors and I were taking a bunch of 12-16 yr. old kids bear hunting. He'd film them for his show and I'd write articles on the hunts.
In an NRA Magazine I read a Product Review that said they had skinned three hogs and could still shave with this knife.
I knew then had to test one.
If there is one hunting knife that could be classified as the all-around hunting knife it's the Wayne Goddard "Traditional Hunter" made by Diamond Blade. Most good skinners prefer a drop point knife. You can skin faster without cutting through the hide. With a clip point knife you're more likely to make a cut in the hide.
Can you skin with a clip point? Sure you can. It's just that you need to be a little more cautious while skinning so you don't make a cut in the hide. So, if you like a drop point knife for skinning, this one fits the bill.
But the thing that makes Diamond Blades Traditional Hunter Knife so unique is that they ground down the spine to a point so you can also cut the pattern with it. The pattern is the first cut you make where you puncture through the hide and make a cut down the belly and on each leg out to the feet.
Up until the Traditional Hunter, you had to choose either or, clip point or drop point. The last few years I've noticed a lot of Copy Cats on the market that are grinding down the spine.
The next feature that sets DB's Traditional Hunter above the other knives on the market is the angle of the blade and handle. The handle is in a slight downward crescent shape and the blade is about the same angle but curls upwards. You may ask why is this a big deal?
If you grasp the knife and make motions like you're skinning an animal you'll notice that you don't even have to bend your wrist anything noticeably. If you only skin one deer every 3-4 yrs. it's no big deal but if you skin 4-6 animals per day it's a huge deal. With the TH you have basically no wrist fatigue.
For my hand size, a 4 ½-inch handle with a finger guard fits perfectly and the 3 ½-inch blade is the perfect size. It goes without saying but if you have a huge hand or even on the other side of the spectrum a smaller one then it may not fit you as well.
So due to the above described designs I have to give the TH a 10 out of 10 rating. I can't speak highly enough about the superb design.
Now let's talk about the metal in the Diamond Blades Traditional Hunter Knife. Charles worked with BYU and together they developed a process called Friction Forging (FF). Due to the intense heat used while cutting the blade it realigns the metal molecules which forms some unique attributes.
Normally if a knife blade is hard, it has no flexibility and snaps when bent. Not so with the friction forged knives. They're hard and yet have some flexing properties. Next, FF blades hold an edge unbelievably long. There was a study that compared the length of time that some of the top knives on the market would stay sharp. The study showed that when most knives get dull it's on a continual decline but with a FF knife, after it hits a point it maintains that level of sharpness. Describing the Friction Forging process in depth would be an article in and of itself but for now I will leave you with this in a nutshell version.
The Diamond Blades Traditional Hunter Knife scabbard has a Kydex liner in it and the leather portion is bradded so it should be safe to wear while riding a horse. The only downside on the whole knife that I can see is that I wish the knife snapped down into the scabbard tighter so it couldn't fall out in a bad tumble down a mountain. Although, I have owned and carried mine for 13 years and have never lost it.
As we close on this review, the Diamond Blade line has many top-notch knives in it so expect to see more Product Reviews on some of their other knives in the future.
About Tom Claycomb
Tom Claycomb has been an avid hunter/fisherman throughout his life as well as an outdoors writer with outdoor columns in the magazine Hunt Alaska, Bass Pro Shops, Bowhunter.net and freelances for numerous magazines and newspapers.