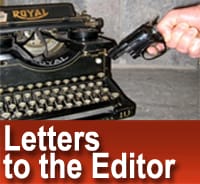 USA – -(Ammoland.com)- To the editor:
Remember the "Bimbo Eruptions" during the President Clinton years? Bubba would do the deed and Hillary would move in for the "kill" of the transgressing female. Well, the recent eruption was the chatter about the stiletto heels that Melania wore boarding Air Force One.
Did we ever hear any Leftist derogatory comments about Michelle's attire when she was tending to her White House organic Victory garden?
It was no surprise then, when Feminists moved in for the kill. No mention was made that Melania wore J. Crew and white sneaks visiting the flood victims with POTUS and Barron.
Is this all they have to "resist with?" What happened to the Feminist mantra: "an attack against one woman is an attack against all?"
Then there was the Lefty college prof who implied that Texans deserved hurricane Harvey because they voted for Donald Trump. Since that outburst he has since gotten the Karma boot to "spend more time with his family."
Not satisfied with these "kills" the brigade went after televangelist Joel Osteen for not opening his Houston megachurch to the flood victims. Wrong again. The good Reverend did in fact open his church, after his staffers ensured that the flooded areas of the building did not pose any hazards.
So far, these are the only contributions the Democrats have made to the Harvey rescue efforts.
Oh, I almost forgot; the Dems located a few flooded graveyards where a Confederate soldier might be buried that need to be purged from history.
They also learned that Donald Trump was thinking about opening a hotel in Moscow. This tidbit must be thrown into the inquisition caldron. Since Ritz-Carlton, Marriott, Hilton, Sheraton, Holiday Inn and 42 others are already there, why would a savvy hotel corporation like Trump want to be there too?
I wonder if the management of these competing hotel chains ever spoke to a Russian? BTW Motel 6 is "leaving the light on for you"……..in Moscow…ID.
I feel so much safer now……especially with Kim Jung-Un shooting an ICBM over Japan, threatening to "cover us in water" and launch a nuke our way.
As our illustrious former leader, community organizer emeritus and Nobel Peace Prize winner once said, "elections have consequences." Get over it!
M. Velsmid
Nantucket, Ma, USA