Josh takes on the ultimate Lightweight AR Pistol project build, keep reading to see him make the case for his choices of parts.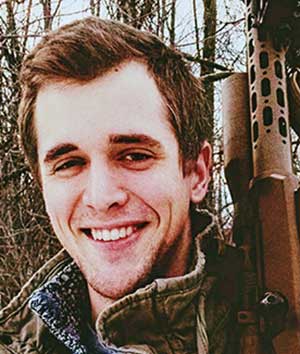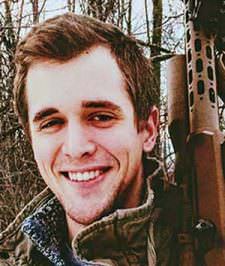 U.S.A. –-(Ammoland.com)- When it comes to new and innovative products, the first place to look is in the AR market.
The AR weapon family has the privilege of being a nearly universal platform for the modern consumer.
The fact that literally, every single part has dozens of iterations is enough to consider the weapon family as an American manufacturing mainstay. It is because of the availability and open-source nature of the weapon that it is so very popular. There is fierce competition to innovate in this type of market and I believe that I have assembled the best and most modern parts available for this lightweight build.
Initially, I was going to do a rifle for this thing, but in the process of going over ideas, the loveable ATF changed their opinion about pistol braces and I quickly did a one-eighty and went the pistol route. I figured that if I could make a light rifle, then I could make an even lighter AR pistol with more features for the weight. I wasn't wrong, but there were several angles that I had to address to get a pistol that functioned as good as it looked.
Lightweight AR Pistol Project
My choice of receivers was paramount for this lightweight AR pistol project and there is hardly a friendlier and more innovative company than V7 Weapon Systems. The fine folks there not only love what they do, but they have made serious waves with the quality of their work. V7 makes a fantastic Lithium-Aluminum Receiver Set that is so light you'd swear it was made of cardboard. Don't let the light weight fool you: the Lithium set is stronger and more corrosion resistant than comparable aluminum options. In addition to the receivers, V7 sent me the corresponding takedown pins, dust cover, and endplate.
Their stuff is amazing and looks fantastic.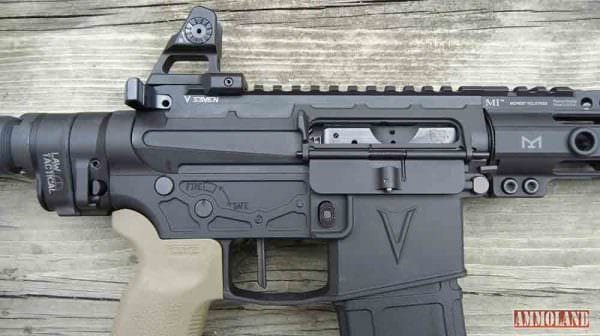 A light gun needs a light trigger to prevent pulling off of target. Those of you who have shot AR rifles with a heavy trigger will notice that the long and gritty pull can have a very negative impact on accuracy. That simply wouldn't do for me so I contacted Hiperfire and received one of their Hipertouch 24C triggers. I've shot with a large number of great triggers over the years, but let me tell you that you've not tried a trigger like this one. This trigger is simply unreal and allows for faster and more accurate shooting than anything I've ever used. The fast reset and flat face allow for near-instant split times.
A big problem related to small AR-type weapons is the cycling mass of the bolt carrier group. The heavier the bolt, the more mass to generate recoil. This is an issue as some lightweight AR pistols have a serious amount of recoil for their size which is detrimental to accuracy and follow-up shots. To remedy this, I reached out to Faxon Firearms. Faxon is a fantastic company and was nothing but helpful to me. They sent me a Skeletonized Gunner bolt carrier, 10.5" Pencil barrel, and a Superlative Arms adjustable gas block and tube.
The barrel and gas system are critically important to the reliable operation of such a small gun and the parts I received demonstrated that perfectly. The Faxon Pencil Barrel has a carbine gas port location. You may wonder why this matters but it is a very important feature. A longer gas tube allows for a reduction in recoil impulse. The gas pressure, being already reduced compared to a pistol-length gas port, can be further tuned with the Superlative Bleed-Off Gas Block.
This all works together with the light trigger and lightweight bolt carrier group to produce a super-efficient weapon that cycles extremely fast with a significant reduction in cycling mass and thus recoil.
An interesting note is that I did not use a special buffer spring and buffer. You may wonder why I decided to go with a standard carbine set, but it makes perfect sense.
My friends at Next Level Armament provided me with a variety of small parts and the standard spring and buffer. The reasoning behind the standard buffer and spring is that I wanted a fast cycle rate coupled with reliability. If you have a too-light buffer and spring, you risk beating the gun up because there is nothing to control the rearward movement of the bolt carrier. Not only is this harmful to the weapon, but you can physically tell the difference in cycling rate. The forward movement of the carrier must be aggressive to strip a round from the magazine and lock into battery. I've seen light springs and buffers get hung up on the small amount of pressure it takes to chamber a round and I wasn't going to have that happen here.
To further reduce recoil and to enhance the handling of the weapon I got in touch with SilencerCo and they sent me a pair of muzzle devices to use with the weapon. I was sent both the ASR muzzle Brake and ASR Flash Hider. The muzzle brake is pictured in this article, but you will be able to see the difference in performance in my next article when I test them side by side while developing ammunition for this lightweight AR pistol project. The ASR muzzle brake pictured here takes away whatever recoil remained and truly allows the weapon to stay on target during rapid fire.
The buffer tube area of the weapon is where things get interesting. One of the requests I had for this project was to make it as compact as possible. For this, I turned to the one-and-only AR folding stock mechanism from Law Tactical. This is a necessary part to make any AR compact. It is, however, a heavy part for this build considering that it adds weight to the rear of the gun. This is not whatsoever a bad thing. In fact, I greatly appreciate the added mass at the rear as it has a tangible influence on the balance of the little guy.
The buffer tube pictured in my lightweight AR pistol project is a prototype model from a new company, Dawn of Defense. This tube is specially machined to accept the Gear Head Works Tailhook Mod1. The parts work in tandem to make a solid purchase on the weapon. I have used many types of AR pistol braces over the years, but friends, the GHW Mod1 and DoD tube are the best and most solid out there as far as I'm concerned. When you fire using this setup like a carbine, it feels just like a normal carbine. The Law folding mechanism adds a bit of length to the buffer assembly and is about the same length as a carbine stock on the second position out.
For those of you who are late to the party, the ATF again changed rules that stated shouldering an AR pistol with a brace constituted a redesign. You are now able to shoulder this brace as common sense would allow.
The handling of a weapon this size is tricky to arrange. In addition to the Magpul MOE K2 Grip, I opted for a Midwest Industries G3 Lightweight handguard for 10.5" barrels. This is a state-of-the art handguard and features M-LOK attachment points in addition to five QD sockets. In testing with this weapon the handguard never became too hot to touch which is more than can be said of most other similar designs. I love the look of the MI handguard and I think it adds to the lines of the finished gun.
Charging the weapon is accomplished with a Sintercore 5.56 SCV handle. This is a radical design that is ambidextrous and weighs less than an ounce. The SCV is an ambidextrous, suppressor-compatible design that has holes in the top of the handle to redirect gasses away from the shooter's face. It is lightning-fast and you'll wonder why you have a big, clunky handle on your full size AR rifle after using this.
The last part of this build is something that often gets overlooked by many shooters as an afterthought. My friends at Scalarworks sent a set of their On Point Fixed Iron Sights. Iron sights have fallen out of fashion with many 'industry professionals' types, but there is nothing that speaks of confidence like something this simple and intuitive. Scalarworks not only did an outstanding job on their web page for these sights (I dare you to visit that site and not put a set in your cart), but they really managed to reinvent the wheel when it comes to irons. These sights are light and are adjustable without tools. I was literally zeroed in seconds with no fuss. I've never had that happen before and it was simply incredible.
The whole combination of parts on this lightweight AR pistol build came in at 26″ and about 5 1/2 pounds loaded. Due to the prototype and new designs featured here, some light gunsmithing was required to meet the 26″ length. Always make sure you follow NFA rules when building a gun this size. Muzzle devices like brakes and suppressors do not count as part of overall length unless they are permanently affixed to the barrel.
It should be noted that severe damage or destruction of the gun can occur should the weapon be fired with the buffer tube in the folded position. This is a storage or transport feature only.
So how did the Lightweight AR Pistol Project shoot?
For that you'll have to see the second part of this article which will focus on developing loads and tuning an AR pistol or SBR for optimized performance. I will say that the SIG 77gr OTM match ammo I used to zero the sights grouped at 2" at 100 yards for ten shots, which is stellar. The weapon is fast, light, and has virtually no recoil to speak of. It is a smooth-cycling little machine that just wants to fire all day.
This was a very exciting project and I would highly recommend working with any one of the fine companies that made this article possible.
Special thanks to:
About Josh Wayner:
Josh Wayner has been writing in the gun industry for five years. He is an active competition shooter with 14 medals from Camp Perry. In addition to firearms-related work, Josh enjoys working with animals and researching conservation projects in his home state of Michigan.