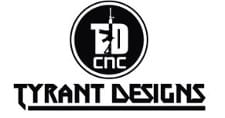 USA – -(Ammoland.com)- Tyrant Designs CNC is at it again, this time coming out with their new HALO Series AR HandStop.
Machined from aerospace grade aluminum and finished in hardcoat Black, Red, Grey and Blue these little AR-15 handstops fit directly onto MLOK and KeyMod handguards by utilizing Tyrant Designs' 2 in 1 technology.
Introducing our AR-15 handstop, the HALO Series HandStop! It is the first and only direct MLOK and KeyMod compatible AR handstop. We utilized our MLOK/KeyMod technology seen on all of our foregrips to allow the operator the ability to use the HandStop on both platforms for a true two in one product. Our AR HandStop has been designed and tested for a lightweight and multifacited usability. It is extremely comfortable and can be used to improve your target acquisition. Use it as a forward stop to help keep your hand away from hot muzzle devices. It also doubles as a great barricade stop.
Best of all its overall small dimension will help make your AR-15 rifle more compact, less susceptible to snagging and keep that all important weight down on a lightweight build!
Tyrant Designs Announces new HALO Series AR HandStop Features:
Durable (all aluminum, skeletonized AR handstop)
Use as Keymod handstop and MLOK handstop (direct interchangeable)
Comfortable (chamfered edges for a smooth feel)
Use as an AR barricade stop
Chamfered holes to allow finger placement inside
Machined knurl for supreme grip
Extremely lightweight
Beadblasted and Type III Hardcoat
CNC engraved Logo
Install kit included
Dimensions
Length- 1.5″
Width- 0.65″
Weight- 0.9 oz
Purchase includes
M-Lok and/or Keymod fasteners
L-keys
"After the success of our AR-15 vertical grip, we are very excited to release our new HALO Series AR HandStop. We only hope that our customers enjoy it as much as the VFG. We plan on growing out the HALO Series even more with a new AR pistol grip coming soon! "
Shop the Halo Handstop now at www.tyrantcnc.com
Tyrant Designs CNC is an AR accessories manufacturer based just outside of Chicago. They have had several successful designs for AR pistol grips and are now working on expanding their product line.