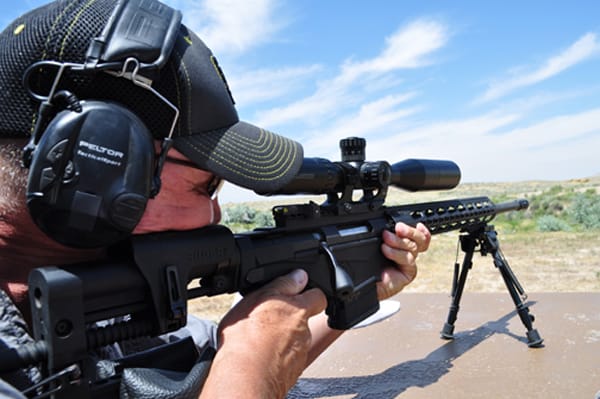 Wyoming -(Ammoland.com)- LUCID Optics, manufacturer of the best value line of optics on the market, recently held its 5th Annual Long Range Shooting Clinic with great success. The clinic was held on July 23, 2017 to a full class of ten guest shooters.
Jason Wilson, owner and CEO of LUCID Optics, along with Pro-Staff Shooter Lantz Pfisterer, gave a presentation to guests with instruction and tips for effectively focusing and placing long range shots.
After class instruction, shooters were able to put their new knowledge into practice at the range.
LUCID's shooting area utilizes the beautiful, wide-open landscape found at the base of the Wind River Mountain Range. The semi-private shooting range features a 100-yd paper target area for precision paper tuning, then reaches all the way out to 1760-yds with steel targets set at 1000-, 800-, 600-, and 400-yds.
Attendees and instructors alike were very pleased with this year's clinic.
Lucid received great feedback from the guest shooters who attended the event:
"Thanks again for an amazing day. It was certainly an experience I/we will not only never forget, but one that will be cherished, and the knowledge gained being used going forward," from Drew M. and brothers.

John from Montana commented, "I met new shooting friends from around the country, had a great partner when we paired up into shooter/spotter teams, thoroughly enjoyed all the help from Jason's great staff, and tagged the one-mile target three times out of five shots from two different rifles. All in all, it was a great experience that I hope to be able to repeat. And, of course, I now own two Lucid rifle scopes and a Lucid spotting scope!"

"I had the privilege to come out to Lucid Optics' Long Range Shooting Clinic a few weeks ago along with several of my Friends of NRA Volunteers. We had the best time shooting and learned more about long range shooting than I could imagine. I personally have shot quite a lot at ranges out to 800 yards and thought I knew what I was doing, but after the first hour I learned so much more. This was the best time I have spent on the range in a very long time." said Tim Bacon, NRA Senior Field Rep.
LUCID Optics plans to continue this annual event with next year's Long Range Shooting Clinic in the summer of 2018.
To learn more and see the full lineup of LUCID Optics products, visit their website.