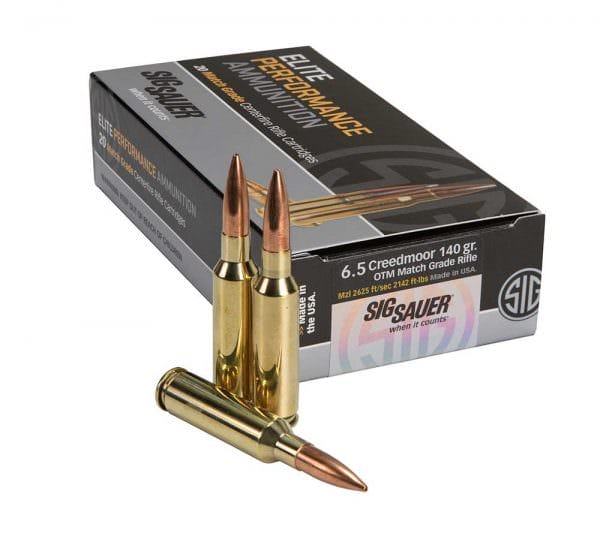 Newington, NH –-(Ammoland.com)- SIG SAUER, Inc. extends its Match Grade Elite Performance Ammunition line for rifles with the addition of a 6.5 Creedmoor Open Tip Match (OTM) round. Featuring a 140gr Sierra MatchKing bullet, this new 6.5 Creedmoor load has a muzzle velocity of 2,625 fps with muzzle energy of 2,142 ft-lbs.
Designed for superior accuracy, the SIG 6.5 Creedmoor Match Grade load performs exceptionally well in wind, thanks to its high ballistic coefficient, delivering a flat trajectory with minimal recoil.
"The 6.5 Creedmoor is one of today's most popular cartridges with competition shooters and hunters alike," said Dan Powers, President of the SIG SAUER Ammunition Division. "It is an impressive, flat-shooting round that delivers precision in challenging, windy conditions."
Engineered to excel in today's precision rifles, SIG SAUER Match Grade Elite Performance Ammunition uses a temperature-stable propellant that delivers consistent muzzle velocity in all weather conditions. Premium-quality primers ensure minimum velocity variations, and the shell case metallurgy is optimized in the SIG Match Grade OTM cartridge to yield consistent bullet retention round to round. All SIG SAUER rifle ammunition is precision loaded on state-of-the-art equipment that is 100% electromechanically monitored to ensure geometric conformity and charge weight consistency.
All SIG SAUER Elite Performance Ammunition is manufactured by SIG SAUER at its new ammunition manufacturing facility in Jacksonville, Arkansas to the same exacting standards as the company's premium pistols and rifles. For more information, visit www.sigsauer.com/ammunition.
Follow SIG SAUER on social media, including Facebook at www.facebook.com/sigsauerinc, Instagram at www.instagram.com/sigsauerinc, and YouTube at https://www.youtube.com/user/sigsauerinc.
About SIG SAUER, Inc.
SIG SAUER, Inc. is The Complete Systems Provider, leading the industry in American innovation, ingenuity, and manufacturing. SIG SAUER brings a dedication to superior quality, ultimate reliability, and unmatched performance that has made it the brand of choice among responsible citizens, and many of the world's most elite military, government, and law enforcement units. SIG SAUER offers a full array of products to meet any mission parameter, from handguns and rifles to ammunition, electro-optics, suppressors, ASP (Advanced Sport Pellet) airguns and accessories. The largest member of a worldwide business group of firearms manufacturers that includes SIG SAUER GmbH & Co. KG in Germany and Swiss Arms AG in Switzerland, SIG SAUER is an ISO 9001: 2008 certifiedcompany with more than 1,700 employees. For more information on SIG SAUER, any of its products, or the SIG SAUER AcademySM, log on to www.sigsauer.com.