U.S.A. –-(Ammoland.com)- Today, the development and combination of binocular and range finding system has become very popular among both hunters and target shooters alike. These systems eliminate the need to haul along both a set of binoculars, and a ranging system. This issue can be history with the swipe of a credit card.
That last part of the previous sentence is what can cause a good deal of pain in the wallet. However, with the release of the Nikon LaserForce offering in a binocular based ranging system the hunter or shooter can now have a very dependable ranging system to a distance of over one mile, and also retain a quality 10X42 binocular optic as well. For an MSRP figure of about $1200.00, I am willing to bet the Nikon system will end up as a unit that sells for a couple of hundred less than suggested retail.
Nikon LaserForce was taken afield during several big game hunts in western South Dakota this fall. In effect the unit was tasked to range big game targets, was applied to scouting expeditions, used for exact range marking in hot gunning areas, as well as being a working set of binoculars. I guess you could call it a one unit do it all system.
Designed as a 1,900-yard ranging system / binocular the LaserForce was first applied to some basic tests that involved up to one-mile targets. In heavy fog, the system returned the longest reading of 1,300 yards against a white rock that was just visible by eye, but well engulfed by ground fog. I was working from a position above the weather on a mountainside.
Training the unit on a target through window glass did not produce any digital image recording what so ever. A clean path between the unit and target must exist to gain a recording in the digital viewing area through the binoculars. When very flat surfaces were ranged the unit at times did not tend to function. In those weak target surface situations, I simply moved to a strong target image with good return features near the area I had first ranged my target, and the LaserForce produced digital readouts in clear bright red figures. After ranging, an image will be saved for up to eight seconds before a new laser strike is required.
In the field
When taken in the field, the Nikon binoculars system was not lightweight. However, that transfers to a well-built unit and it is just about the same weight as other advanced ranging systems that are built around binoculars. During testing in the field under real-time situations the unit was unintentionally dropped, coated in fine corn field dust most of the time, and subjected to air temperatures ranging from 75 F through 14 F. With quality soft rubber lens covers that stayed in place I was able to keep the glass clear regardless of the conditions encountered.
On the first day afield I was scouting mule deer for a friend on some local government land. We located deer near water and figured their pattern would not change as the season opened the next morning. Using the Nikon LaserForce system we ranged to the last yard several possible approach routes so as to get into rifle range. In effect, the ranging system allowed my buddy to detail a quick hand-drawn map so as to be able to move on the waterhole in the pre-dawn. As it all turned out, with exact measurements and a ground fog the next day he located a nice mule deer in the area he expected to find one and fill out his tag.
The major testing of the ranging system came about when the South Dakota Missouri river area opened for deer. This was cornfield hunting and ranging quarter sections of both cut and standing corn became the task of the day for the Nikon rangefinder. On day three of the season, I located a good buck in a smaller corn field and established two range markers using wind conditions and movement by active farm machinery nearby. You could say best guess static location hunting was the system being employed. In this case, I was able to adjust my m.o.a. scope settings based on the real-time lasers findings and close to the end of shooting day put down a trophy whitetail at 451 laser ranged yards.
In terms of optical quality, this unit is first class and I would put it up against the best of the rest. At 10X fixed power, there is a sharp image that is brought into view by way of the center-mounted focus control.
Hit the send button and the laser sends back a very sharp and easy to read digital range figure. This readout is easy to read in all types of light condition. If you want to adjust the light settings which number four, the unit has a control to do so. I liked the bright #4 setting in that during most of my hunting light conditions were always changing,
Rangefinder accuracy was established against two other ranging system with testing out to 1000 yards.
In this case, all three units produced feedback ranging data within one yard of each other. The longest ranged target I tested against was a black cow, and the LaserForce recorded a range of 1,371 yards. Against reflective target, the unit will return data to 1,900 yards. My longest reflective target returned a readout of 1,600 yards. Being I do a great deal of long-range shooting to distances of up to one mile, I believe this system will fit long distance rifle shooters to a tee.
Mountain hunting sheep, elk, or deer, using the LaserForce returned data will allow the shooter to adjust his or her sights for correct bullet impact. In the case of the deer I harvested while working with the LaserForce unit I had ranged hay bails previously, and when my animal presented itself I know exactly where to place my m.o.a. dots on the warm target.
In terms of this review, I tend to base my findings on the fact that I have used other brands of ranging binoculars for time periods of up to a year in testing. In my opinion, the Nikon returns a level of quality data that can stand with the competition any day of the week and at a far more affordable price.
Ranging equipment has come a very long way in a short period of time. I remember almost like it was last week a time when the best we could do in sport hunting ranging was gaining usable data to about 400 yards.
---
About L.P. Brezny: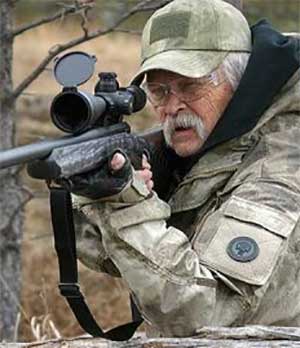 With more than 50 years experience in the field and the testing lab, author L.P. Brezny is one of today's most recognized shotgun experts and authors. He is a contributor to dozens of firearms publications, such as Wildfowl, Shotgun Sports, and Varmint Hunters, and he is a regular columnist in the Gun Digest annual. Be sure and check out his newest book: Long Range Shooting, Second Edition