Opinion
USA – -(Ammoland.com)- None of us want to think about it. We all want to live our lives with as little conflict as possible, and the simplest way to do that is to ignore the bad and focus on the good. It's human nature to ignore the fact that evil is real. To do so though, puts us in denial and denial will get us killed.
That's right. Denying what is happening, may very well get you killed.
How many times have you read a story about a terrible incident such as a shooting, a robbery, an accident, or anything else where evil rears its ugly head, only to hear the victim or survivor say, "This doesn't happen here?" I've written about and talked about this for years. I wish I had a dollar for every time I've heard "But this is such a nice community, these things don't happen in my neighborhood," etc. Let me remind you, yes bad things do happen, and they may very well happen to you. For years I have tried to convey the fact that evil exists and the first step in destroying it is to accept its existence.
It's critical to your survival, in fact, it's so vital that I want to get very personal, right here, right now.
I wrestled with this for weeks before I decided to make my family struggle public and after much deliberation and conversation, my wife and I felt it necessary in our efforts to raise awareness. Over the years I have pounded the fact that not only does evil exist, but it also takes many forms and visits its victims at a time and place of its choosing. Years of discussing it on air made the Armed American Radio microphone and studio the perfect place for the job of telling our story.
You may or may not have heard the January 7th, 2018 Armed American Radio broadcast where I used my opening segment to candidly discuss the fact that evil, in the form of breast cancer, has chosen to visit my home.
As I asked my listeners last week on air, I'll ask you on this page–what does this have to do with guns? Nothing, but it has everything, and I mean everything, to do with mindset, which in turn is a crucial component of successful self-defense from any attacker.
I believe that successful self-defense begins with accepting the fact that bad things do happen and that bad things can happen to anyone, anywhere, anytime–including me…and you. I once wrote a column, (and it's a chapter in my book, Lessons From Unarmed America, with Rob Pincus) titled, In the Blink of an Eye. That's how fast it happens when you're the chosen victim. I know this from many years of talking to people who have survived deadly encounters, including myself over 15 years ago. We never get the luxury of knowing it's approaching thus requiring us to act swiftly and forcefully when it arrives.
My wife never saw it coming. She had a routine mammogram earlier in the day, no big deal. Later that afternoon we were enjoying a beautiful fall day at our outdoor firepit when she received a call from the radiologist.
"Your test is incomplete, we need to see you again tomorrow morning. We have an opening at ten," said the recording. "Incomplete? No big deal. They didn't get a good picture and need a do-over," I told her. She made the appointment and enjoyed her glass of wine.
That next morning would lead to the worst weekend of our 20-plus years together. Scared, trembling and tearful, we held each other in a private waiting room after being told she needed at least three biopsies. We both understood that these doctors knew what they were looking at and why they requested those tests. Through her tears, my wife repeated, "This can't be happening. This has got to be a nightmare. Please, God, I wanna wake up." I wanted to believe it also. We both did, but we knew. Four days later–in the duration of a single one-minute phone call–my wife would become a cancer patient staring at dozens of tests, six chemotherapy treatments over the next eighteen weeks (of which she has just completed her fourth round, this week) and full-blown double mastectomy with reconstructive surgery.
In the blink of an eye.
I take great pride in being the protector and defender of my home, my wife, and my children, but my gun is powerless against this attack. What has gotten us through this is our knowledge that she will be okay and that it's been caught early. We accepted, immediately, what was happening and are acting swiftly and harshly to defeat it NOW.
My message to you is the same as it always is. It doesn't matter if it's a violent encounter on the streets or cancer. If you accept TODAY that these things can happen to you, then you've taken the first step in defeating your attacker–in whatever form it chooses– when it happens to you.
Mindset. Get it and use it.
Ladies, please take action early. Get tested. This type of cancer is curable when caught early. Do. It. Now.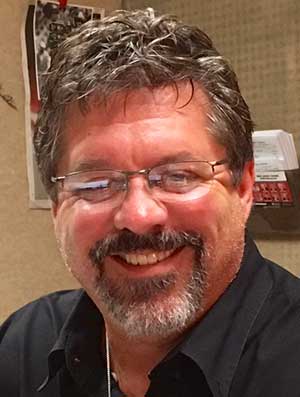 About Mark Walters
Mark Walters is the host of two nationally syndicated radio broadcasts, Armed American Radio and Armed American Radio's Daily Defense with Mark Walters.
He is the Second Amendment Foundations 2015 Gun Rights Defender of the Year award recipient and co-author of two books, Lessons from Armed America with Kathy Jackson (Whitefeather Press) and Lessons from UnArmed America with Rob Pincus (Whitefeather Press)