It is no secret that one of my favorite production knife companies is Spyderco. The Colorado-based manufacturer has made huge contributions to the cutlery industry since founder and CEO Sal Glesser began selling knife sharpeners out of an old bakery truck over 40 years ago.
U.S.A. –-(Ammoland.com)- Even if you do not carry a Spyderco knife daily, you have seen their influences throughout the EDC cutlery industry. If your pocket knife features a pocket clip, serrations or an opening hole, you can thank Spyderco for that.
While we favor their knives made in collaboration with custom knife makers or based on traditional ethnic designs, there is a lot to be said for their base model knives. One of which is known as the Native. Its broad blade has a unique and distinctive look ready to tackle any cutting chores you throw at it.
This blade profile has been in Spyderco's lineup for close to 30 years. While some think of it as just another spear point, we find its profile, both modern and classic. Plus the native designs have always been 100% made in America and it just doesn't get any better than that for an everyday pocket knife.
Today we will look at two of them.
First up, Spyderco's Signature Series Native 5
Spyderco's Signature Series Native 5 model sports a fluted carbon fiber handle with a full-flat ground CPM-S90V steel blade.
Spyderco's Native 5 features a full-size handle with two separate finger choils. The first choil, where the blade and handle meet, allows positioning the index finger closer to the knife's sharpened edge for control over the cutting surface. Behind the first choil, the second choil positions the hand farther back on the folder for dexterous cutting while pushing the blade away from you.
Bi-Directional Texturing molded into the handle form varying levels of steps minimizing forward or backward sliding. A 4-way reversible pocket clip for ambidextrous carry rounds out the solid EDC design.
Under 3-ounces of weight allows you to carry this effortlessly. Whether you wear jeans, khakis or dress slacks, you barely know the knife is there and the carbon fiber handle cuts way down on the pocket fraying.
We think of this one as a bit more of a dress-up knife. It is lightweight, comfortable to hold and the carbon fiber scales make for an understated yet stunning every day carry knife.
The S90V blade is razor sharp out of the box and seems to hold a good edge.
Specifications
Overall Length: 6.875″
Blade Length: 3.00″
Cutting Edge: 2.44″
Thickness: 0.13″
Material: CPM-S90V
Style: Drop Point
Grind: Flat
Finish: Satin
Edge Type: Plain
Handle Length: 4.00″
Thickness: 0.43″
Material: Carbon Fiber
Weight: 2.73 oz.
Lock Type: Back Lock
Model Number: C41CFFP5
Country of Origin: USA
MSRP: $233.97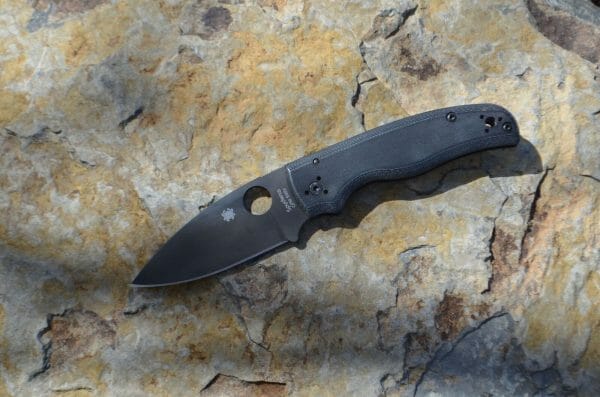 If the Native seems a bit too, dainty, you'll love the Shaman. It has the same profile as the Native series, but the size is dialed up to 11.
This scaled-up version boasts a rear compression lock over the usual lock back found on the Native series and textured G10 scales radiused and overlapped to the edge of the stainless steel liners. The scales melt into your hand and just like it's little brother, the Native, a 4-way reversible pocket clip for ambidextrous carry rounds out the design.
The bigger blade really makes this knife a capable workhorse ready for anything. We particularly like the use of S30V steel in this blade. It took us a few years to appreciate the utility of S30V, but I think it's safe to say that we are sold on it.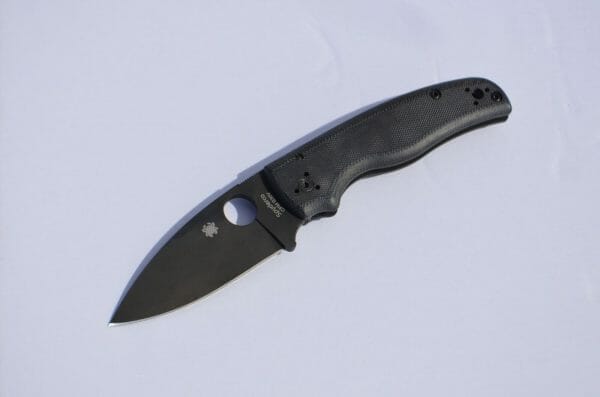 Specifications
Overall Length: 8.00″
Blade Length: 3.58″
Cutting Edge: 3.01″
Blade Thickness: 0.15″
Material: CPM-S30V
Style: Drop Point
Blade Grind: Flat
Finish: Black
Edge Type: Plain
Handle Length: 4.42″
Thickness: 0.53″
Material: G-10
Frame/Liner: Stainless Steel
Weight:5.20 oz.
Lock Type: Compression Lock
MSRP: $194
---
About Mike Searson: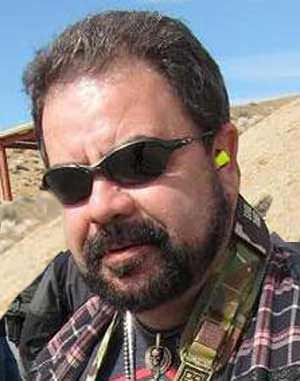 Mike Searson's career as a shooter began as a Marine Rifleman at age 17. He has worked in the firearms industry his entire adult life as a Gunsmith, Ballistician, Consultant, Salesman, Author and was first certified to teach firearms safety in 1989.
Mike has written over 2000 articles for a number of magazines, websites and newsletters including Blade, RECOIL, OFF-GRID, Tactical Officer, SWAT, Tactical World, Gun Digest, Examiner.com and the US Concealed Carry Association as well as AmmoLand Shooting Sports News.