U.S.A. – -(Ammoland.com)- "A pregnant black woman is in prison for defending herself. Mainstream gun groups are silent," Vox reported Friday. "She had a concealed carry permit. The gun wasn't even loaded. Now she's facing two years in prison."
Reason had reported on this a few days earlier, explaining:
"Siwatu-Salama Ra is a 26-year-old black mother who watched in horror as an angry assailant—a neighbor with whom Ra had a dispute—deliberately crashed her vehicle into Ra's car while Ra's two-year-old daughter was playing inside. Ra removed her unloaded, legally purchased handgun from the glove box and brandished it, scaring the neighbor off."
One of Jeff Cooper's essential rules is all guns are always loaded, and leaving one unattended in the glove box invites trouble and tragedy. And using a gun believed to be unloaded may work as a bluff on occasion, but once the potential for a deadly force response has been introduced into a situation, the wielder had better pray that bluff isn't called.
Fortunately, neither of those possibilities factored into Ra's current woes.  But what she is facing is nonetheless unjust and unacceptable, especially in light of Michigan's "stand your ground" law, and established gun owner rights groups ought to involve themselves in appeals. Which brings us to why Vox is really posting this article.
"Making matters worse, while Black Lives Matter and other left-leaning civil rights organizations have been publicizing Ra's case and others like it, mainstream pro-gun groups, including the National Rifle Association, have been dispiritingly quiet about the incident," Vox couldn't resist pointing out.
Everybody sees what they're doing here, right?
They don't give a damn about the right to keep and bear arms, nor are they championing it to fellow"progressives" as the most egalitarian power-sharing arrangement yet devised. Vox has long been a leading cheerleader for a state monopoly of violence, with their resident Pajama Boy having called on Barack Obama to to "unilaterally ban all Americans from purchasing guns." They're just doing this to try and embarrass NRA, and to smear the Association and its members as racists who don't care about the plight of non-whites.
In fact, it's not "conservatives" doing their utmost to disarm urban minorities (and extend it to everyone in Everytown) – it's "progressives" and their party of choice, the Democrats.  Michael Bloomberg went so far as to actually propose race-based gun restrictions – something Vox will never tell its readers about because it doesn't help with the narrative they're pushing.
That said, this seems the kind of civil and natural rights abuse stories NRA should champion, especially noting they have their own media group and they've made inroads and outreaches with spokesmen like Colion Noir. Add to that the case of Shaneen Allen, resolved "with the aid of untold numbers of Second Amendment supporters who ensured that these struggles did not go unnoticed."
Gun owners and the groups they belong to should help, not because anti-gun leftists (who will always hate them) are playing "Gotcha!" but because it's the right thing to do.
It's a situation rich in opportunities, both to advance rights and to challenge minorities to consider why so many give kneejerk support to politicians who deny their rights and punish those who claim them.
---
About David Codrea: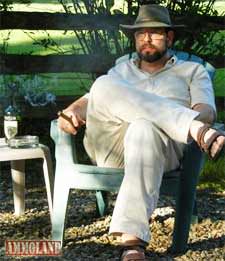 David Codrea is the winner of multiple journalist awards for investigating / defending the RKBA and a long-time gun owner rights advocate who defiantly challenges the folly of citizen disarmament.
In addition to being a field editor/columnist at GUNS Magazine and associate editor for Oath Keepers, he blogs at "The War on Guns: Notes from the Resistance," and posts on Twitter: @dcodrea and Facebook.