U.S.A. –-(Ammoland.com)- It was about this time last year that I began searching for a new vehicle. I blew up the engine in my truck and even though I had it rebuilt, I knew it was on borrowed time. Sure enough, 5 months later it crapped out on me again. What made it worse was that the engine company would not honor the warranty on the engine they supplied.
The truck in question had a trunk under the bed which kept me from having a Truck Vault installed. With that albatross gone from around my neck I purchased a 2018 Chevy Colorado after confirming that Truck Vault offered a safe for this make and model.
What's a Truck Vault?
You may have seen these used on the popular TV series 24, but they are not just for secret agents going after terrorists, although they are a favorite of tactical units and officers worldwide. Hunters and sportsmen use them as well when they want to safeguard their gear.
Essentially it is a safe that is installed in the cargo area of your vehicle. Drawers that run the length of the bed or cargo area are lockable, slide out and can store a large number of firearms and other gear.
These customizable vehicle vaults can be ordered for nearly any truck, SUV or car. Truck Vaults are built from medium density overlay (MDO), the same product used to make highway signboard. The composition of these units makes them extremely difficult for burglars to break into.
Having an open-bed pickup truck forced us into the All-Weather version that is resistant to snow and ice. This is the most expensive version due to this coating.
The drawers are designed to maximize space, and with a six-foot bed, we have plenty of room in the double drawers to store our firearms safely and securely.  The folding T-handle locks are backed up by anti-pry security brackets that deploy when an attempt to pry the drawers open is made.
Installation was a snap. We had the unit drop shipped to a trucking depot to save on freight costs and to have the forklift operator load it into our bed. When we got it home we centered the 450-pound vault, locked it down and installed the cover plates.
As for storage space, the drawers are highly configurable, and dividers can be added or removed with ease. Truck Vault offers foam inserts, but we passed on these as we test close to 100 firearms a year and our range load out is almost never the same twice.
However, if you are a more dedicated shooter or hunter who transports the same number and type of guns consistently, this makes for a nice option.
We configured one drawer to hold long guns with two dividers that run the entire length and the magnum height we can load three scoped and pistol gripped rifles on that side. The only one that would not fit standing up was our Savage 110BA in 338 Lapua.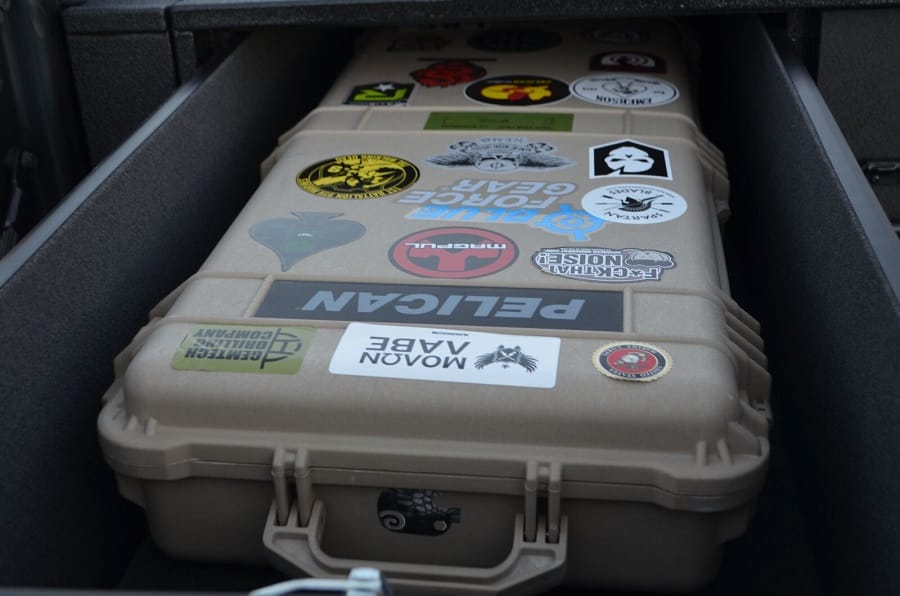 On the other side, we installed the dividers laterally.
The first compartment can hold up to a dozen handguns in their factory boxes.
The second one can hold more pistols or some of our favorite NFA items like short barreled shotguns, our Uzi, short barreled rifles or a Mossberg Shockwave. In the rearmost section, we can store our range bag, targets, first aid kit or anything else.
Cover-up
At first we drove around with the uncovered bed, but one night while walking back to the truck I spotted the top of the Truck Vault right away and thought, "I know that I know what it is, but even someone who is unfamiliar with Truck Vault, would know that it looks like something expensive is in there."
I ordered a Tonneu cover to keep it hidden from casual view.
Not for everyone
A few of our friends didn't get it as the magnum height drawers went nearly to the top of our bed. "What's the sense of having a truck?" one asked.
I didn't buy it to get out of helping friends move, etc. I bought this because when it comes to firearms, I am a "super user" who routinely makes multiple trips to the range for T&E, classes and other shooting activities. If I need to haul furniture and the like I can hook up my ATV trailer or use an engine hoist to pull the vault to use the pickup bed.
However, do not be mistaken into thinking the Truck Vault is suitable for long-term storage. It may prevent someone for looting your vehicle while it's parked and you're a mile away on your ATV hunting or inside some secure facility that prohibits the firearms for a day; but your vehicle can be stolen while sitting in your driveway and once the thieves have it, they have all the time in the world to break into it.
Think of it as safeguarding your firearms or other valuables while you are transporting them but remember to take them inside for more permanent storage when not in use.
As a professional shooter and firearms author, I think it's the best investment I made aside from buying my first reloading press.
---
About Mike Searson: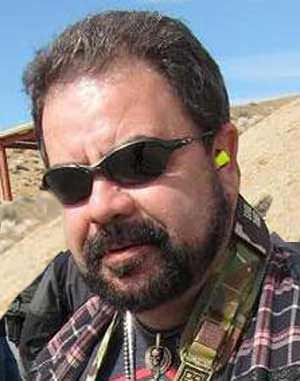 Mike Searson's career as a shooter began as a Marine Rifleman at age 17. He has worked in the firearms industry his entire adult life as a Gunsmith, Ballistician, Consultant, Salesman, Author and was first certified to teach firearms safety in 1989.
Mike has written over 2000 articles for a number of magazines, websites and newsletters including Blade, RECOIL, OFF-GRID, Tactical Officer, SWAT, Tactical World, Gun Digest, Examiner.com and the US Concealed Carry Association as well as AmmoLand Shooting Sports News.