GRAND RAPIDS, MI USA -(Ammoland.com)- I admit that I was a bit surprised when I got the initial press release regarding SIG SAUER's P365. At first glance, I wasn't terribly impressed. I figured that it was simply just another in the lineup of single stack 9mm pocket guns that seem to be rolling to market these days. After closing the email, I had to open it up again. I couldn't have read it right. 10+1 capacity in a gun with specs smaller than most competitors?
SIG is a company that always seems to want to push the barriers as far as design is concerned. That level of innovation has landed them their share of success and has also drawn a significant amount of controversy. Despite the pushback from many angles, SIG has delivered some of the most interesting and successful designs of recent years, virtually all of them original.
The radical departure from conventional thinking is where we land with the P365. You've probably heard that this gun is a game-changer for the industry. I hear that all the time and usually it is far from true. Fitting 10+1 in a compact gun isn't new. Fitting 10+1 in a gun as small and light (if not smaller and lighter) as most that hold 6+1 is a feat of engineering. SIG has delivered not just a gun with the P365, but a complete carry package that includes a number of magazines, 365 ammunition, and holster options.
In this review, we are going to start at the source of the P365's appeal: the magazine. The incredible part of the P365 magazine is that it is so very small. It has a staggered shape that essentially allows the mag to act as a single stack towards the top and a double stack at the base. In the extended version the capacity is 12+1 and it doesn't show it. Looking at the design of the magazine shows an incredible effort to make use of every single millimeter of available space. That trend continues all over the gun.
Just like the P320, the P365 has an internal chassis that bears the serial number. This means that there will likely be alternate frames available at some point in the future that could contain lasers and lights. Removing the frame is as easy as punching a pin out and can be readily accomplished by the owner. As far as regular disassembly, the P365 is as simple as simple does. If you've ever taken apart a modern semiautomatic pistol, you've already got it down.
Now, I've heard that there were some reliability issues with this gun and as far as those rumors are concerned I've got nothing to say. I never bothered to clean the gun, I just unboxed it the same day I received it at my FFL and put 500 rounds through it of various brands and power levels. I've since put an additional 550 or so through before I sat down to pen this review and have experienced no issues to date. I paid particular attention to what some internet personalities said were 'issues', and I noticed none of them. I never cleaned the gun at all in the entire course of testing and it ran perfectly.
The P365 is a new gun and I'm sure that some people had real problems with it, but I think that any criticism is fully unwarranted. Since the design is so new, to the tune of a few months, there were bound to be some critics of an otherwise innovative new firearm. I try to be fully objective in my reviews, and this one is no different. The thing is, The P365 is a great gun and it works exactly like its supposed to.
Now, onto the exciting part: how did this gun do in the course of my testing? Well, if you haven't gathered that it was 100% reliable, go back two paragraphs. The gun ran flawlessly and it ejected brass with gusto.
Firing the P356 is a unique experience. The gun is very small in just about every dimension, but it handles like a full-size pistol as far as accuracy and follow-up shots are concerned. I was honestly expecting a harsh and not-so-fun time with it, but I couldn't have been more wrong. The thing points great, shoots like a house on fire, and somehow fits in the palm of your hand. The best part about it is hands-down the onboard capacity. It just feels weird that you don't run out after six or seven shots with a gun so small.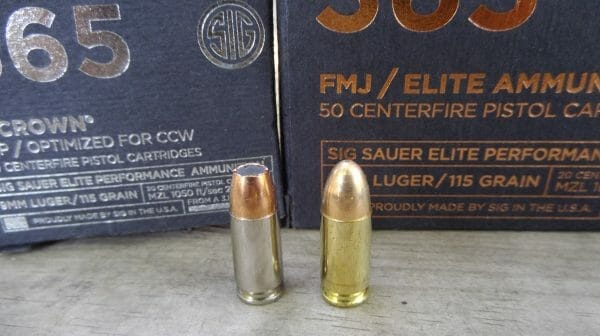 As far as accuracy is concerned, the P365 is peerless for its size.
I was very impressed when I tested out the new Emperor Scorpion P238 this year, mostly because it is a very tiny pistol that delivered stellar accuracy. The mini-SIG trend continued for me and the P365 delivered some of the most surprising groups I've had for a gun this size. Included with the gun are a bright set of night sights which make targets easy to find.
The best part about the P365 right now is that it is offered as a complete system from SIG. This system includes both a great IWB holster, various magazines up to 12 rounds in capacity, and a line of ammunition. This means that you can have a supremely reliable, accurate, and concealable weapon with turn-key simplicity. The P365 and 365 ammo are literally all you need to get started with concealed carry.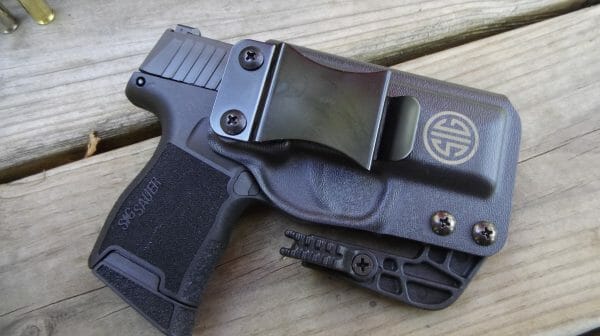 Both 365 loads are identical in velocity, accuracy, and point of aim. The first is a bulk practice load featuring a 115gr FMJ. The second, and most likely to be in your new P365, is a 115gr V-Crown bullet that is designed to perform from barrels as short as those in the P365. My average for both loads was 1070fps when I tested them over my Oehler 35P chronograph. Accuracy at 15 yards for ten shots from the bench was 1.5". Also, my 25-yard accuracy for 10 shots came in at 2.75". Firing rapidly and accurately with the two loads from the 365 line was easy and I had zero issues.
If you are looking for a great EDC pistol that has a dedicated ammunition line, magazines, and holsters available directly from the manufacturer, cast your gaze to the P365.
You'll want for nothing else and you'll be amazed by the performance and accuracy you can wring from this small, powerful feat of engineering.
---
About Josh Wayner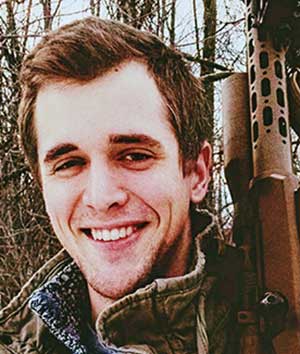 Josh Wayner has been writing in the gun industry for five years. He is an active competition shooter with 14 medals from Camp Perry. In addition to firearms-related work, Josh enjoys working with animals and researching conservation projects in his home state of Michigan.