Opinion
USA – -(Ammoland.com)- "The Johnson vs. Monsanto verdict is a win for all of humanity and all life on earth," Zen Honeycutt of Moms Across America exulted in a Saturday AFP report.
The founding executive director of the non-profit group was commenting on a California jury award of nearly $290 million in a case that argued products containing the chemical compound glyphosate, Roundup and RangerPro, "'contributed' substantially" to groundskeeper Dewayne Johnson's terminal cancer.
Naturally Monsanto is claiming the jury was wrong.  With "thousands of potential future claims" expected, an appeal is as well.
Keep in mind this did take place in a San Francisco courtroom, and the perception of California law is that it reaches into the ridiculous, essentially declaring that "everything gives you cancer." The UN's World Health Organization and socialist French President Emmanuel Macron being for a glyphosate ban doesn't add to the credibility of their warnings with people who have seen "progressive" hysteria and overreach in other areas. And as for Honeycutt, some dismiss her as a "loon" (with her in turn reportedly dismissing them as "mommy shamers.")
The purpose here is not to weigh in on the glyphosate debate, but to point out a potential collision with another activist "progressive" Mom, Shannon Watts.
Watts, who "prior to founding Moms Demand Action, was a stay-at-home mom and former communications executive." Before she decided to start treating firearms ownership like a cancer, guess who she worked for.
Monsanto. And contractually, for its new owner, Bayer.
Her LinkedIn profile documents "stay-at-home mom" Watts was Vice President of Corporate and Public Affairs Company for PR firm Fleishman-Hillard from 1998 to 2001, claiming she "Directed [a] seven-member team that identified and managed issues and crises for clients, including Monsanto Company [and] Bayer Corporation." From 2001 to 2004 she assumed the position of Director, Global Public and Corporate Affairs Company for Monsanto, where Watts says she "Provided corporate communications strategy and support for Fortune 500 life sciences and agricultural company." [all this while a "stay at home mom"…]
A May 2018 report on the Johnson lawsuit in the UK's The Guardian was headlined "Landmark lawsuit claims Monsanto hid cancer danger of weedkiller for decades." That means the alleged hiding of "cancer danger" was going on during Watts' watch. And more than just hiding:
"Monsanto 'championed falsified data and attacked legitimate studies' that revealed dangers of its herbicides, and led a 'prolonged campaign of misinformation' to convince government agencies, farmers and consumers that Roundup was safe, according to Johnson's lawsuit.
Did Watts, in her positions of flacking for corporate masters, have a hand in that? If so, allegations of "champion[ing] falsified data and attack[ing] legitimate studies" assume a whole new level of credibility when you consider what she now does against guns.  Or are we to believe the Global Public and Corporate Affairs Director, whose media expertise would be needed to defend the company's image, was intentionally kept in the dark?
It's legitimate to ask her that, to look at the work product she produced related to Monsanto's defense of its product, and to see if the founder of "progressive" Moms Demand Action is still at irreconcilable odds with the founder of "progressive" Moms Across America — or if she will decide it best to forsake her former benefactors.
---
About David Codrea: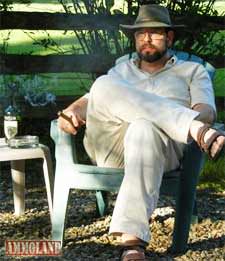 David Codrea is the winner of multiple journalist awards for investigating / defending the RKBA and a long-time gun owner rights advocate who defiantly challenges the folly of citizen disarmament.
In addition to being a field editor/columnist at GUNS Magazine and associate editor for Oath Keepers, he blogs at "The War on Guns: Notes from the Resistance," and posts on Twitter: @dcodrea and Facebook.