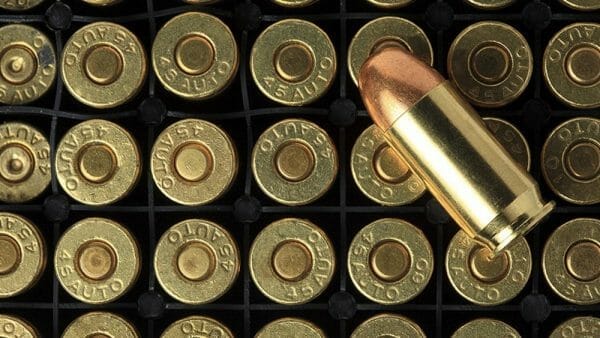 Fayetteville, AR –-(Ammoland.com)- California cannot let go of the dream of violating basic rights. It's not enough for the state to restrict gun buyers to an approved list, to make legal ownership of semiautomatic rifles with detachable magazines difficult, and to deny carry licenses to people who aren't politically connected in the most populous counties. Now the state is seeking to increase the burdens on sellers and purchasers of ammunition, requiring stores to keep records of who is buying and buyers to show identification before handing over money.
In the most recent figures for ammunition manufacturer that I've seen (2013), America alone produces some ten billion rounds a year. At least another five billion rounds are made in other nations. These numbers, of course, do not necessarily take into account what gets made in small shops or by personal reloaders, and how much ammunition is cranked out by extra-legal operations is anyone's guess.
This is to say that California is trying to stop a flood with screen doors. I'm told time and again that Indiana is to blame for the gun violence in Chicago. If guns can cross borders, ammunition surely is easier to move. Rounds could be concealed in the guns that travel with such felicity, for example. Or they could be hidden in the tons of illegal drugs that move about the world daily.
Realism is not a quality that gun control advocates value, however,  most of their proposals would be mere busywork if it weren't for the violations that they would impose. We are told that we must "Do Something" to reduce the number of people who are killed by gunfire each year, but the advocates mumble and slink away when I ask them to show that a new gun law has ever resulted in a significant reduction. As with so many of our reactions to 9/11, the demands that get made, including what California is doing with ammunition purchases, are security theater, an attempt to create the illusion of safety, illusions often being easier than actual achievements, such as reducing what motivates violence in the first place.
The lack of potential in ammunition restrictions to save lives is but the practical fault of the proposal. What California's latest attempt at gun control seeks to do is to make gun rights entirely hypothetical by taking away what is needed to exercise them in the real world.
Consider a parallel case. What if the Golden State were to pass a law restricting access to paper or to Internet service providers? Would this violate the freedom of the press of the state's residents? It's no good saying that Californians have the enumerated right to express their opinions and to report on their observations in a tangible medium if the process of obtaining the materials that make up the medium is made arbitrarily difficult. In the same way, a gun without ammunition is just an oddly shaped paperweight, and laws that make buying that ammunition more difficult are nothing but an attempt to chip away at gun rights generally.
Gun control advocates hope that we'll let this or that or the other proposal slip by if they push for enough of their demands at once, and it's up to us to have the fortitude to stop them every time.
---
About Greg Camp
Greg Camp has taught English composition and literature since 1998 and is the author of six books, including a western, The Willing Spirit, and Each One, Teach One, with Ranjit Singh on gun politics in America. His books can be found on Amazon. He tweets @gregcampnc.