Temple, TX – -(AmmoLand.com)- Open Carry Texas is pleased to announce its endorsement of Attorney General Ken Paxton for re-election as Attorney General of Texas based upon his steadfast and unwavering support of Texans' right to keep and bear arms in court and in public.
In particular, we are grateful for his actions in support of the rights of Texans under the law to petition the government for redress of grievances, applying the law, and insisting that political subdivisions of the state adhere to the law with respect to the improper exclusion of License to Carry holders from government facilities. AG Paxton has been a champion of the citizenry against unruly, corrupt, and incredulous local governments that have flaunted state law to infringe on our gun rights.
We congratulate Attorney General Paxton upon the occasion of his recent victory in the Texas Supreme Court affirming the right of citizens to petition the government without fear of a retaliatory or meritless lawsuit being filed against them for exercising their Constitutionally protected rights as happened in Waller County.
In thanks for his past actions and anticipation of his continued advocacy of the rule of law, we gratefully and enthusiastically support Attorney General Paxton's re-election and urge liberty-loving Texans to join us in doing the same. There is no greater advocate for liberty and Article I, Section 23-protected rights than Ken. We look forward to continuing to work closely with his office to expand the rights of Texans to keep and bear arms and hold local government accountable to the same laws we must obey.
In liberty,
CJ Grisham, President
David Amad, Vice President
Richard Briscoe, Legislative Director
---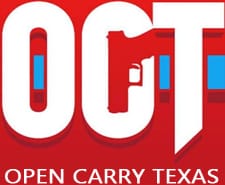 About Open Carry Texas:
About Open Carry Texas: Our purpose is to 1) educate all Texans about their right to carry in a safe manner; 2) to condition Texans to feel safe around law-abiding citizens that choose to carry them; 3) encourage our elected officials to pass constitutional carry legislation for all firearms; and 4) foster a cooperative relationship with local law enforcement in the furtherance of these goals with an eye towards preventing negative encounters.