Opinion
Fairfax, VA – -(Ammoland.com)- In 2014, Hollywood movie mogul and fierce NRA critic Harvey Weinstein appeared to acknowledge the movie industry might be able to have a positive impact by reducing its glorification of criminal violence. Weinstein explained,
I have to choose movies that aren't violent or as violent as they used to be… I know for me personally … I can't continue to do that. The change starts here. It has already. For me, I can't do it. I can't make one movie and say this is what I want for my kids and then just go out and be a hypocrite.
To his credit, Weinstein eventually made good on his promise. Following a widely reported sexual harassment scandal, in 2018 The Weinstein Company declared bankruptcy.
In the meantime, the rest of Hollywood has picked up the slack by continuing to churn out depictions of graphic violence. As Weinstein knew, the glorification of violence sells. So one enterprising film company sought to develop a way to quell their moral pangs while continuing the on-screen carnage.
According to an October 25 press release, startup studio Level Forward (a partnership between gun control activist and Disney heiress Abigail Disney and Killer Content) will now only produce content that is "gun neutral."
The press release explained,
For each prop gun that appears in a production, financiers and producers will add a "GUN NEUTRAL" budget line item to cover the cost of destroying real-world guns and to invest in community-based arts programs targeting youth in the most gun violence-ridden communities. An average of $15 per prop gun will be charged.
As part of the program, Level Forward has pledged the money to destroy 10 guns for every prop gun that appears in one of their productions. And Level Forward does not appear to be toning down the on-screen violence due to budgetary concerns. In its first three Gun Neutral films, 166 prop firearms were used, resulting in a pledge to destroy 1,660 real firearms.
The Gun Neutral concept will remind some of carbon offsets. Carbon offset policy attempts to apply market forces to reduce carbon emissions and can be government mandated or voluntary. In the U.S. in the mid-2000s it became fashionable for elites to purchase carbon offsets to repent for their jet setting high-consumption lifestyles. Critics charged that this hypocritical approach to environmentalism was akin to the medieval practice of buying indulgences for sins.
However, perhaps a comparison to the medieval Catholic Church isn't fair to the church in this instance.
In order to carry out the Gun Neutral program, Level Forward has partnered with the group One Less Gun. On the One Less Guns website, visitors are told that for a donation of £5 (about $6.50) they too can assure one gun is destroyed. At an average of $15 per prop gun, Level Forward appears to be paying $1.50 per gun purported to be destroyed.
We're not sure if the Catholic Church ever offered a bulk rate on indulgences.
---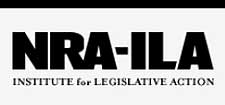 About:
Established in 1975, the Institute for Legislative Action (ILA) is the "lobbying" arm of the National Rifle Association of America. ILA is responsible for preserving the right of all law-abiding individuals in the legislative, political, and legal arenas, to purchase, possess and use firearms for legitimate purposes as guaranteed by the Second Amendment to the U.S. Constitution. Visit: www.nra.org