ATLANTA, GA – Don't miss out – today is the last day to purchase memberships or raffle tickets for the American Suppressor Association's November Membership Drive and Raffle!
100% of the proceeds go towards ASA's fight for pro-suppressor reform across the country. Last years' membership drive helped us travel in 2018 to work on legislation in 8 different states, sent us to DC countless times, and over 20 ASA members took home prizes!
This year, the prizes are valued at over $15,000, and you will have more opportunities to win! Plus, Silencer Shop is going to cover the $200 tax stamp for anyone who wins a suppressor!
In order to be entered, membership and/or tickets must be purchased by Friday, November 30, 2018, at 11:59 pm EST. As long as your membership is active as of Monday, December 3, 2018, the day of the drawing, you'll automatically be entered to win. 1-year members will receive one entry in the drawing, 3-year members will receive three entries, and life members will receive ten entries. Want more chances to win? This year you will be able to purchase additional raffle tickets – but a couple of big prizes will be reserved for ASA members only.
Not yet an ASA member? Visit www.ASAMember.com to join and be automatically entered for a chance to win some great prizes. The contest will run from Nov. 1 – Nov. 30, so make sure you don't miss your chance to win!
WHO: All current and new ASA Members will be entered for a chance to win. Purchase or renew a 1-year membership for one chance to win. Purchase or renew a 3-year membership for three chances to win, and Life Members will have ten chances to win! Are you a current member? You're entered already! Not a member, or want to increase your chance of winning? This year we will also offer raffle tickets for sale. However, a few of the prizes will be limited to ASA members only.
WHAT: Win one of over twenty prizes, including suppressors, ammunition, accessories and more! Silencer Shop will even pay your transfer tax if you win a suppressor!
WHEN: Contest ends Friday, November 30, 2018, at 11:59pm EST. Winners will be announced Monday, December 3, 2017, at 5:oopm EST on the ASA's Facebook page.
WHERE: Join now, or purchase raffle tickets at ASAMember.com
HOW: Winners will be selected and ranked. Winners will be contacted by phone/email to claim prizes. Winners will be given the opportunity to select their winning prize from the pool of prizes in ranked order similar to a shooting match prize table. See terms & conditions for details.
PRIZES:
Members Only Prize Drawing
Member & Raffle Prize Pool
— Don't Forget –
Silencer Shop will cover the $200 tax stamp for each of the suppressor prize winners!
Join the ASA For Your Chance To Win!
---
 ABOUT THE AMERICAN SUPPRESSOR ASSOCIATION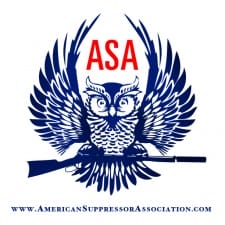 The American Suppressor Association (ASA) is the unified voice of the suppressor industry. Our mission is to unite and advocate for the common interests of the suppressor community. To accomplish our mission, our principal initiatives focus on state lobbying, federal lobbying, public education, and industry outreach.
For more information on how you can join the ASA, and help protect and expand your right to own and use suppressors, please visit www.ASAMember.com.