by Bill Mooney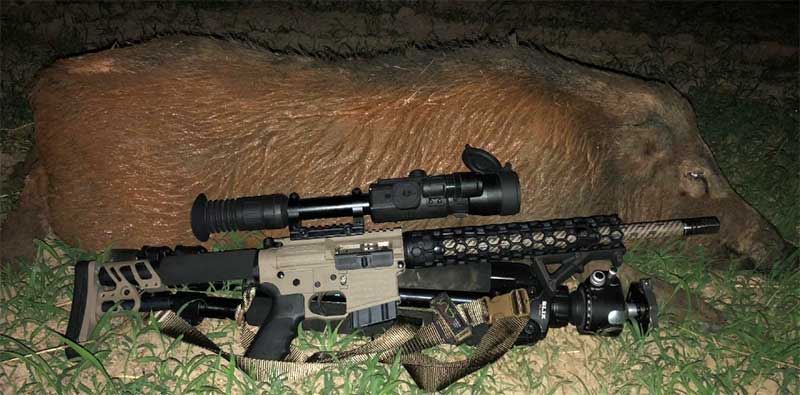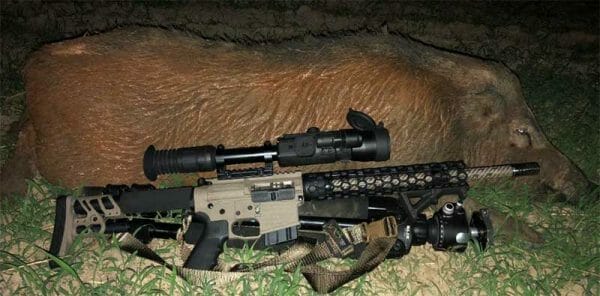 U.S.A. –-(Ammoland.com)- A crazy thing happened to me on my journey to build an ultra-lightweight hog and deer slaying AR-15 and an AR-10 308 under 8 pounds. I met the local mailman; yes, a certified United States Postal Service employee.
Neither snow nor rain nor heat nor gloom of night stays these couriers from the swift completion of their appointed rounds.
That kind of mailman.
Gene Wisnewski is the most unique mailman you'll ever meet in the country. He personally delivered 365 pounds of wild hog for me… with a huge passionate smile on his face. Let me explain.
Several months ago, I started a new article series project about high-quality ultra-lightweight AR-15s and AR-10s. Here are a few goals I set out to accomplish with this project:
I want to help some small U.S. companies get exposure for their amazing top-quality and innovative shooting and hunting products.
To show how versatile these unique and lightweight AR platforms are for hunting.
In a not-so-subtle kind of way, I want to expose the ignorance of the anti-firearm politicians "AR is only a weapon of war" talking point narrative. I know, not one leftist politician will read these articles, but it's my way of pointing out their ignorance and intellectual dishonesty about this great platform and also support my second amendment rights.
Choose a caliber of ammunition that can help me and my wife hunt a variety of game, and not to have a lot of different firearms and calibers to accomplish my goal.
So far on the journey, I believe I've accomplished these goals with flying colors.
Now back to the mailman story.
To illustrate the versatility of these rifles to you in these upcoming articles, I need to hunt wild hogs, deer, and coyote. Since I am a fairly new resident of South Carolina, I needed some help with hunting opportunities. In comes the USPS and my mailman.
Gene's Story
By Gene's own admission, he was an average deer and turkey hunter in South Carolina most of his life. He would hunt a few times a year like most of us, and enjoyed good success year-after-year.
One day he was watching a popular hunting program on TV. ATN sponsored that night hog hunting show. This fateful night, his hunting hobby immediately turned into an amazing passion and literally a "moonlighting" new career.
Gene's timing couldn't have been better. The wild hog population started to really explode in the state of South Carolina. This USPS mailman wanted a piece of the action. He went out and purchased an ATN Xsight 1 and he started guiding for another company. After a short stint with this other company, he decided to go on his own and offer a much better experience for clients who want to experience the thrill of a night hunt. Gene started posting some of his hunting videos on Goat Production and his fan base grew immediately.
Then came the call. ATN loved his work and asked him to be a pro-staff hunter for the company.
His ATN gear is great and extensive. The land is ideal. But what impressed me the most about Gene was his passion to get me a shot on the hogs. It wasn't about anything else but my experience. He was willing to stay out all night to get me the opportunity. (By the way, we harvested both hogs within the first 45 minutes of being on the ground. I was amazed…and was back in time to get a good night's sleep.)
In fact, (knock on wood) not one of Gene's clients has not had a shot on a wild hog during his two years of hog guiding. That's an incredible streak if you know hunting.
This mailman delivers the goods.
Gene has averaged killing more than 100 wild hogs each year the last two years. That's a lot of pork and a lot of successful clients.
More impressive to me is Gene's incredible passion, knowledge, and excitement before and during the hunt. It's contagious. His obvious passion is what really motivated me to write this article. It's a genuine passion. Not fake passion. Not a pretend customer service interaction like we experience so much with scripted counter people like at the local fast food joint or grocery store.
"Dine in, or dine out? May I help you?" all with a blank expression from the employee.
"Did you find everything ok?" as I'm checking out at the grocery store. I know they are told to be nice and are repeating the script. Very few say it with sincerity. I wonder if they even hear my response. I might throw in a "no" with a smile next time and see if they react or just keep scanning my purchase and say thanks.
These businesses need to get a customer service lesson from Gene. Gene the mailman is different.
This guy delivers passion, excitement, success, and yes, the mail too. Without a scripted dialog. You can tell, Gene's customer service comes from his heart.
The Hunt
A few days before our night hunt, Gene let me know about the scouting he was doing. The hunt looked promising. An hour before we were to meet, Gene called me and changed the location we planned to hunt because of some new information he received from a landowner.
At 9:45 pm on Sunday night of Labor Day weekend I met Gene from Goat Productions at a small farm in rural upstate South Carolina. The landowners rely on him to clean up their farms of these unwanted wild and destructive pests. As we were getting closer to deer season, Gene was particularly busy. These landowners don't want these wild hogs chasing the deer off their hunting properties. Just before Gene called me that evening, he received a call from a landowner who had seen wild hogs near some deer feeders on his land. He asked for help. The magic of cell cameras and technology is amazing. The landowner saw these hogs in real time and called Gene to ask him to get rid of these bad boys. Change in plans. We were headed to this farm instead of the original destination.
We arrived at our destination in Gene's pickup right about 10 pm. I had to quickly load my rifle and hustle to the area where the landowner had seen the hogs on camera.
We walked for about 20 minutes or so to our intended spot in the pitch dark. I'm sure glad he knew where he was going. I just stayed close to his heels unable to see much. Gene spotted a sole hog in the area we were targeting. The rest was simple. Lifted my new hog-slaying rifle on top of the tripod, placed the Sightmark Photon RT crosshairs between the ear and the shoulder of the feral hog, and pulled the Gissele SSA trigger.
One 75-yard shot and the nice 165-pound wild boar lay where it had stood.
Gene was right there complimenting me on my shot and as excited as ever. Like it was his first time. He sure made me feel great about the experience. He put me in perfect position to take a great shot on a nice boar.
About halfway on the hike back to the truck in the darkness, heavy humidity, and an eery lightning storm, Gene stopped and said, "Hold on, something just moved up there." I don't know how he saw movement in the pitch dark, but he picked up his handheld thermal unit and said, "Yep, something is up there ahead a couple hundred yards. Hopefully it's a hog and not a deer." We maneuvered to the left to get a better look and sure enough, it was a lone wild hog grazing in the field. This time, it was a 200-pound big brown boar.
After hitting the record button once I placed the rifle on the tripod. The hog rotated and stopped broadside, and another single-shot downed boar. This time, 200 pounds worth of swine. You can see my money shot on YouTube right here. The 5-pound Kaiser US composite rifle and BSF barrel 6.5 Grendel did the job.
If you have any interest in night hunting wild hog and can make it to the update South Carolina area (Greenville/Anderson/Clemson), you need to look up the Mailman.
Tell him Bill sent you…
Take a look at the mailman's YouTube Channel to see some of Gene's amazing hunts.
Bottom line…
Gene the Mailman delivers an Amazing Experience!
---
About Bill Mooney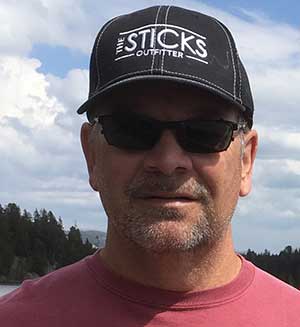 Bill Mooney is an outdoor and shooting industry professional, an outdoor writer, and hunting enthusiast. His experience in the sport optics and firearms manufacturing world provides a fresh approach to his inspired writing, information, and instruction.
"I want my writing to inspire consumers to break out of their comfort zone, think differently about buying products, and improve their outdoor and shooting experiences. I also write to encourage outdoor industry businesses to focus on the consumer usability of their existing and new products!"