U.S.A. – -(Ammoland.com)- "Today, Acting Attorney General Matthew Whitaker announced that the Department of Justice has amended the regulations of the Bureau of Alcohol, Tobacco, Firearms, and Explosives (ATF), clarifying that bump stocks fall within the definition of 'machinegun' under federal law, as such devices allow a shooter of a semiautomatic firearm to initiate a continuous firing cycle with a single pull of the trigger," the DOJ announced in a Tuesday press release.
"[T]he Department … made the decision to make clear that the term 'machinegun' as used in the National Firearms Act (NFA), as amended, and Gun Control Act (GCA), as amended, includes all bump-stock-type devices that harness recoil energy to facilitate the continuous operation of a semiautomatic firearm after a single pull of the trigger," the announcement explained, belying prior precedent rules and testimony. "Because the final rule clarifies that bump-stock-type devices are machineguns, the devices fall within the purview of the NFA and are subject to the restrictions of 18 U.S.C. 922(o). As a result, persons in possession of bump-stock-type devices must divest themselves of the devices before the effective date of the final rule."
This is the "surrender or be destroyed" mandate:
"A current possessor may destroy the device or abandon it at the nearest ATF office, but no compensation will be provided for the device. Any method of destruction must render the device incapable of being readily restored to its intended function."
Get caught in violation and prepare to have your life destroyed through arrest, prosecution, incarceration and a lifetime ban on owning guns. All brought to you by a "pro-gun" president taking his lead from NRA's plea to regulate instead of legislate.
The 90-day clock ordering citizens to destroy their previously "lawful" property will start when the rule — signed by Whitaker— is published in the Federal Register, probably Friday according to some sources.
"ATF's claim that it can rewrite Congressional law cannot pass legal muster," Gun Owners of America declared in an alert promising the group would file a lawsuit in response. "Agencies are not free to rewrite laws under the guise of 'interpretation' of a statute, especially where the law's meaning is clear.

"The new ATF regulations would arbitrarily redefine bump stocks as 'machineguns' — and, down the road, could implicate the right to own AR-15's and many other lawfully owned semi-automatic firearms," GOA's release elaborated. "ATF's new bump stock regulation clearly violates federal law, as bump stocks do not qualify as machineguns under the federal statute."
GOA is not the only party intent on mounting a legal challenge.
"We will be challenging the agency's unlawful attempt at rewriting statutory law," attorney Stephen Stamboulieh pledged. "This is bigger than bump stocks. If the courts allow this to happen then any future administration can completely bypass congress and get their way via agency fiat. It simply cannot stand."
Adding a new twist to such a challenge is Stamboulieh's observation that Whitaker may not be legally authorized to sign the rule, first because he has not been confirmed, but also because a separate lawsuit. filed by Democrat Senators Richard Blumenthal, Sheldon Whitehouse and Mazie K. Hirono. could declare his appointment unlawful. Ironically, if the challenge from these anti-gun senators is upheld, it could conceivably invalidate everything Whitaker signs, including the "bump stock ban."
Sadly, some gun owners are still shrugging this off as no big deal because they don't care about such devices and it doesn't gore their ox. Anyone who thinks this is "just about bump stocks" is missing the point. If the administration gets away with this usurpation of undelegated power, what won't the Democrats be able to pull the next time they take the White House, which based on "Individual 1's" performance of late may be just an election away?
**Note: After this article was submitted for publication I received news that the Firearms Policy Conference has filed a lawsuit seeking an injunction against the ban. **
UPDATE: Four days after this was posted, The Washington Post raised similar concerns.
—
As a matter of necessary disclosure, I have written about or joined with attorney Stephen Stamboulieh in other ventures included in this link.
---
About David Codrea: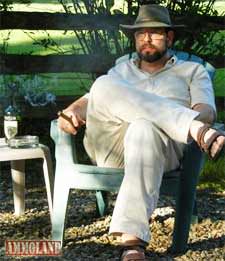 David Codrea is the winner of multiple journalist awards for investigating / defending the RKBA and a long-time gun owner rights advocate who defiantly challenges the folly of citizen disarmament.
He blogs at "The War on Guns: Notes from the Resistance," and posts on Twitter: @dcodrea and Facebook.