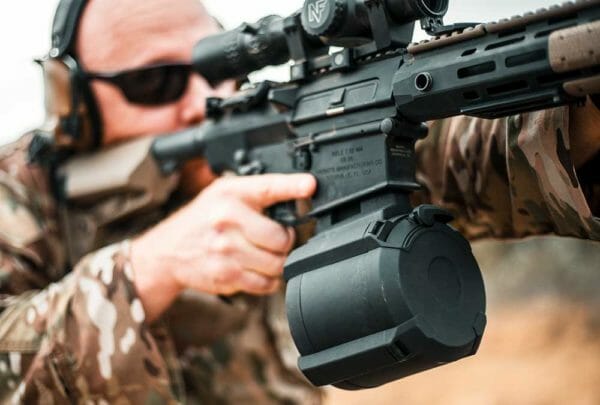 USA – -(AmmoLand.com)- The Magpul PMAG D-50 is a rugged, lightweight, and reliable 50-round polymer drum magazine designed for 7.62×51 NATO/.308 Winchester ammunition for SR25/M110 pattern rifles.
It's capable of using longer-than-SAAMI-spec match ammunition, up to 2.830" OAL, such as M118LR. Engineered to the same exacting standards as the famous Magpul PMAG and PMAG D-60® drum magazines, the D-50 continues the PMAG tradition of high-capacity performance and dependability. In addition, the D-50 brings GEN M3 features, which means enhanced strength, durability, and reliability. A ratcheting loading lever removes spring tension, making the D-50 easily loadable by hand.
An anti-glare translucent window on the rear of the drum makes for quick positive visual indication of remaining ammunition. Additionally, the D-50 can be disassembled quickly with a simple flat blade screwdriver, and a has a dot matrix pattern that allows for easy marking and identification. At approximately 1.5 lbs. empty, and 4.5 lbs. loaded, the Magpul D-50 is one of the lightest 50-round 7.62×51/.308 drums available and is priced well below the current competition. Designed specifically for 7.62×51 NATO/.308 Winchester ammunition and use with other calibers such as .260 Remington or 6.5 Creedmoor is not recommended.
Magpul PMAG D-50 Magazine Specifications
Weight: 1.726 lbs.
Width: 4.64"
Length: 4.35"
Height: 8.34"
Made in the USA.
Colors: BLK Only
Price: $149.95
---
About MagPul
Magpul was founded in 1999 with the intent of developing a simple device to aid in the manipulation of rifle magazines while reloading under stress. The company's name comes from this original product called the Magpul. Over the last decade Magpul has continued to grow and develop using much the same mission and process with a focus on innovation, simplicity, and efficiency.
To understand Magpul, one must first understand the root ideas that form the foundation of our company culture and design philosophy. These core principles have allowed us to maintain a course true to our original mission, and help explain how and why we do the things we do. Visit: www.magpul.com