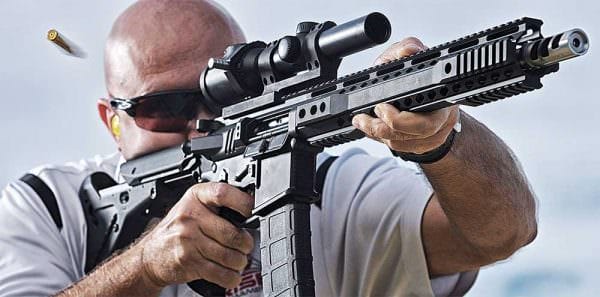 Broken Arrow, Oklahoma –-(Ammoland.com)- RISE Armament, a premier manufacturer and supplier of AR components and firearms, is proud to announce that the company was named the top-trending brand in the fourth quarter of 2018 by Crow Shooting Supply.
A family-owned national wholesale distributor of firearms, ammunition reloading components, and shooting accessories, Crow Shooting Supply leverages its unique data system to recognize and forecast industry trends.
Following Crow's fourth-quarter data assessment, RISE Armament surpassed several heavy hitters and was named the top-trending brand for the year's busiest quarter.
"We are excited for this brand recognition and success," said Chris Stratton, director of sales for RISE Armament. "Crow has been a key partner in our growth, and we're honored to be a top performer for them."
The past year was exceptionally strong for RISE Armament. The company's success in AR components, especially triggers, continued to compound and was joined by a burgeoning demand for its precision rifles, which are designed and manufactured in Broken Arrow, Oklahoma. In 2018, RISE Armament grew 74.5%, which is especially impressive when compared to the industry's 15.2% decline.
"RISE Armament has been making waves in the firearms industry since its official launch in 2014," stated Bryan Stuntebeck, VP of business development at Crow Shooting Supply. "We saw a very impressive trend for RISE throughout 2018, which crescendoed during the holiday season."
RISE Armament specializes in the design and manufacturing of AR-15s, triggers, barrels, handguards, compensators, and more for civilian, military, and law enforcement uses. For more information about RISE Armament products, visit www.risearmament.com.
---
About RISE Armament:
RISE Armament redefined shooters' standards with the introduction of its RA-535 Advanced-Performance Trigger in 2014. Today, the company continues to innovate through its lines of triggers, handguards, barrels, receivers, small AR parts, and complete rifles, which it designs and manufactures in Broken Arrow, Oklahoma. RISE and its employees are committed to providing reliable products that unleash shooters' potential and elevate the shooting experience. The RISE Armament team is fueled by a mission to make a lasting difference and strives to continually improve RISE products and our world. For more information about the company, visit www.risearmament.com.