U.S.A. – -(Ammoland.com)- "Knives are arms protected by the Second Amendment," a complaint filed Wednesday in the United States District Court for the District of Hawaii contends. The case is Andrew Teter and James Grell, Plaintiffs, v. Clare E. Connors, in her  Official Capacity as the Attorney General of the State of Hawaii, and Al  Cummings, in his Official Capacity as the  State Sheriff Division Administrator, Defendants. The complaint challenges the State of Hawaii's ban on butterfly knives (or balisongs), knives "having a blade encased in a split handle that manually unfolds with hand or wrist action with the assistance of inertia, gravity or both."
In a ruling on a related case reported recently, the United State District Court, Southern District of New York, declared the state's ban on gravity knives was unconstitutional. That followed a similar ruling on nunchakus. Representing plaintiffs in both those cases was attorney James Maloney.
Representing Teter and Grell in the Hawaii butterfly knife complaint are two attorneys familiar to AmmoLand Shooting Sports News readers frequenting this column, Alan Beck and Stephen Stamboulieh. In addition to supporting this correspondent in numerous actions including a challenge to the Trump bump stock ban, the pair won similar victories getting state bans on electronic weapons in New Jersey and New York declared unconstitutional.
"Butterfly knives are arms in common use for lawful self-defense," the Complaint for Declaratory and Injunctive Relief explains. "Butterfly knives are a traditional martial arts weapon of the Filipino people. It is commonly owned by Filipinos for purposes of lawful self-defense throughout the world."
"Analogous to nunchucks, butterfly knives, 'as used in the martial arts, are socially acceptable and lawful behavior, especially here in Hawaii where the oriental culture and heritage play a very important role in society,'" the complaint elaborates, citing a prior opinion from the Supreme Court of Hawaii. "Today, butterfly knives 'are widely used in the martial arts to build up dexterity, timing, mind and body coordination and aids in developing a larger sphere of consciousness around an individual.'"
And importantly, because the Second Amendment is not about "sporting purposes," the complaint reminds the court:
"Knives and butterfly knives as a form of knife are bearable arms… Butterfly knives as a form of knife are arms protected by the Second Amendment."
"There is no reason why Hawaii bans this treasured martial arts arm of the Filipino people," attorney Beck declared to AmmoLand. "I am happy to announce my dear friend and training partner Burton Richardson has joined me as an expert witness and has submitted a declaration which is attached to the complaint.
"Burton and I hope to bring our decades of martial arts experience into court in order to explain that balisong knives are constitutionally protected arms owned and trained with by Filipino martial arts practitioners all around the globe," he stated. "The government has no interest in banning these protected arms."
---
About David Codrea: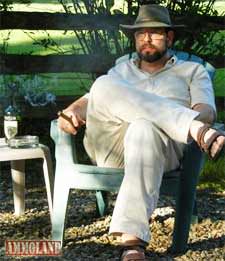 David Codrea is the winner of multiple journalist awards for investigating/defending the RKBA and a long-time gun owner rights advocate who defiantly challenges the folly of citizen disarmament. He blogs at "The War on Guns: Notes from the Resistance," is a regularly featured contributor to Firearms News, and posts on Twitter: @dcodrea and Facebook.