U.S.A. – When I first heard of the Ruger Wrangler, I had plenty to be excited about. It is Ruger's first new single-action 22 line to be introduced in sixty years. I am no fan of the Western shows that recreated the single-action revolver market back in the 50s, but Ruger six-shooters and me have been linked since the beginning. I first cut my teeth on handgun shooting with a Ruger Bearcat and lately, I've have been keeping a Ruger Single Six in my kit. I believe these are excellent 22 caliber handguns that will continue to sell well for Ruger. If you want a good "fun", training, or camp gun, I can highly recommend both.
The Wrangler should fit the bill just as well–at half the price.  To my surprise, the reaction amongst some Ruger enthusiasts was mixed. I was amongst the hopeful camp, while others opined that the Wrangler is a symptom of Ruger's emphasis on budget guns and allegedly declining quality control in general.
But is this really the case? I placed an order for a Wrangler to find out for myself.
Ruger Wrangler Single-Action Revolver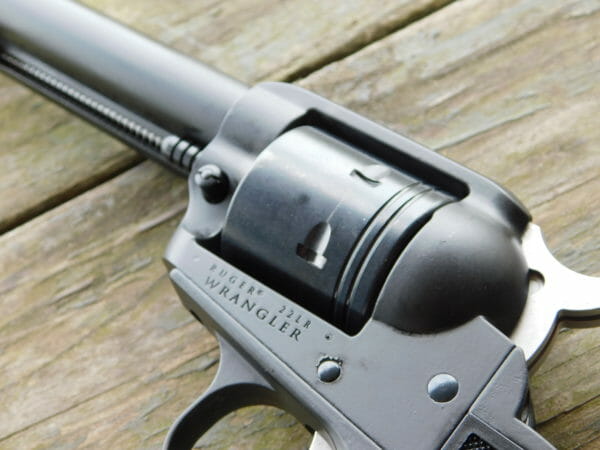 The Ruger Wrangler is a single-action six-shot revolver built along the same lines and basic dimensions of the Ruger Single Six. It comes in a trio of cerakote finishes: black, grey, and burnt bronze. The gun is chambered for the 22 LR round but a 22 Winchester Magnum version would be the next obvious step.  I chose the more traditional black-finished model and in a few days, it was at Cypresswood Pawn & Gun waiting for me. Coming out of the cardboard, I was expecting the cheapened Single-Six others had warned about. I was surprised by what I had.
The gun has the typical Colt Single Action Army civilian model feel and outline, sporting a handy 4 5/8 inch cold hammer forged steel barrel mated to a full aluminum frame. The steel cylinder comes unfluted and mostly unadorned except for a stripe behind the cylinder leads. A nod to the Ruger Bearcat perhaps?
The grips are of a black, checkered plastic and they were the first feature I noticed when I took the Wrangler in hand. It fit surprisingly well, even better than the walnut grips on my Single Six, with enough texture for a secure hold. The grips bell out at the bottom but taper up toward the hammer, giving a true plow handle grip that feels great and makes the gun point naturally. The sights consist of a square notch rear milled into the top strap of the frame and a thin front blade.
Longer barreled guns of this type tend to balance and point naturally, but this model was showing no disadvantage. These "civilian" models tend to be somewhat rear-heavy and the Wrangler's balance is true to that, however, the sights still lined up without apparent effort.  The Wrangler uses a well-finished zinc alloy grip frame as well as an aluminum cylinder frame. This differs from the Single Six's steel frame and it keeps the weight to a tidy 1 lb. 12 ounces unloaded.
With an MSRP of $249, the Wrangler is bound to make inroads, especially against the inexpensive and prevalent Heritage Rough Rider. Street price between the two will be neck and neck, so with that in mind, I picked up a Heritage Rough Rider, ponied up the ammo, and headed to the range.
On The Range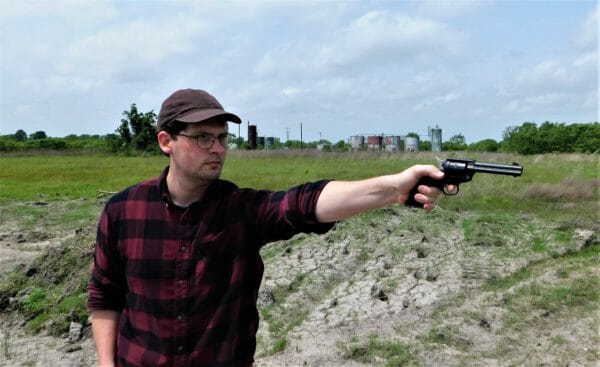 I started out my exercise by plinking at soda cans. (Better to have soda on the ground than in me.) I set a bunch of them up as well as a series of paper targets and backed out to about ten yards. I reached into my pocket full of shells, and got around to loading–my favorite aspect of these single-actions.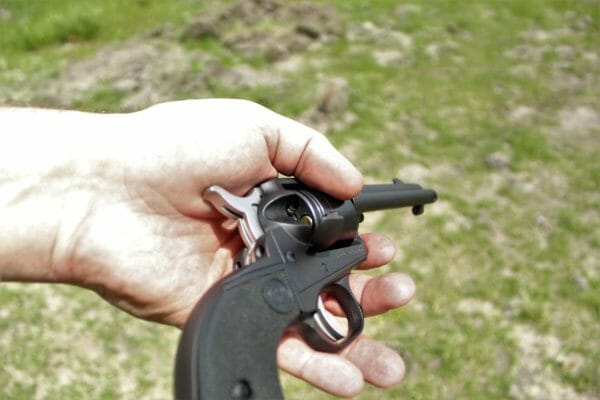 Brand new, the loading gate is a little stiff to open. But once it is, the cylinder moves freely, allowing you to load six rounds. Closing the gate reengages the hammer and you can now cock the hammer in order to fire the gun. I took a leisurely one-handed grip and let fly. You definitely have to slow down and take your time to make your six rounds count, because they can go by fast. I missed my first two shots but got around to nailing the cans.
After a bit more playing around, I took a two-handed grip and tried for groups. Federal Automatch and Winchester Western ammunition proved to be the most consistent ammunition, each producing six-shot groups at just over one inch at ten yards. Both of these rounds printed a few inches lower than the aiming point at that distance, as did all types of ammunition I tried.
However, if you read the manual, you will find that Ruger regulates their Wrangler's sights at 15 yards. So I moved some paper targets out at that distance and decided to bench the pistol in order to test accuracy. I also threw in the Heritage Rough Rider for good measure and some extra fun. Ordinarily, I prefer off-hand shooting but its entirely reasonable to take a supported shot on a game animal with a 22 pistol like these.
Taking more of myself out of the equation allowed me to digest the sights, balance, and trigger pull. The square notch rear of the Ruger lets in more light and lets me see the target as I am hitting it. Despite being a little rear heavy, the Wrangler balances out well thanks to that plow handle grip. The trigger is  ho-hum, breaking at just over seven pounds with a hint of noticeable grit and creep. This left me throwing otherwise steady shots to the right. I could consistently put six shots into a four to six inch group, with the Winchester fodder being the best of the bunch. Funny enough, I was able to repeat that performance consistently at twenty-five yards.
I was initially disappointed by the Wrangler, not because the gun was terrible, but because the Heritage shot nearly as well. The light trigger and terrible rear groove sight of the Heritage meshed with the heavier trigger and cleaner sights of the Wrangler to the point of stalemate.
After some more trigger time, I was able to consistently hit to the center with the Ruger and my groups bested the Heritage by a small margin, but all groups remained below the point of aim no matter the ammunition. At ten yards, I was very close with my rounds hitting only an inch or two low, but at twenty-five yards, my rounds were dropping four inches below my aiming point. That is fine for a can of soda, but you might miss dinner.
Is point of aim a problem with fixed sights? Not necessarily. Besides playing with your ammunition, you may find ways to tweak the sights, particularly if you are shooting high. It is harder to compensate if you are shooting low, outside of building up the front sight.
Accuracy At Ten Yards Offhand
Brand                                                              Best Group (Inches)
Remington Yellow Jacket 33 grain HP                    3.5
Remington Thunderbolt 40 grain Lead                   3.0
CCI Mini Mag 40 grain Solid                                   2.2
CCI 22 Short CB 29 grain Lead                              2.0
Federal Target 40 grain Lead                                 1.6
Federal Automatch 40 grain Lead                          1.4
Winchester Western 36 grain HP                           1.25
CCI Stinger 32 grain HP                                         3.2
Would I Buy It?
Like I previously mentioned, I am a fan of Ruger single-actions and I was optimistic when I first took the Wrangler to the range, even though the little gun had a lot to live up to. But if Ruger took the Single Six design and made it so that the price point is dramatically reduced, they must have sacrificed something?
It is important to not subscribe to groupthink, I will argue that the Wrangler is a gun that is produced close to the cost of actual manufacturing, rather than what people were willing to pay by reputation and extras. The Wrangler, like other Ruger firearms, is a cast gun. Not that there is anything wrong with that, but its a cheaper process with less machine time. Then again, so are the Wrangler's competitors. The difference is attention to detail.
Even though I can knock the Wrangler's trigger and the lack of gross regulation of the sights at the factory, it is hard to do given the context of the price point and the overall excellent attention to detail. The machine and knurling work is excellent, as you would expect from Ruger. The stocks are surprisingly on-point as is the overall balance and feel of the pistol. They certainly didn't skimp on the transfer bar safety, which makes the gun that much safer than its competitors.
If there is one knock you can give the Wrangler, it is on the surface–the cerakote finish. But even this, in today's context, is a smart move. Sure, it is cheaper than a high polished blue. But it is also a popular finish that lends itself well to customization.
In the end, I would not buy the Wrangler. It is no Single-Six, but it bears remembering that it does not have to be. As a recreational option that is light on the pocketbook, there isn't much contest.
---
About Terril Hebert: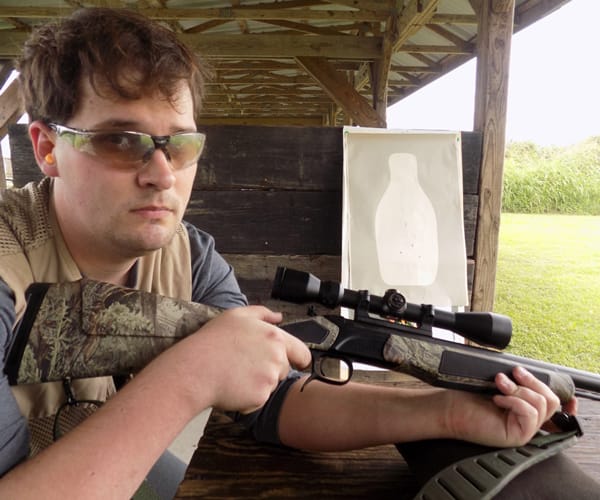 Terril Hebert is a firearm writer native to south Louisiana. Under his motto-Guns, Never Politics-he tackles firearm and reloading topics both in print and on his Mark3smle YouTube channel, where he got his start. Terril has a soft spot for ballistics testing, pocket pistols, and French rifles. When he is not burning ammo, he is indulging his unhealthy wildlife photography obsession or working on his latest novel. Scourge of God, published in 2017. See more from Terril on youtube under Mark3smle