U.S.A. –-(Ammoland.com)- 5.11 Tactical has been slinging gear to military, law enforcement, and first responders since back in 2003.  They've come a long way with regards to low-key tactical styling, durability and breadth of products available.  While you normally see range backs and polo shirts from 5.11 in articles, they're offering far more these days.  To wit, take a gander at the Norris sneaker from 5.11.
The Norris sneaker is the latest item from 5.11 to try and cram a ton of tactical-minded features into an otherwise inconspicuous package.  The Norris looks like a pair of OD Jungle Boots spent a night of passion with a skateboarder's pair of Vans.  Look deeper, and see what the Norris has to offer.
Vibram® Marbrani outsole with XS Trek
New full length Ortholite® footbed
Climbing grade rubber toe protection
Ortholite® upper cuff for comfort, heel hold & protection
ASTM certified for puncture resistance
Welmax board protects your feet from up to 1200 newtons of force
My first thought when putting the Norris' on was that they're surprisingly comfortable.  The interior is a soft, low-friction material that doesn't wear worse after a long day than it does at the beginning.  I usually lace my footwear tight, but found I needed to loosen up a bit as the Norris has a higher Achilles covering area than most of my shoes.  I had a little concern about rubbing causing a blister there, but as soon as the shoes were broken in the slightest bit all of that was gone.
The outsole is from Vibram, which usually means top-notch in my experience.  I thought the relatively flat tread on the Vibram Marbrani would be better in an urban environment than a rural one.  Between hitting some trails while camping and repeatedly grinding up and down a steep dirt slope at the range, I'm not worried anymore.  In fact, the increased surface area of the rubber outsole is what gives the Norris such good traction on wet pavement.  I took them for a quick run around the neighborhood before sitting down to start writing for the day.  These sneakers have the comfort and support of a full-size boot, but with the weight of shoes.
There are plenty of quality construction indicators here.  The stitching is evenly-spaced and heavily applied.  The pull-loop above the Achilles area is beefy, certainly not going to pull loose anytime soon like the pull-loops on my running shoes always seem to.
The Norris comes in "D" width, so if you're like me and have wider feet, plan on bumping up the sizing accordingly.  I went from a 7.5 to an 8.5 to get the appropriate width.
The Norris is definitely geared more towards dry weather though.  Water blows through the material under the laces in the center of the shoe.  The first time I hit a puddle, I ran through it intentionally while dragging my toes a little.  I expected to get my shins wet, but the speed with which the water permeated the shoes was surprising.  The outer material sheds rain pretty well, but any standing water is going to be a problem unless you hit these with a little waterproofing spray.
The exterior is better at defeating rocks though.  After a few hours of rough use walking through rocks, loose gravel, and dirt, the Norris' kept my feet well protected.  They still look nearly new as well, which is nice for those of us who like getting dirty much better than cleaning up.
The bottom line for the 5.11 Norris sneaker… comfortable and effective foot armor from a name we all know.  Stylish too, if that's your bag.  Footwear that I expect will last quite a long time, despite routinely abusive use.  The 5.11 Norris runs $99 and is available in Ranger Green and Black.
---
About Rex Nanorum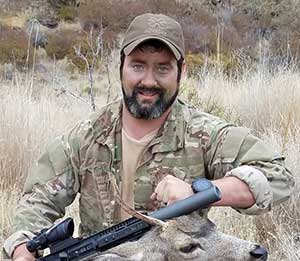 Rex Nanorum is an Alaskan Expatriate living in Oregon with his wife and kids. Growing up on commercial fishing vessels, he found his next adventure with the 2nd Bn, 75th Ranger Regt. After 5 tours to Afghanistan and Iraq, he adventured about the west coast becoming a commercial fisheries and salvage SCUBA diver, rated helicopter pilot instructor (CFII) and personal trainer, before becoming a gear reviewer and writer."
-Rex Nanorum
@Rexnanorum
Some of the links on this page are affiliate links, meaning at no additional cost to you, Ammoland will earn a commission if you click through and make a purchase.