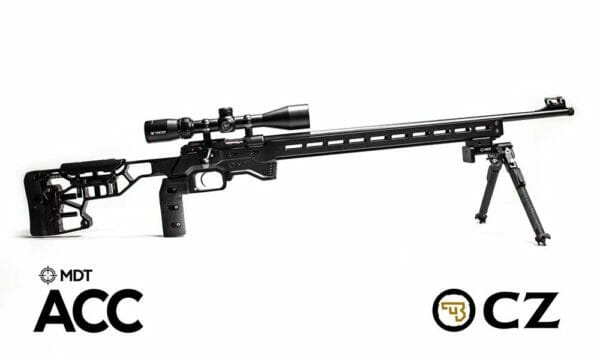 U.S.A. –-(Ammoland.com)- Modular Driven Technologies is excited to announce the most advanced competition chassis in the MDT line up is now available for the popular CZ 457 rimfire.
With the advancement of the popular CZ line of rimfire rifles, comes the refined CZ 457 model. A well rounded rimfire rifle well suited for hunting, plinking or precision rimfire rifle competitions. A perfect mate, the MDT ACC chassis allows users to configure their rifle to dominate precision rimfire competitions or enjoy a day plinking on the range.
The MDT ACC was developed with input from top competitive shooters around the world. The result is the ACC's superior ergonomics and features. The biggest advantage is the ACC's fully customizable steel weight system. The weight system is integrated in the buttstock, barrel channel and forend allowing over 9 additional pounds to be added to the rifle chassis assembly. This added weight allows the shooter to perfect balance and tune their rifle for effortless positional shooting.
The ACC comes complete with a Skeleton Rifle Stock (SRS-X Elite) with a 13.375″-14.375″ length of pull. The ACC Chassis features a full Really Right Stuff spec Arca rail the entire length of the 17.75" forend and can accept a traditional pistol grip or the MDT adjustable vertical grip.
The ACC starts at $999 (including buttstock) and is available now available at https://mdttac.com/acc-chassis-system.html
ACC Chasis System SPECIFICATIONS
CNC Machined from 6061 Aluminum
Chassis, buttstock and grip weight: 5.9lb – 13.3lb, depending on the rifle model and number of weights added to the system
Cerakote finish in Tactical Grey
17″ of available ARCA/RRS dovetail, with retention screw so that accessories don't fall off mid-stage
M-LOK pattern attachment system on all 3 faces of the forend
Accepts most AR-15 pistol grips, but designed with the MDT Vertical Grip in mind
Wider, ergonimic thumb shelves than previous chassis systems
Mag latch limiter to prevent over camming and pinching of magaines
Uses our proprietary ESS buttstock interface
Free floating barrel channel with removable end cap for interior weight installation and adjustment
Trigger adjustment slot of R700 single stage triggers
Will accomodate barrels up to 1.350″ diameter
Compatible with AICS style magazines
---
About MDT
Modular Driven Technologies LP. (dba MDT LP.) was founded in 2009 by Laszlo Klementis who wanted a tactical chassis for his rifles with AR-15 ergonomics. With a background in CNC machining, he started to manufacture his own. As an avid competitor in service rifle, precision, and F-Class he started looking for something in the market which was not available. With input from a number of others, he ended up with the TAC21 Chassis which takes any AR-15 buttstock and pistol grip and increases accuracy by as much as 28%.
Our manufacturing facilities are located in Chilliwack BC, Canada. All our US sales and distribution is operated by our US entity company located in Sumas Washington, USA.