Opinion
Idaho – -(AmmoLand.com)- I recently received two items from the Wazoo Survival Gear guys. Usually, I don't combine two products in one Product Review, but this time, it made sense to do so.
So I will do this as a 2-part product review, and I will break it down as such. We will begin with the Wazoo Viking Knife Sharpening Necklace and finish with the Bandana Foraging Field Reference. As you know, I am into knives big times, so consequently, you can deduce that I'm also into various ways to keep my blades sharp. So it caught my eye when marketing guru Cameron asked me if I wanted to review the Wazoo Viking Knife Sharpening Necklace.
Viking Knife Sharpening Necklace
The Wazoo crew did some research and discovered that many of the dead Vikings had whetstones with them even in death. So I don't put words in their mouth, below is a quote from their website.
"We wanted to put a modern twist on this legendary tool, so we maintained the original concept but made them in the USA with a USA quarried stone."

"It is believed that Vikings suspended these knife sharpening tools from their belt. However, it is not exactly clear, even to scholars, how the Vikings wore these pendants. We laced ours with a versatile, adjustable high-quality leather cord and packed it in a USA-made muslin pouch so you get to choose how to wear it or carry it. Wear it around the neck for the most Ragnariest looking necklace you've ever seen, cinch it all the way down so that it can be hitched to your belt or clipped onto your pack, or simply pocket it while still contained in the hand-stamped muslin pouch".
It is always interesting to see how our ancestors hunted, fished, ranched, and farmed and what tools they used. I never thought about it before reading the above statements, but I guess in the old days, they would have carried a whetstone with then. Or maybe most people used whatever was available. Here's what I mean by this. I was conducting a Knife Sharpening seminar at Cabela's, and in the end, a young guy came up shooting the bull as will typically happen after a seminar if the audience is getting into it.
He asked me if I'd ever used a river rock to sharpen a knife. He said his grandad in Guatemala used to grab a smooth rock out of the river and sharpen his axes with it. So think about it a minute and snap out of your little yuppie 20th Century mentality. Do you believe that the Indians used diamond stones or Arkansas stones bought at their favorite local outdoor store? I think not.
No doubt, I think that it is widely accepted that the Arkansas stones are the best for making whetstones, which to my understanding, is what these stones are made of. But in the spirit of the article, I find it kinda fun to carry this little Viking replica to use in an emergency while out in the mountains.
After using the Viking stone a bit, I'm going to recommend using it one of two ways:
Run your knife blade down the stone as you usually do. But since it is a small stone, you will have to do so accordingly, so you don't run out of stone.
Hold the blade stationary and run the stone down the edge of the knife.
The Wazoo Viking Knife Sharpening Necklace also has a groove to sharpen fishhooks, which is always smart to have along. Recently while fishing at Plummer's Lodge up in the Northwest Territories, I had to touch up a couple of hooks that weren't sharp enough. The barb had been removed in the factory, but the manufacturer had ground it a little rough so it wouldn't set on the fish as fast as it should have. MSRP $30.00
Here are the specs on the Wazoo Viking Knife Sharpening Necklace.
World-famous genuine Arkansas Novaculite (99% pure silica), the rarest and finest abrasive stone in existence.
Great general-purpose fieldstone for edge maintenance. Medium fineness (600-800 relative grit size).
Typically, stones in this grade are lily-white in color. However, our manufacturer has been kind in the past to seek out unique colors and patterns, especially for us when available. *Sorry, we cannot let people pick colors. Just have to let the stone pick the person.
Each stone has been carefully chosen, hand-cut, ground, and drilled.
Custom Color. We call the rich colored and conditioned leather cord, Antiqued Mahogany Brown.
Unique Knot. The "Napoleon Claw" knot is inspired by Viking/Celtic knot-work and is thought to be an otherwise unknown knot before Bart Colosino brought it to our attention.
Each whetstone comes with a made-in-the-USA double drawstring muslin bag, and each has been hand-stamped with a custom Viking emblem.
Stone dimensions: 1.9″L x 1″W x .25″H
Wazoo Bandana Foraging Field Reference
Now for the 2nd Product Review, let's cover the Wazoo Bandana Foraging Field Reference. I have worn bandanas ever since I used to rodeo. In those days, we tied them around our necks, and they helped keep you warm, plus they looked cool. In later years I stick one under my cap and let the tail hang over my neck to shield me from the hot sun, and at night I wear one on my head while sleeping to keep warm when backpacking. So a bandana has a lot of uses.
But the thing that caught my eye about the Wazoo Bandana is that it identifies 12 different edible plants. That's cool. What I would advise that they do is make multiple bandanas. One for all the various locals we may be hunting/fishing in. For instance, just last week while up in the Northwest Territories, we pulled up on some unnamed island. There were some super short plants that had what appeared to be a red raspberry, but many were yellowish and appeared not quite ripe yet. I showed our guide, and he said those are Cloudy berries. I thought the red ones were ripe, but he said no when they get the white/yellow color they're ripe. It'd of been nice to have had a bandana specifically for the NW Territories. MSRP $11.00
• Designed in cooperation with some of the finest foraging instructors.
• 12 common plants/fungus of North America
• 12 different designated uses with part indicator icons
• "5 Steps of Identifying Edible Plants" by Samuel Thayer
• "Rules and Ethics of Foraging" by Merriwether
• 12 listed field uses listed.
• Includes Common and Scientific Names
• Beautiful and accurate botanical illustrations.
• Made and printed in the USA!
---
About Tom Claycomb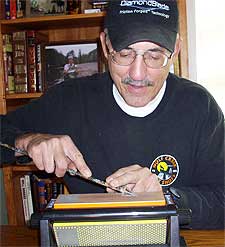 Tom Claycomb has been an avid hunter/fisherman throughout his life as well as an outdoors writer with outdoor columns in the magazine Hunt Alaska, Bass Pro Shops, Bowhunter.net, and freelances for numerous magazines and newspapers. "To properly skin your animal, you will need a sharp knife. I have an e-article on Amazon Kindle titled Knife Sharpening #Ad for $.99 if you're having trouble."
Disclosure: Some of the links below are affiliate links, meaning at no additional cost to you, Ammoland will earn a commission if you click through and make a purchase.