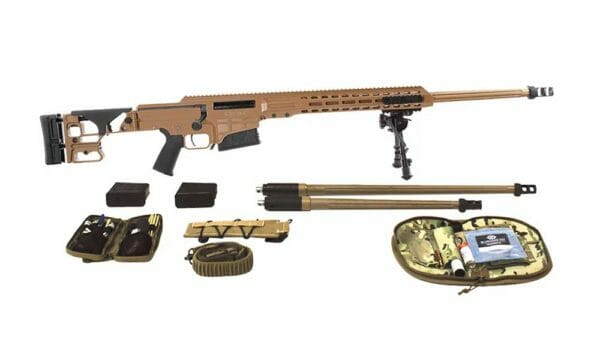 U.S.A. –-(Ammoland.com)- Selected to be the next generation of US Department of Defense sniper rifles, the Barrett MRAD Mk22 Advanced Sniper Rifle now sits at the tip of the spear! To commemorate this historic event, Barrett has produced 100 Special Edition MRAD Mk22 Advanced Sniper Rifle Systems that are available exclusively through EuroOptic! Each system will include the same rifle, parts, and components that will deploy with America's most elite snipers.
The winner of the $50 million USSOCOM Sniper Rifle Contract, the Barrett Mark 22 Advanced Sniper Rifle now sits at the tip of the spear of US military might. Based on Barrett's Multi-Role Adaptive Design Sniper Rifle, better known as the MRAD, the Barrett Advanced Sniper Rifle System was able to meet and exceed SOCOM's stringent requirements for the Mark 22 contract.
Milled from a single block of 7075 Aluminum, the Barrett Mark 22 Advanced Sniper Rifle's receiver more resembles the lower receiver of an AR platform rifle – housing the fire control group and magazine well, as well as attachment points for the pistol grip and folding buttstock. The upper receiver of the Barrett Mark 22 Advanced Sniper Rifle System also shares visual and functional similarities with the AR platform, with the bolt riding within a completely enclosed upper aided by a polymer bolt guide. What helped secure USSOCOM's contract for Barrett is intuitive the caliber changing functionality of Mark 22 Advanced Sniper Rifle System (and MRAD). In order to change calibers on the Barrett Mark 22 only two parts need to be swapped: the barrel, held in place by two torx screws and the bolt head.
The Barrett Mark 22 Rifles differs from the MRAD in a few small but important areas. The first being the handguard, the Mark 22 features the M-LOK attachment system with attachment points at the 3, 6, and 9 o'clock positions and full-length picatinny top rail. The Mark 22 features a single-stage trigger fixed at just 2.5 lbs. and finished with protective black coating. The buttstock of the Mark 22 will include an incremental mechanical lock for adjusting comb height, an adjustable recoil pad, and a bag rider covering a picatinny rail that allows for the mounting of a monopod. The Barrett Mark 22 Advanced Sniper Rifle System will also coated in an exclusive SOCOM Coyote Brown finish.
USSOCOM Advanced Sniper Rifle Requirements
Must be convertible to fire 7.62mm NATO, .300 Norma Magnum, and .338 Norma Magnum cartridges.
Must not exceed 17 lbs. with an empty magazine, but is ideally 13 lbs. or less.
Must not exceed 50" when fully extended, but is ideally 40".
Must not exceed 40" when collapsed for transport, but is ideally 36".
Must perform with at least 1 MOA accuracy for the 7.62 NATO and .300 Norma Mag at 300 yds. Ideally .5 MOA
Must perform with at least 2.5 MOA accuracy for the .338 Norma Mag at 300 yds. Ideally 1.5 MOA.
Must have a modular flash or sound suppressor
Components Included With The Barrett Mark 22 Advanced Sniper Rifle System Deployment Kit
(1) Pelican 1770 Protector Hard Case (58″x18″x10″)
(1) Armageddon Gear Soft Case
(2) Bore Guides for 7.62 and .300/.338
(1) Stock Spacer Kit with 4 Spacers and Hardware
(1) Cleaning Kit with Rod
(1) Tool Kit with Torque Wrench, Bits, and Operator Spare Parts Kit
(5) 10 Round Magazines for 7.62x51mm NATO, .300NM, and .338NM
(1) Armageddon Gear Precision Rifle Sling
(1) Harris Bipod
(1) Armageddon Suppressor Cover
---
About Barrett Firearms Manufacturing, Inc.
Barrett is a family-owned and operated company and the world leader in large-caliber, long-distance, precision rifle design and manufacturing. Barrett products are used by civilians, sport shooters, law enforcement agencies, the United States military and more than 73 State Department approved countries around the world. The Barrett Quality Management System (QMS) has received the prestigious ISO 9001:2015 certification for the design and manufacture of firearms, ammunition and accessories, and to provide training for those systems.