U.S.A. –-(Ammoland.com)- Like it or not, your ability to own suppressors is under attack. In states like Virginia, where anti-gunners now hold the majority in both chambers of the legislature, legislation has already been introduced that seeks to ban and confiscate every suppressor in the state. It is likely that other states will pursue similar measures in 2020. At the Federal level, three bills have been introduced that would ban, confiscate, or severely restrict access to suppressors for law-abiding citizens.
The American Suppressor Association is spearheading the fight to protect and expand your right to own suppressors nationwide, but we cannot do it alone. Our anti-suppressor opposition is well organized and incredibly well funded. To counter their misinformation and misguided attempts to ban these hearing safety devices, we need your help now more than ever!
The American Suppressor Association is calling on suppressor owners everywhere to make your voice heard by joining or making a donation to ASA today! Do so now through December 2nd, and you'll be automatically entered to win one of 12 prizes worth more than $15,000. Your membership makes ASA's voice stronger and provides the funding that allows ASA to stay active and engaged in the essential fight to protect and expand suppressor rights nationwide!
Visit CansNotBans.com for details and to enter.
---
$15,000+ Member Giveaway Prize List
HOW TO ENTER
In order to be entered, membership and/or tickets must be purchased by Monday, December 2, 2019, at 11:59 pm EST. As long as your membership is active as of 5:00pm EST on Tuesday, December 3, 2019, the day of the drawing, you'll automatically be entered to win. Want more chances to win? You can also purchase additional chances for $25.
Contributions or gifts to the American Suppressor Association are not tax deductible.
---
ABOUT THE AMERICAN SUPPRESSOR ASSOCIATION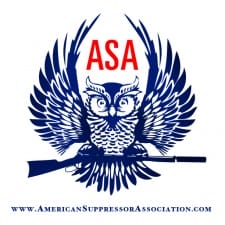 The American Suppressor Association (ASA) is the unified voice of the suppressor community. We exist for one reason and one reason only: to fight for pro-suppressor reform nationwide.
The ability of the American Suppressor Association to fight for pro-suppressor reform is tied directly to our ability to fundraise. Since the ASA's formation in 2011, 3 states have legalized suppressor ownership and 18 states have legalized suppressor hunting. This would not have happened without your support. For more information on how you can join us in the fight to help protect and expand your right to own and use suppressors, visit  www.AmericanSuppressorAssociation.com.