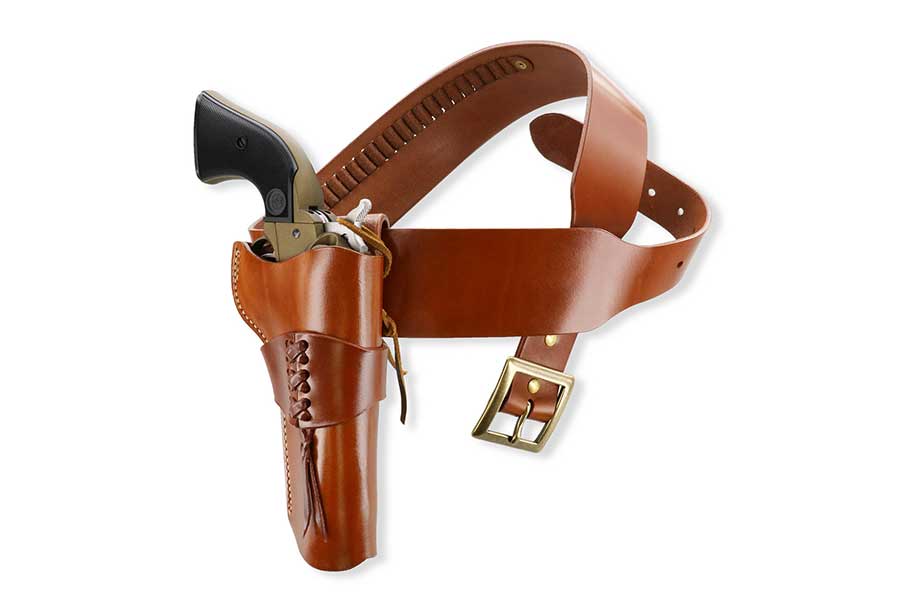 U.S.A. -(AmmoLand.com)-Galco is excited to introduce a Western-style holster and matching cartridge belt for the popular Ruger Wrangler .22 revolver!
Maybe you enjoyed watching cowboy heroes ride across the screen, heard stories about them from your fathers and uncles, or even worked as a real cowboy yourself. But we can all agree that there's something timeless and uniquely American about the gun leather used by the rugged men of the Old West.
Now, in 2020, Galco is happy to announce our first Western-style holster of the new decade. Designed to fit the Ruger Wrangler single-action .22 revolver exclusively, our latest Western holster and companion belt provide a distinctively fun "retro" look and feel that hearkens back to the American frontier.
Our Ruger Wrangler holster is a tan steerhide, high-riding design with open top and hammer thong retention. The matching leather cartridge belt carries thirty .22-caliber rounds in loops. 2 ½" wide and tapering toward the brass buckle, it's available in a wide range of sizes from 34" to 50" to fit most shooters.
The Ruger Wrangler holster and cartridge belt are not only a great way to introduce shooters of all ages to the romance and heritage of the Old West, but they're also perfect for carrying your Wrangler hunting, camping, or that most American of pastimes, plinking.
Sold separately, the holster for the Wrangler retails for $79, while the cartridge belt retails for $125.
---
About Galco
Galco International, LTD is the designer and manufacturer of the Galco holster brand, the premier American-made line of superb-quality holsters, belts and accessories. Encompassing law enforcement, military, defensive and sporting use, the Galco brand utilizes leather, nylon, injection-molded plastic and Kydex® to meet the demands of today's consumers. The award-winning Matrix™ line of holsters and accessories, women's holster handbags, tactical slings and hunting accessories round out the line. All Galco products are proudly made in the USA since 1969.