U.S.A. –-(AmmoLand.com)- The Pachmayr Slip-On Recoil Pad has multiple uses. The first benefit that you would think of is to reduce recoil when sighting in multiple rifles. I don't care how tough you are if you're shooting numerous rounds through a .338 Win. Mag. while testing various ammo from different manufacturers or just sighting in numerous rifles it's hard not to start flinching.
Of course in the above scenarios I love using a Caldwell Lead Sled or a Caldwell HydroSled. But maybe you're a kid on a paper route budget or just starting out raising a family and can't afford either one of these. If not, the Pachmayr Slip-On Recoil Pad is a great option to reduce recoil which in turn helps you shoot better when doing a lot of shooting.
Another benefit of the Pachmayr Slip-On Recoil Pad is if you're shooting your shotgun on a hot Texas dove hunt and let's say your shotgun is fitted to your size for winter duck hunts when you're wearing heavy clothing. Suddenly the butt is a little too short. A slip-on pad can be a cheap way to increase the length of pull.
Another good use for the Pachmayr Slip-On Recoil Pad is if you're a black powder hunter or for using on your Henry's lever actions. I don't want to sound old school but it seems sacrilegious to put a permanent butt pad on either one of these guns doesn't it? But no doubt, if you don't have any lead in your pants or you're a kid or a petite little woman either one of those two may kick you like the Proverbial mule with their hard butt plate. Why not use the Pachmayr Slip-On Recoil Pad? You can slip it on while sighting in either one of the two or when hunting them but remove it while in camp or at home so it still looks cool and has the original cowboy look.
So a slip-on butt pad has many uses. Another one is to extend the years of service that a kid can get out of their youth guns. If you bought your kid a gun with a youth stock when they were kids, they will soon be outgrowing them when they hit their early teenage years. Putting on a slip-on pad allows them to use the gun for a few more years.
This is a little bit of a foreign problem for me. Dad & Mom bought us, kids, our first shotgun when we were 10 yrs. old. Of course as a 6-7 yr. old I hadn't received mine yet. So I used my sister's shotgun. I couldn't reach the trigger so I'd hold it under my arm like Granny on the Beverly Hillbillies and shoot like that. It was a little hard to hit doves zipping by in that manner but I got by. Dad would only let me load one shell at a time. So I'm kinda in the mode of buy kids a real gun that they can use all of their lives.
The Pachmayr Slip-on Recoil Pad is available in two colors-brown or black and comes in three sizes, small, medium, or large. The MSRP is $15.50.
If you have a lot of shooting to do and can't afford a Caldwell Lead Sled then you might just want to check out this slip-on pad and try to reduce the bone-jarring (((RRReeccoilllllllll))) of your magnum rifle.
---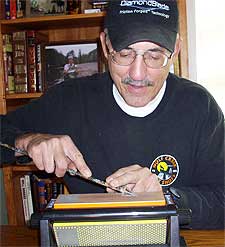 About Tom Claycomb
Tom Claycomb has been an avid hunter/fisherman throughout his life as well as an outdoor writer with outdoor columns in the magazine Hunt Alaska, Bass Pro Shops, Bowhunter.net, and freelances for numerous magazines and newspapers. "To properly skin your animal, you will need a sharp knife. I have an e-article on Amazon Kindle titled Knife Sharpening #ad for $.99 if you're having trouble."
Some of the links on this page are affiliate links, meaning at no additional cost to you, Ammoland will earn a commission if you click through and make a purchase.