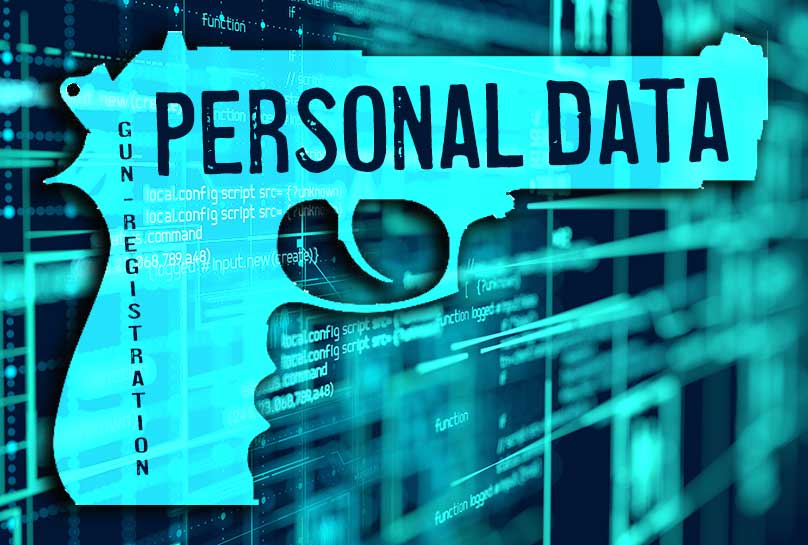 WASHINGTON, D.C. -(Ammoland.com)- Congressional Representative Michael Cloud (R-TX) and 51 other Republican Congress members recently sent a letter (embedded below), to ATF questioning the Bureau's growing database of personal information about American's gun purchases.
"We are concerned that this Administration is leveraging its power in a way to establish a federal gun registry. Moreover, we are opposed to a recent(sic) proposed regulation that would require federal firearms licensees (FFLs) to facilitate the creation of a federal gun registry.".
According to a response letter (embedded below), the Bureau of Alcohol, Tobacco, Firearms, and Explosives (ATF) acknowledged it has over 920 million firearms records, (920,664,765 records).
Aditionaly, almost 866 million of your personal firearms transaction records have been scanned and digitized out of the nearly one billion records.
AmmoLand News was first to report that the ATF was digitally scanning firearms transaction records, like your personal 4473. From forms that the Bureau has received from gun retailers that have given up their federal firearms license. The ATF has been using scanners equipped with optical character recognition technology (OCR) to digitize the records. Although the ATF claims not to have the ability to search for specific character strings, the fact they are using OCR means that it would only take mere minutes to enable the ability to search the documents.
Remember the Federal 4473 form that you complete when you purchase a gun at a retail gun shop or big-box retailer like Walmart includes such personal data as your full name, address, phone numbers, date of birth, social security number, race, sex, and even your weight. Your certification that you are not on drugs or alcohol. [Hello Hunter Biden] As well as all the unique identifying information of the firearm you are buying or transferring at the time you complete the form including the manufacture, make, model, caliber, and serial number.
But this is NOT a gun registry… In the letter, ATF assures us they do "not capture and store certain key information, such as firearms purchaser information, in an automated file" and "ATF is confident that it does not violate any laws."
Last November, Gun Owners of America (GOA) received a leak showing that the ATF added 54 million records in a year's period to the out-of-business records held by the massive government bureaucracy. Fox News' Tucker Carlson even picked up the report at that time. By law, the Firearms Protection Act bans the ATF from creating a registry of guns, gun owners, or gun sales.  Causing some Congress members to be concerned that the ATF was building a gun registry in violation of long-standing federal law. That concern drove Texas (R) Rep. Cloud and the others to draft a letter to the agency asking tough questions about the ATF's out-of-business record-keeping practices.
According to the ATF, the Out of Business Record Imaging System was developed because of "practical concerns related to maintaining paper and microfilm records." The agency has trailers full of documents that are quickly being digitized.
By federal law, the ATF cannot create a gun registry, but all the building blocks for a future registry are falling into place especially with the scanning of documents.
Another concerning fact is that the number of private or personal records has tripled since 2016. In that year, the ATF held 285 million records. It is unclear how the ATF managed to add 637 million records in the past five years if it is based on just out-of-business records. The Bureau also didn't comment on the explosion of the number of records held by the ATF.
The ATF does not go into specifics of what are these records. We can surmise that these records consist of Form 4473s, former or now out-of-business FFL bound books, multiple handgun reports, and forms for lost or stolen firearms. The ATF does not say if the agency considers every single page a separate document or not? The ATF does state that these forms are used for firearms trace requests from local law enforcement agencies, and nothing else.
The records are a concern to gun rights activists because of the recent moves by the ATF to push FFLs to store completed 4473 forms digitally. The ATF has removed the time limit that the FFLs are required to keep the documents on-site, meaning the FFLs can never get rid of a form 4473 once it gets entered into their system except when turning the records over to the ATF. If an FFL turned over the records, then that would mean that those files would become part of the 920 million records currently held by the ATF.
"ATF Did Not Always Comply with the Appropriations Act Restriction and Should Better Adhere to Its Policies" GAO-16-552
The ATF also claimed that a Government Accountability Office (GAO) report, GAO-16-552, showing that the ATF has not always complied with Appropriations Act restrictions was not indicative of a more significant issue within the Bureau. Many American gun owners would consider any noncompliance by the ATF with record-keeping laws as a significant problem.
U.S. gun owners and AmmoLand News are waiting to see what the 52 Congress members do with the new information that the ATF provided to Congress.
See Related Articles:
Rep. Michael Cloud (R-TX) & 51 GOP Co-Signers Question ATF on Federal Gun Records Database
---
About John Crump
John is a NRA instructor and a constitutional activist. John has written about firearms, interviewed people of all walks of life, and on the Constitution. John lives in Northern Virginia with his wife and sons and can be followed on Twitter at @crumpyss, or at www.crumpy.com.