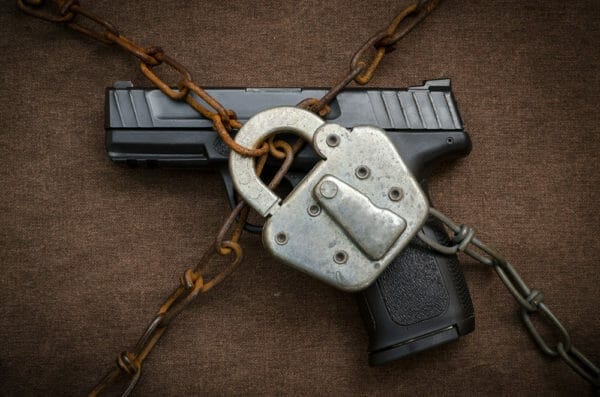 U.S.A. –-(AmmoLand.com)- While New York Mayor Eric Adams and Manhattan District Attorney Alvin Bragg have declared a "crisis" of guns plaguing the Big Apple, a criminal justice expert with the Manhattan Institute is disputing that argument, instead asserting to Fox News, "We have a crisis of family breakdown and a crisis of law enforcement, not a crisis of guns."
Heather Mac Donald told Fox News Digital there are fewer guns in New York than in other places around the country, including the neighboring state of Vermont, where it is legal to carry openly or concealed without a permit, and there is no problem with violent gun-related crime there.
Mayor Adams and DA Bragg blamed guns in the aftermath of a shooting that left one police officer dead, another in a hospital fighting for his life, and the alleged killer—a convicted felon allegedly on probation and armed with Glock pistol reportedly stolen in Maryland back in 2017—reportedly died from wounds to the head and arm. The pistol he used was reportedly equipped with an aftermarket 40-round drum magazine, illegal in New York.
The gunman was identified by the New York Post as 47-year-old Lashawn McNeil. According to the Post, the murder weapon was a 9mm Glock, but in his remarks to the media, Mayor Adams said it was a ".45–caliber modified gun." Calls to the mayor's office and the Post were unable to confirm which was used, although the newspaper published photos purported to be the gun, and it was a 9mm Glock Model 17 Gen 5 with a drum magazine inserted.
All of this is known to Adams, yet during a speech Monday about his plans to bring an end to violence in the city, the former cop declared, "We must pass legislation requiring background checks on all gun sales."
If the murder weapon was stolen as reported, there was no background check when McNeil acquired it, and Adams should know it.
So, when Mac Donald—whose impressive resume includes her work as a contributing editor to City Journal and being a New York Times bestselling author—told Fox News Digital "The per capita rate of gun possession in New York is much lower than in many other parts of the country that have zero drive-by shootings," it should get some attention.
Mac Donald in 2016 wrote what has become an almost prophetic bestseller, The War on Cops: How the new attack on law and order makes everyone less safe. Her background includes an appointment by former Mayor Rudolph Giuliani to a task force at the City University, and several writing awards dealing with law enforcement issues.
Quoted by Fox News, Mac Donald asserted, "Law enforcement has been demonized and demoralized by the Democratic falsehood about endemic police racism. Alvin Bragg, like progressive prosecutors across the country, has announced that the crime of resisting arrest will no longer be prosecuted, thus sending the message that the lawful authority of the police (and the police themselves) deserve no respect. Other laws are not being enforced, sending the same message. The criminals have heard that message loud and clear and now believe, not without justification, that they can prey on the innocent without consequences."
A Bragg spokesperson reportedly countered Mac Donald has the DA's position "all wrong."
But 3,000 miles to the west, in Seattle, a case is currently unfolding that adds ammunition to Mac Donald's observations.
In a message to the press, including AmmoLand, a spokesman for the King County (Seattle) prosecutor's office detailed the case of a man who now faces the felony charge of Unlawful Possession of a Firearm in the second degree. Prosecutors wanted him held on $10,000 bail, which the judge reduced to $2,500.
According to the charging documents, the suspect was spotted by Seattle police on Jan. 15 holding a rifle outside of an apartment building. The spokesman noted the suspect "has convictions for Domestic Violence Assault and Harassment from 2011." This man's background includes convictions for fourth-degree assault/domestic violence and harassment, plus theft. He fled inside an apartment building, and when contacted by two officers, he reportedly argued he had a right to openly carry a firearm.
Open carry is legal in Washington, but not for people with DV convictions and outstanding warrants.
The suspect managed to escape but six days later, Seattle cops spotted him driving a pickup truck. They knew he had a suspended license, so a traffic stop ensued. He argued for a few minutes according to the police report, then drove away, finally stopping in a bank parking lot, where he was arrested. At the time, there were two active warrants, one out of the neighboring city of Renton for $15,000 and another in King County for $5,000. Since 1998, he's been the subject of 16 other warrants, and prosecutors argued that if he were released, he probably would not return for a scheduled court appearance on Feb. 7.
When police finally took him into custody, they found a semi-automatic rifle in the truck with "no serial number or manufacturer markings." The rifle had a loaded magazine containing four rounds. It may have been the same rifle he had days earlier when he escaped.
Back in New York City, Mayor Adams said last year, police confiscated "over 6,000 guns" from people and so far this year, they've "taken 350 illegal guns off the street."
Perhaps not surprisingly, during the first six months of 2019, according to Adams, "New York City courts rendered 405 criminal verdicts. In the first half of 2021, these same courts rendered only 18. There is currently a backlog of 4,000 gun cases in the New York state court system."
Clearly, as Mac Donald intimated, the problem isn't guns, but perhaps offenders who seem to be rotating through the courts just long enough to be charged, apparently with no follow-up.
New York's permitting process is being challenged in the U.S. Supreme Court in the case of New York State Rifle & Pistol Association v. Bruen. A ruling is expected sometime late in June.
---
About Dave Workman
Dave Workman is a senior editor at TheGunMag.com and Liberty Park Press, author of multiple books on the Right to Keep & Bear Arms, and formerly an NRA-certified firearms instructor.