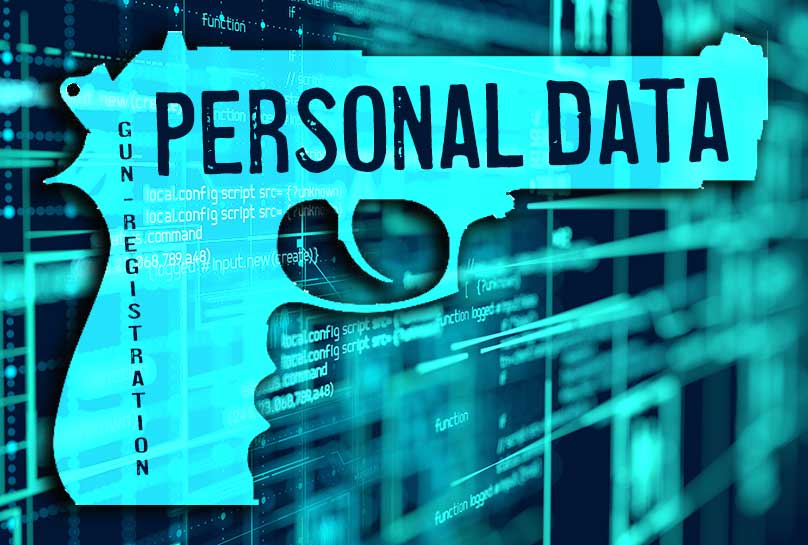 U.S.A. –-(AmmoLand.com)- The Los Angeles Times is reporting that lawsuits filed by the National Rifle Association, Second Amendment Foundation and "other gun rights groups" challenging California's sharing of admittedly "detailed information on gun owners" with researchers is hampering so-called "gun violence studies."
Or is it the L.A. Times?
The story, authored by Will Van Sant, is actually a piece published simultaneously by The Trace—the non-profit journal "devoted to gun-related news in the United States" that was "established in 2015 with seed money from the largest gun control advocacy group Everytown for Gun Safety." Everytown was bankrolled by anti-gun billionaire Michael Bloomberg, former New York City mayor and failed presidential candidate.
Van Sant is identified as a writer at The Trace.
Many gun rights advocates are alarmed that The Trace—according to Wikipedia— partners with other national and local media organizations, including The Atlantic,  Slate, Lenny, The Daily News, Vice, The Guardian, Tampa Bay Times, Newsweek, The Huffington Post, TIME, Fusion, The Undefeated, Politico Magazine, Essence, The Chicago Sun-Times, and The New Yorker.
Would any of those media organizations ever "partner" with AmmoLand News, TheGunMag.com, Liberty Park Press, Conservative Firing Line or The American Rifleman?
According to the Times/Trace article, "For more than 30 years, the (California) DOJ has shared this data with public health researchers, who have used it to try to untangle the connections between gun ownership and homicides, suicides and other violence. They say this baseline information is key to understanding the risks and benefits of having a gun and, ultimately, to reducing injuries and deaths."
The story complains that NRA "has pressured lawmakers to block the collection of ownership data" for decades. Gun control researchers want that information, arguing—as did Andrew Morral, identified as a behavioral scientist and director of a RAND Corp. initiative to assess firearms research—that having such "comprehensive ownership data" would improve "gun violence research."
SAF and other gun rights groups contend in their lawsuit, filed in January of this year, that accessing such private information is overly invasive. As explained by SAF founder and Executive Vice President Alan Gottlieb at the time of the filing, the lawsuit challenges provisions of Assembly Bill 173, passed last year. The legislation, plaintiffs contend, violates gun owners' privacy rights specifically protected by the California Constitution.
"This is clearly an attempt violate the…constitutional privacy rights of California gun owners for reasons we could only begin to imagine," Gottlieb said in January. "In their zeal to treat California gun owners as second- or even third-class citizens, anti-gunners in Sacramento forget that those citizens have rights including the right to privacy. More than 4 million California gun owners have a reasonable expectation that their personal information is protected by the law and the state constitution."
In response, the state contended in a filing, "In over 30 years of data being provided to researchers, there has never been a data breach, let alone a public disclosure."
That contention only needs to be wrong once. A data breach allowing unauthorized access to the names and addresses of gun owners would have monumental consequences.
In his Times/Trace article, Van Sant wrote, "In their lawsuits against California, the gun advocates invoke the rights of 'law-abiding' owners."
What's wrong with that? Like it or not, rights activists contend, gun owners have the same rights under the Constitution as anyone else, and their right to "keep and bear arms" is specifically enshrined and protected by the Second Amendment.
The article acknowledges, "Only a small fraction of guns sold in this country are ever used in a homicide or suicide. There is consensus that most gun crime is committed with illegally possessed firearms," but there is a caveat tossed in: "however, research to determine what percentage is limited."
"Researchers have consistently found that a gun in the home is associated with greater risk of suicide and homicide," the Times/Trace article says, "but the frequency with which guns are used in self-defense is hotly disputed."
Gun rights and self-defense advocates contend the dispute is political in nature; anti-gunners don't care to acknowledge the personal safety benefits of gun ownership, and such examples go against a "guns-are-bad" narrative.
Call it coincidence, but the Times also reported in a separate story about a gun "buy-back" held in Lynwood over the weekend that netted 365 firearms allegedly including handguns, "semiautomatic and automatic assault rifles." The total take included "135 functioning rifles and 143 functioning pistols/revolvers," the article said. "There were also 64 functioning shotguns and seven functioning assault weapons collected."
Participants received gift cards for "up to $300" for various businesses, and there were no questions asked. This is a sore point with some in the firearms community because they contend such events are good ways to get rid of crime-related guns.
There is no question the debate over gun ownership, privacy and self-defense will continue, even after the Supreme Court rules on a right-to-carry lawsuit challenging New York State's restrictive "good cause" requirement to get a carry permit. The ruling is expected sometime next month, and so far, nobody has felt it necessary to leak a draft of any opinion.
---
About Dave Workman
Dave Workman is a senior editor at TheGunMag.com and Liberty Park Press, author of multiple books on the Right to Keep & Bear Arms, and formerly an NRA-certified firearms instructor.