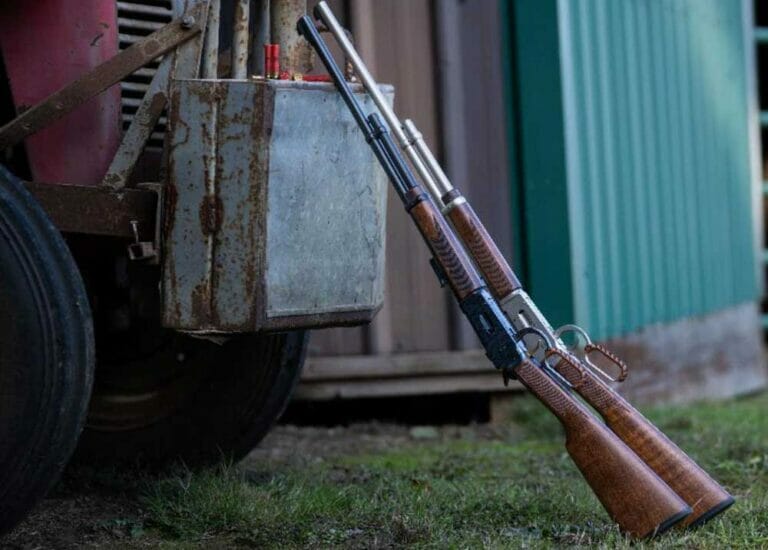 North Kansas City, MO (April 2023) TriStar Arms, America's favorite importer of high-value shotguns and pistols, is proud to announce the release of the LR94 line of lever-action .410 shotguns, combining a fun and versatile cartridge with a fun versatile classic action.
The versatility of a shotgun is undisputed, and the reliability and control of the mechanical lever action is hard to beat. It only makes sense to combine these two to make a spectacular field gun that can run virtually any load that fits a 2 1/2″ chamber.


The TriStar LR 94 is available in three finishes, all with walnut furniture:
Classic matte black
Handsome color-case gloss finish
Weather-resistant matte nickel
All three models of the LR94 offer a 14 1/4″ length of pull, 5+1 capacity, and use Beretta Mobil chokes. Barrel lengths are 22″ or 24″ depending on the model to ensure you get the most out of your .410 load of choice. MSRP ranges from $990-$1,100. For full specifications and to check availability visit TriStarArms.com.
---
About TriStar Arms:
Located in Kansas City, Missouri, TriStar Arms is a primary importer of quality shotguns and handguns. The company is driven by the same mission that it set out on since its inception – to provide high-performance firearms for hunters, recreational shooters, and home defense at a fraction of the price and to deliver fast and friendly service at all times. Every firearm that TriStar Arms imports is rigorously tested throughout each stage of production to ensure that its customers receive the value that can be passed down for generations.
For more information on TriStar Arms visit www.tristararms.com.