FN 303 Less Lethal Launcher Training Offered In Stapleton, Al.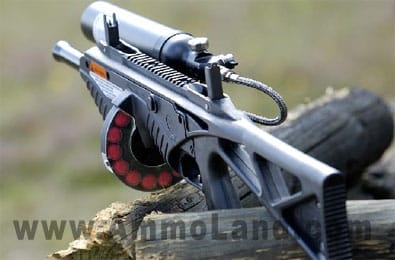 McLean, VA – -(AmmoLand.com)- The FN 303 is a semi-automatic less-lethal launcher designed and manufactured by Fabrique Nationale de Herstal.
The FN303's projectiles have been specifically designed to break up on impact, eliminating risks of penetrating injuries.
Typical operating scenarios include domestic violence intervention, marking violent suspects and building surveillance.
Training Details:

FN 303 Less Lethal Launcher Instructor/Armorer Course: TCR0608
Host Agency: Baldwin County Sheriff's Office
Ammunition Required: All ammunition provided by FNH USA.
Special Equipment Required: Full wraparound eye protection
Date: Tuesday, October 20, 2009
Time: 0900 to 1700 hrs.
Location: Baldwin County Sheriff's Office, 15950 Mosley Rd.,
Stapleton, Al. 36578
Cost: $195.00
Instructor: Felipe Jose
Participants will be certified as an FN 303 Less Lethal Launcher instructor/armorer.
Students will:
Learn proper techniques for safe operation, care, cleaning, and deployment of the FN 303.
Perform all armorer related maintenance.
Complete a live-fire qualification course and a written exam (minimum score of 90% to gain certification).
Earn a certification valid for three (3) years that will allow participants to set policies, procedures and training to certify FN 303 operators within their agencies.
"The FN 303 uses compressed air to fire projectiles from a 15-round drum magazine. It is designed to incapacitate the target through blunt trauma without causing critical injuries, and is most widely used for riot control and other kinds of combat where lethal weapons should be avoided. The 303 can be fired from the shoulder using adjustable iron sights, or it can be mounted in an under-barrel configuration on most assault rifles when its stock assembly is removed (in this configuration, it is designated M303). It also comes with a top-mounted Picatinny rail that can fit most commercial weapon accessories, such as telescopic sights, laser sights and tactical lights. FN markets its own set of accessories for the launcher, including tactical vests, slings, carrying bags, and gas compressors. It is accurate at distances up to 35 meters."
For more information on the course, please, contact:
Deputy Michael Miyaji
Baldwin County Sheriff's Office
Ph. 251.937.1840
[email protected]
www.sheriff.co.baldwin.al.us William Buie
FNH USA
Ph. 703.980.0921
[email protected]
About:
FNH USA is the sales and marketing arm of FN Herstal, S.A., Belgium. Its corporate mission is to expand its global leadership position in defense, law enforcement and commercial markets by delivering superior products and the finest in training and logistical support. Visit www.fnhusa.com to view the entire line of FNH USA products and services. FNH USA, P.O. Box 697, McLean, VA, 22101, U.S.A