Austrian Sporting Arms' ISSC M22 Pistol Now Shipping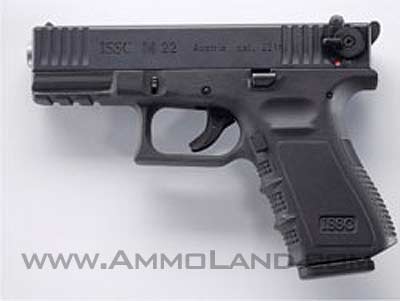 Orlando, FL – -(AmmoLand.com)- Austrian Sporting Arms proudly announces the much anticipated arrival of ISSC's M22 .22LR pistol in dealerships across the United States. Introduced at the 2009 SHOT Show, the ISSC M2 created quite a buzz with its combination of technology, innovation, and performance.
Designed specifically for the American market by Austrian gun designer Wolfram Kriegleder, best known for his Walther P22 pistol, the M22 in .22LR provides shooters a fast, comfortable and safe training platform using inexpensive and available .22LR ammunition.
Built on a black polymer frame with a contoured grip for comfort and a perfect hold, the M22 is a semi-automatic single-action pistol with 5 different safeties that work independently of each other, providing unmatched safety in a firearm.
The M22 features a 4-inch match bull barrel and a match trigger with a trigger pull of 4.4 lbs. As a target pistol, the M22 also comes standard with and adjustable rear sight and a Weaver rail for the addition of light and laser accessories.
Weighing in at just 1.3 lbs, the M22 has an overall length of 7-inches with an overall height of 4.7-inches and is 1.1-inches wide, making this Austrian-built pistol one of the most balanced and comfortable shooting systems on the market today.
The ISSC M22 is available in a black or two-tone finish. For more information, visit www.austriansportingarms.com.
About:
For more than six centuries austria has been home to some of the world's greatest gun makers, a proud tradition embodied in the unique firearms now being produced by ISSC. Austrian sporting arms is proud to be the sole importer of ISSC firearms, beginning with the revolutionary m-22 pistol, designed to meet the needs and desires of American shooters. Uses the newest technologies to produce the most unique and innovative guns for today's shooters.