Bond Arms Selects The Media Group To Handle Its PR / Communications Efforts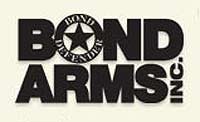 GRANBURY, Texas –-(AmmoLand.com)- Bond Arms announced today that they have signed an agency agreement with Chicago based PR and marketing firm, The Media Group, Inc., to handle its public relations and communications efforts.
About Bond Arms
Bond Arms has been manufacturing derringer style firearms since 1995 and is recognized for its dependable, well-built double-barrel handguns, which feature historically inspired designs. They are trusted firearms for personal protection as well as cowboy action shooting. Bond Arm derringers have been the Single Action Shooting Society (SASS) World Champions for 10 years in a row now!
"We offer 15 interchangeable barrels for our guns, which gives shooters 23 different caliber combinations. We also offer many different grips for a custom look and fit," said Gordon Bond.

"We're excited about working with The Media Group. We're confident they can help us get the word out about our quality, made in America derringers."
For more information about Bond Arms visit their website www.bondarms.com or call (817) 573-4445.
About The Media Group:
The Media Group, a creative services agency that began in 1996, is one of the most effective and highly respected PR/Communications agencies in the Golf and Outdoor Industries. The Media Group offers a wide range of services including strategic planning, public relations, direct marketing, advertising, special events coordination and trade show planning. Their objective is to build brand equity and increase brand name awareness through editorial placements in print publications as well as other outlets like social media sites, television, radio and the Internet.