New Hampshire State Representative Introduces Knife Rights Bill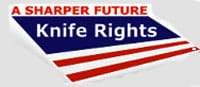 New Hampshire –-(AmmoLand.com)- State Representative Jennifer Coffey (R) has introduced a bill to legalize "stilettos, switch knives, daggers, and dirk-knives" for all law-abiding citizens in New Hampshire.
Heretofore, these knives, which are not well-defined in the state law, have been restricted in the state, even though New Hampshire has some of the most liberal gun carry laws in the nation. The bill has received broad bipartisan support according to our sources and stands a good chance of passage.
Knife Rights member and Second Amendment legal advisor, Evan Nappen, has been actively involved in developing and promoting this bill. Knife Rights is planning on testifying in support of this bill as it moves through the legislative process.
Rep. Coffey's bill removes the prohibition on these knives and focuses the law on CRIMINAL USE of the knives. Knife Rights supports efforts that remove restrictions on ownership, carry and legitimate use of knives as tools and arms and recognizes that it is the criminal use of knives that should garner the law's attention.
You can read more about this bill from Rep. Coffey on the Second Amendment Sister's web site: http://www.2asisters.org/
Knife Rights has quickly grown to become America's largest grassroots knife owners organization. This latest fight against Customs Pocket Knife Grab has validated the power and importance of a dedicated grass roots organization in defending your knife rights. Invest in a Sharper Future™. Become a Knife Rights member and make a contribution to support the fight against Customs Pocket Knife Grab.
Knife Rights
America's Grassroots Knife Owners Organization
www.KnifeRights.org