Rock Island Auction Company's December Auction Rakes In Over $7.2 Million in Gun Sales
Rock Island Auction's Yearly Sales Top $28 Million with A Spectacular December Auction. RIAC is the world's leading firearms auction house in yearly sales and number of firearms sold at auction for six years running. The average sell through rate for the year reached over 98%. While others are looking at "stimulus plans" RIAC keeps going strong!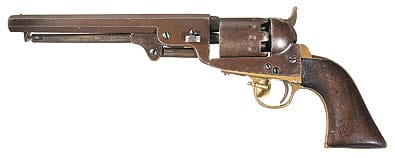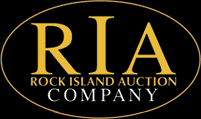 Moline, IL – -(AmmoLand.com)- Rock Island's December 4, 5& 6 sales tallied, over $7.2 million, ending the year with over $28 million in sales. The diversity of this sale excited a wide range of bidders from all over the world.
The top lot of the auction was an exceptional and very rare New Haven Arms Company volcanic lever action navy pistol with detachable stock selling for $80,500. Another notable lot was a Civil War martially inspected Henry rifle which was won with an above estimate bid of $54,625.
The Civil War arms in this auction were impressive. The selection of Confederate arms demanded bidding interest. Two of the many exceptional pieces were a Rigdon, Ansley & Company percussion revolver and an Augusta Machine Works percussion six-notch style revolver with historic Confederate inscription both drawing above estimate bids of $28,750 each. Other Confederate arms included a navy inspected 2nd Model LeMat percussion revolver selling for $20,700 and a Richmond marked Sharps carbine selling for $19,550.
The impressive offering of Civil War era firearms continued with a cased C.R. Alsop navy model revolver with attachable shoulder stock sold $17,250, and a unique James Warner side hammer revolver reaching $9,775. A Civil War era surgical kit brought an above estimate bid of $7,475.
The grouping of Sharps was also spectacular. An exceptional Sharps-Borchardt model 1878 long range "Panel Side" rifle hammered at $20,700 while a rare Berdan Sharpshooters Sharps new model 1859 rifle attained $12,650.
Over 700 Colt manufactured firearms commanded bidders attention. Two notable lots include a magnificent "RAC" Colt U.S. contract model 1873 and a scarce Colt sheriff's model which sold for $34,500 & $18,400 respectively. A rare Colt belt model Paterson revolver no. 3 achieved $21,850.
The large selection of Colt long arms as a whole did well. The top seller was a rare cased Colt 1855 first model sporting rifle which brought $20,700. A Colt Model 1855 military percussion revolving rifle with corresponding serialized saber bayonet achieved a near high estimate bid of $11,500.
Another large draw to the auction was the outstanding selection of revolving rifles, shotguns and curio type pistols. This is one of the largest offerings to come to auction with a rarity and quality never before offered. Bidding participation drove prices to $9,200 for a unique European three shot flintlock rifle and $10,350 for a European pinfire revolver cavalry sword with sheath. Above estimate prices were achieved on an engraved "Peanut" style Philadelphia deringer pistol ($8,050) and a cased pair of Remington number one vest pocket pistols with dagger ($5,750).
This unique grouping also held several harmonica pistols, belt model revolvers and turret pistols including a rare documented French 40 shot guycot chain pistol which sold for $12,650. A very rare Daniels turret rifle serial number 9 reached $8,625. A rare documented French Jarre 10-shot double action pinfire harmonica pistol piqued interest fetching $10,925.
Over 200 Winchesters offered a variety for Winchester collectors. An exceptional, deluxe Winchester model 1873 rifle with gold-plated, Ulrich style engraved receiver demanded $37,375, while an excellent special order Winchester model 1886 semi-deluxe lever action rifle with factory letter went above estimate to $25,875.
The 400 plus sporting arms in this auction impressed both the sportsman and collector. Over 200 shotguns were offered including a rare engraved Parker model CHE two barrel set double barrel hammerless shotgun which hammered at $21,850. An excellent cased engraved two barrel set Emil Pachmayr drilling with scope and knife reached an above estimate price of $13,800. A set of 2 consecutively numbered double signed engraved Olympian grade bolt action rifles went for $20,700 and a 'Jo. Lo. Ar.' Semi-Automatic Pistol in.45 Caliber sold for $8,050. A bid of $16,100 won a pre-war custom engraved Mauser bolt action rifle with scope.
U.S., European and Japanese military firearms were abundant in both quality and quantity. The history associated with firearms usually draws increased bidding interest and this was definitely the case for a magnificent NSDAP party leader Walther model PPK with original box, political leader holster and accessories brought $21,850.
Other items that sold well include a spectacular WWII British/Canadian long branch No4 MKI sniper rifle with storage chest and all accessories (sold $14,950) and a rare late WWII VG1.5 Volkssturmgewehr semi-automatic rifle (sold $34,500). An exceptional 'Type 1' NM M1 Garand rifle with original DCM box and papers sold for $8,050. This auction also contained many non-firearm military related items including a United States Navy CSP 488 cylindrical cipher device, with books on military cryptanalytics went out at $3,737. The 1911's and early autos sparked many bidding wars led by an extremely rare U.S. navy Colt model 1911 pre-production sample that sold for $34,500.
The December auction was a huge success with a 95% sell through rate and sales over $7.2 million. With over $28 million in sales for 2009 Rock Island maintains its title as the world's leading auction house in firearms sales 6 years running. This achievement testifies to the strength of the firearms market during the past year when most other markets have seen decrease. Join RIAC for their upcoming auctions: a Regional Sale February 27 & 28 and a Spring Premiere Auction.
For more details about this auction and future auctions please call 800-238-8022 or visit www.rockislandauction.com. Rock Island Auction Company is currently seeking consignments. Consign one piece or an entire collection and know that you are consigning with the best. For more information on selling at auction contact Pat Hogan or Judy Voss at 800-238-8022.