The Gun Rights Radio Network – Broadcasting Freedom
By Massad Ayoob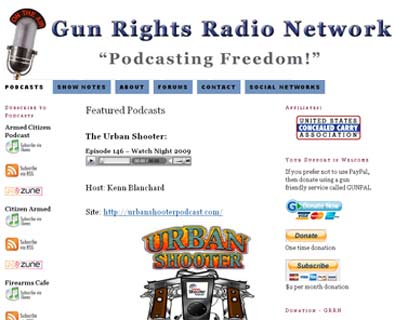 South Bend, IN – -(AmmoLand.com)- Mark Vanderberg created the Gun Rights Radio Network (GRRN) to host those independent voices among the pro-gun owners' rights community.
Since its founding in early 2008, the group has expanded to some 18 regular podcasts. Podcasts are like radio shows that are held in archives and can be downloaded at listeners' convenience.
All 18 of the GRRN can be downloaded from each show's website or iTunes or Zune Marketplace, to be played on the listener's MP3 player or computer. You can even listen to the shows right from our discussion forum. The listener can download an unlimited number at no charge!
Links to the individual shows can be found at the GRRN website, www.gunrightsradio.com.
In alphabetical order, the regular Gun podcasts include:
Armed Citizens Podcast comes from 2nd Amendment activist Mick McArt, bringing the listener a mix of useful news and essays that touch on gun owners' civil rights.
Citizen Armed is the newest podcast in the group. Spencer Bennett subtitles his cast "How I Learned to Stop Worrying and Love My Gun." Personal protection and home security are among the topics, which encourage safe fun with guns as well as more serious issues of personal rights.
Firearms Café features Tony Brown, offering a broad overview of political and activist thinking related to gun ownership.
Gun Dudes features Tom, Carl, Stan, and Travis who bring a youthfully exuberant touch of Generation X to the graying world of gun ownership advocacy.  Hilarious humor is leavened with serious commentary and news from actual incidents of armed citizens' self-defense.
GunfighterCast features Marine instructor Daniel Shaw, a combat vet who focuses on the reality of mental preparation and physical techniques for surviving gunfights, as well as honing in on related "hardware debates."
Gun Review Podcast is sort of an Internet gun opinion thread come to life. Each segment is submitted by a listener, going into detail on their actual experience with the firearm in question.
Gun Rights Advocates is Mark Vanderberg's own podcast. Mark has tirelessly worked for positive change in the political arena, and his casts often bring a "you are there" flavor as he reports on a given political demonstration or similar event.
Gun Rights Alert as its title implies, brings up to date alerts from gun rights organizations to people to busy to keep track of the multiple sources on their own. Alan Richmond is the producer.
Gun Rights News has West Cost and Midwest Editions and will soon have a Southern edition. Tyler Juhnke handles the West Coast edition and Larry Piekarski covers the Midwest.
Handgun Podcast is a dynamic show produced Eric Shelton, whose trademark phrase is "If handguns cause crime, mine's defective." Eric mixes philosophy with hardware, providing provocative warts-and-all gun tests among other show topics.
Militant Marksman comes from Sean Horton, an African-American gun rights activist based in Chicago. "Putting corrupt Illinois politicians and enemies of the Second Amendment in the crosshairs of freedom" is Sean's stated mission.
Practical Defense features Alex Haddox of Los Angeles, who combines a strong martial arts background with practical crime prevention tips suitable for people from all walks of life. A pro-Second Amendment show, Alex's cast is particularly useful to non-gun people for its crime prevention content, while getting a pro-gun-rights message across to that often-neglected audience as well.
ProArms Podcast consists of a group of eight competitive shooters, most of whom are connected with the firearms industry: preditor Gail Pepin, host Steve Denney, along with Massad Ayoob, Chris Christian, Herman Gunter, Mike Larney, and Jon and Terri Strayer. Content ranges from interviews with gunfight survivors, top instructors, gun industry execs, and pistol champions to round-table discussions of certain types of defensive firearms.
Reloading Radio is another new 'cast, focusing on reloading and handloading issues.  Host is Jayson Thomas.
Gun Nation comes from Doc Wesson, the pseudonym of a firearms industry professional whose shows range from interviews with other professionals to explanatory seminars on ballistics. A regular feature on Gun Nation is "Average Joe," whose detailed gun reviews have created a loyal and appreciative audience.
Liberal Guncast is hosted by one Maxwell, who reminds us that stereotypes of gun owners as woven into the fabric of far-right politics are false.  Enlightening listening for gun owner and anti-gunner alike!
Truth About Guns works to expose rumors in the media that falsely prejudice the public against firearms and their owners. Christopher Burg brings a new, vibrant young voice to "myth-busting."
The Urban Shooter is Kenn Blanchard, ex-lawman and current preacher, and the author of the landmark book "Black Man With A Gun." Probably the longest-standing podcaster on GRRN, Kenn has broken traditional barriers experimenting with music and serial fiction as well as some of the most moving essays and advice dialogues that can be found in the podcast archives.
Collectively, the Gun Rights Radio Network brings together young and old, male and female, black and white in a broad spectrum of strong and articulate voices that speak for Constitutional Rights, human rights, and protection of the innocent, as well as a celebration of the centuries-old lore of firearms.
You can follow all of the Gun Rights Radio Network Podcasts on Twitter and you will be notified when each new episode is published.