Olympic Medalist Kim Rhode Debuts Her 3-D Hunting And Shooting iPhone Game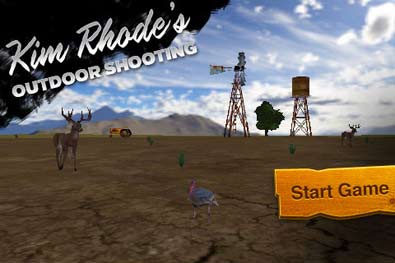 WAKE FOREST, N.C. —-(AmmoLand.com)- Kim Rhode, the most decorated female shooter in U.S. Olympic history, is launching her new iPhone game, which allows players to experience the thrills of hunting and shooting in 3-D.
"Kim Rhode's Outdoor Shooting" was developed in coordination with Ethan Nicholas, renowned iPhone application developer and president and founder of Naughty Bits Software LLC. The game features hunts for white-tailed deer, grizzly bears and wild turkeys and allows users to hone their shooting skills with pistols, rifles and shotguns.
"iPhone gamers will love the game's unbelievably realistic hunting scenarios," Rhode said. "Natural sound effects and eye popping 3-D graphics will make players feel like they're in the middle of the woods."
The combined talents of Rhode and Nicholas have produced what gamers believe is one of the most exciting, challenging games to hit the iPhone. Rhode, an avid hunter who has medaled in four consecutive Olympics in double trap and most recently skeet, provided expert advice on the hunting and shooting aspects of the game. While Nicholas, who created 2009's mega successful iShoot app, developed the settings that will immerse players in "Kim Rhode's Outdoor Shooting."
"Kim's name and experience are both tremendously valuable," Nicholas said. "In addition to being an incredible shooter, she is also an avid video game fan, and we are both very excited for her to star in her own game."
"Kim Rhode's Outdoor Shooting" iPhone app is available for $2..99.
About Naughty Bits Software
Naughty Bits Software LLC is a software development company, specializing in iPhone and mobile device gaming. Naughty Bits Software was established in 2009 by Ethan Nicholas after the launch of the iShoot application for the Apple App Store. iShoot quickly became a best selling iPhone application, staying as the number one selling application in the App Store for 26 days in January 2009. Naughty Bits' products have been downloaded a combined total of over 3,000,000 times. For more information visit www.naughtybits.com.
About Kim Rhode
Kim Rhode won her first Olympic gold medal in Atlanta in 1996 just two days after turning 17.. Since that time, Kim has added a bronze medal in Sydney in 2000, another gold medal in Athens in 2004 and a silver medal in Beijing in 2008. Kim is now attempting to become the first individual Olympian in U.S. history to earn an Olympic medal in five consecutive Olympic Games. Rhode recently qualified for the 2010 USA Shooting Team and will begin accumulating points for the right to represent the U.S. in London in 2012.